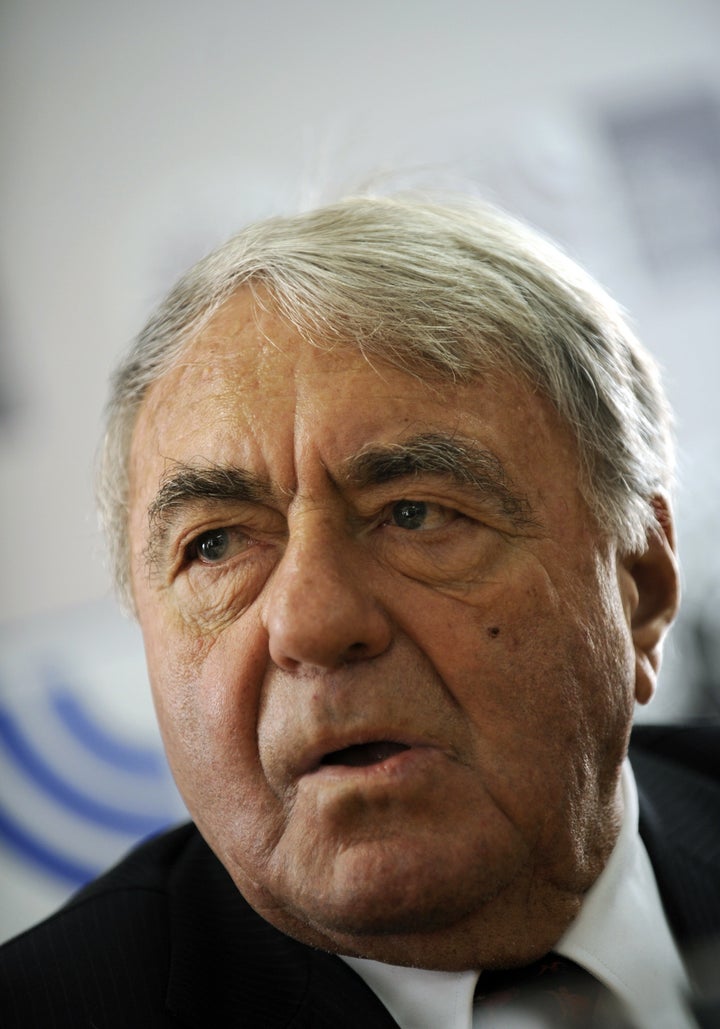 In the preface to this lengthy autobiography, Claude Lanzmann writes that he has long agreed with the "thousand people" who have told him a "thousand times" that he should write the story of his "rich, multi-faceted and unique" life. But he was so busy living that it was not until his 80s that he began dictating his thoughts about his past, letting his mind wander back and forth across the years.
Successful memoirs usually require more than the usual amount of self-absorption, and sometimes an annoying, even comical dose of narcissism. The Patagonian Hare is full of Lanzmann's cloying self-regard, but we accept it for the single reason that he created Shoah, his 1985 documentary about the Nazi war against the Jews, one of the masterworks of cinema. A man who produces a great work of art that succeeds in deeply affecting our consciousness of the past and of the human condition deserves to be listened to. And so we listen to Lanzmann.
He begins with a discussion of the guillotine, which he tells us has been the obsession of his life. Is this because he has always felt himself to be living under a death sentence? At age 9, he returned home to find a note from his mother saying she was leaving the family. During high school in World War II, Lanzmann became a courageous member of the resistance and a lifelong leftist. He has never lost his appetite for risk nor his willingness to fight. He also discovered early on that he had a knack for seduction, and he spends more pages than I'd care to count detailing his passionate encounters with women in various parts of the world.
In the wake of World War II, Lanzmann fell into the orbit of Jean-Paul Sartre and Simone de Beauvoir. The famous existentialists' dramatic insistence on choice and engaged freedom resonated with the young Lanzmann finding his voice in Paris. Together they launched Les Temps Modernes, the important periodical of ideas, culture and politics. Lanzmann remains on the masthead today. His admiration for Sartre is boundless, and at times he seems to have experienced the world through the concepts and charisma of the great thinker.
Beauvoir and Lanzmann became lovers in the summer of 1952, just before they were each leaving for holiday: he for Israel, she to join Sartre in Italy. The romance between Beauvoir and Sartre had ended long before, though they would remain profoundly dedicated to one another until he died. Lanzmann joined their relationship as friend to both and lover to Beauvoir, with whom he lived "a quasi-marital existence" for some years. But Israel drew Lanzmann away that summer, and his affection for the Jewish state and his plunge into Jewish history allowed him to separate from the French existentialst mandarins of Saint Germaine des Pres. He remains loyal to the memory of their friendship, but he escaped being a disciple.
Lanzmann was a prolific journalist, writing on everything from the Dalai Lama to Brigitte Bardot. His assignments (and his insatiable curiosity) took him to North Korea, China, Algeria and Latin America when wars were raging or regimes were consolidating their tyrannical control over everyday life. As he sifts through his memories of these trips, he spends a fair amount of time extolling the fine prose he contributed to the magazines and newspapers of the time, and he gets caught up in romantic reminiscences that will have little interest for the general reader. An editor, for example, should have insisted on compressing the pages devoted to the North Korean nurse who gave him a vitamin B12 shot in the rear and who dropped into his arms. "I don't know which of us moved first, I never did know," Lanzmann writes. "We fall upon one another, kissing each other fiercely, our toungues wrestling with a passion, a strength, an eagerness, a ferociousness that is immeasurable and uncontrollable."
Clearly, Lanzmann has a hard time making cuts, telling us that for him, "to choose is to kill." "It's no accident, he says, "that Shoah runs to nine and a half hours." For most American readers, it is Lanzmann's discussion of this film that will be of greatest interest. The final hundred pages of The Patagonian Hare describe his process of research, his deeply personal exploration with survivors and his persistent pursuit of the truth concerning perpetrators and bystanders. Given his ambitions and the cost, it is truly remarkable that the film got made at all. Lanzmann interviewed old Nazis about the machinery of death while hidden cameras recorded their unguarded, sometimes proud recollections. He provided survivors with more than just sympathy; they discovered in him a man determined to make the deaths they witnessed come alive for all time.
"I knew that the subject of the film would be death itself," Lanzmann writes, "death rather than survival." The "radical contradiction" of making death or absence the soul of a monumental film gives Shoah its emotional and intellectual intensity. There are no archival images, no depictions of atrocities. There is no commentary; the film has no message. There is only testimony brought out by Lanzmann's careful, informed and often anguished questioning. He realized that Shoah was his mission, his calling, during a visit to the Polish countryside, where he encountered those who lived in the shadow of the camps and with the aroma of death. "I was the first person to return to the scene of the crime," he writes. For more than a decade he made the "fearsome plunge into the heart of the past."
Lanzmann's journalism and other documentaries still attract some interest, but it is Shoah that has made an indelible mark on the history of cinema and on our understanding of the attempt to annihilate the Jewish people. "For twelve years I tried to stare relentlessly into the black sun of the Shoah," Lanzmann writes. "I forced myself to get as close as I could." Perhaps his enormous self-regard gave him the moral and psychological resources to pursue his extraordinary project with the dedication, passion and sympathetic intelligence that runs through his entire film. Shoah is, in its author's words, "a vigil to absolute suffering." We can also see that is the core legacy of a "rich, multi-faceted" life.
Popular in the Community