A woman who once called Southern California home lost her life at sea during Hurricane Sandy.
Claudene Christian, 42, was a crew member on the HMS bounty, a replica of an 18th century ship. Christian was found unresponsive in the ocean off the North Carolina coast Monday evening, one of two crew members that had gone missing when the Bounty began taking on water.
Aunt Patricia Saulsberry told KFSM news that Christian was believed to be in the water for nine or 10 hours before rescuers got to her. She was wearing a life jacket and an ocean survival suit when she was found, reports LA Weekly. Rescuers tried to administer CPR, but they were unsuccessful. Christian was taken to Albemarle Hospital in Elizabeth City, North Carolina and pronounced dead, reports Reuters.
The Bounty left New London, Conn. Oct. 25 and was headed to St. Petersburg, Fla. when it got caught up in the storm Sunday near North Carolina. The ship's generators failed and the vessel began taking on water, and later on that evening the crew both sent out and eventually rescinded a distress call to the Coast Guard at 6:30 p.m., reports the Los Angeles Times.
Christian's mother, also named Claudene, told ABC News that she thinks the distress call was rescinded because the crew wanted to save the ship.
On Monday, once the ship had sunk, Bounty's Facebook sent out another message that turned out to be tragically erroneous: "There is no one one on the ship. Again...ALL the crew is safe and in a lifeboat." When the Coast Guard helicopters eventually located the lifeboats later that day, only 14 people were found safe and sound. Hours later, Christian was pulled from the water.
The search is still on for the Bounty's captain, Robin Walbridge, 63. He had decided to take the Bounty out to sea to avoid the hurricane and explained on the ship's Facebook page:
Bounty's current voyage is a calculated decision...NOT AT ALL... irresponsible or with a lack of foresight as some have suggested.
The fact of the matter is...

A SHIP IS SAFER AT SEA THAN IN PORT!
Cathy Carey, former president of the Society of Preservation of the HMS Bounty, questioned Walbridge's decision to take the ship out to sea in spite of the looming storm. "He knew the storm was coming, for a couple of weeks. He had plenty of time to know," she said to ABC News. "He shouldn't have gone out there, but it's all hindsight now."
Facebook user Becky Baur also commented on the Bounty page: "No ship is worth risking lives of crew or coast guard members, it is a tragedy that will be debated over for years. I am sorry for the loss of life, and wondering why the risk was taken."
Christian claimed a unique connection to the Bounty. On her Facebook profile, she wrote that she was a descendent of Fletcher Christian -- a crew member of the original HMS Bounty who helped seize control of the ship and led a mutiny in 1789.
The rebellion was depicted in multiple "Mutiny On The Bounty" films, and the HMS Bounty that sunk Sunday was in fact constructed for the 1962 film. It has also been used in the "Pirates of the Caribbean" films.
"As a descendant of Fletcher Christian, played in four movies by Errol Flynn, Clark Gable, Marlin Brando & Mel Gibson, I'm sure my ancestor would be proud," wrote Christian on Facebook. "However this time, there will be no Mutiny on this Bounty... At least not at the hands of me, a new generation of Christian Family Sailors!"
A memorial fund has been set up to help Christian's family defray the costs of her funeral. To donate, send checks made out to the "Claudene Christian memorial fund" to:
Armstrong Bank
PO Box 435
Vian, Oklahoma 74962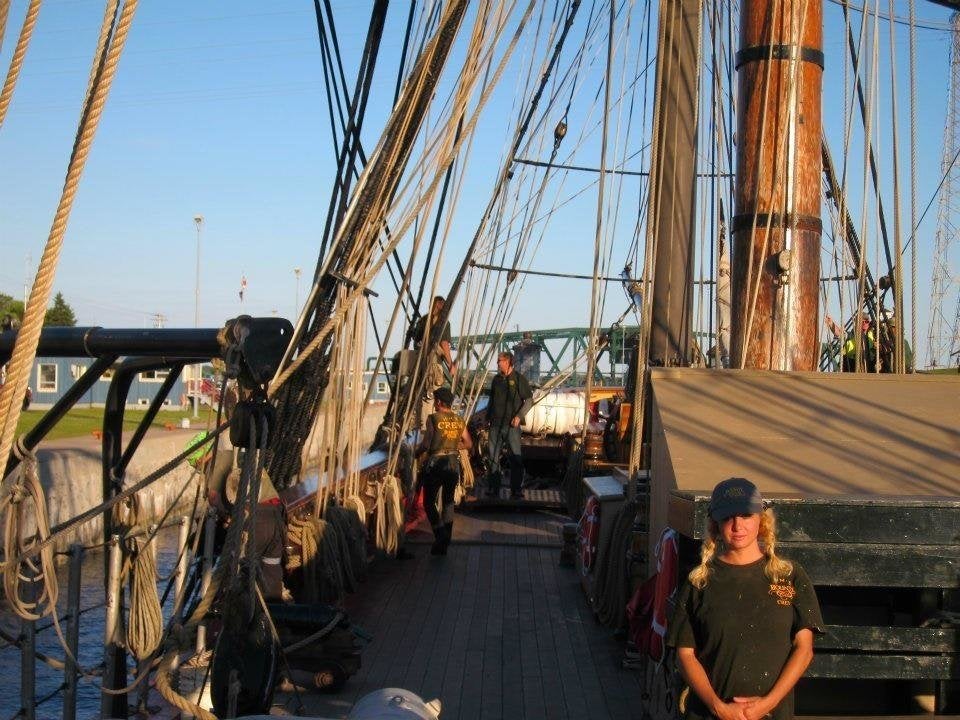 Remembering Claudene Christian