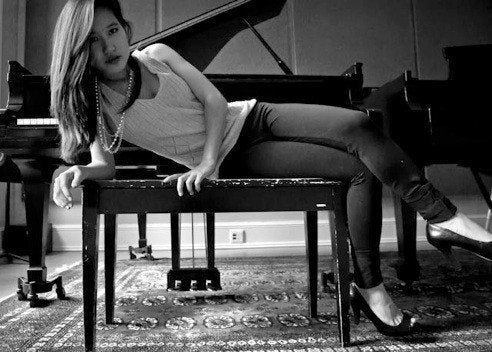 Claudia Chan is an up-and-coming pianist of contemporary classical music. Canadian-born and Cologne, Germany-based, Chan is the winner of the Eckhardt-Gramatté award, considered the most important competition for Canadian performing artists of contemporary music.
Having studied piano at Toronto's Royal Conservatory of Music with John Perry and David Louie, she is continuing her piano studies in Cologne and traveling the world performing a repertoire of new music, with a particular interest in the work of composer Unsuk Chin.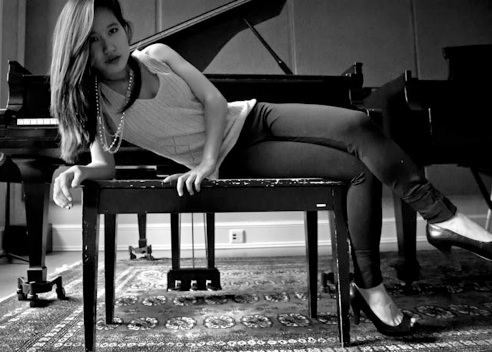 Unsuk Chin is a Korean composer who, of late, has been showered with awards and recognition around the world. Chin was heavily influenced by the work of György Ligeti, who was her teacher and mentor.
Claudia Chan's interest in Unsuk Chin is centered on Chin's Piano Études, which Chan believes are the new benchmark of contemporary classical music. She is working on recording the world's second recording of all of Chin's Études.
Chan will be playing a concert on December 7th at Toronto's Music Gallery, with violinist Véronique Mathieu, with a repertoire including the Canadian composer Brian Current, Unsuk Chin's Études, American composer Elliot Carter and Korean composer Isang Yun.
I sat for an interview with Claudia in Toronto.
Joel Garten: Tell me about Eckhardt-Gramatté competition.
Claudia Chan: It is a fantastic competition that runs every year, alternating each year for piano, strings and voice, which I won in 2010. It is a great competition because you are asked to play repertoire only from the 20th century, and it really challenges performers to choose repertoire that they wouldn't regularly otherwise. As well, 50 percent of the music you choose has to be Canadian, which is another important aspect, because then you go out and discover Canadian music. We have a connection with the Canadian Music Centre, so we can go and use their extensive resources. When I entered the competition, I already had a very strong interest in contemporary music, thanks to the encouragement of my formative teacher, Elaine Kruse, in Ottawa, who had a strong connection to the Canadian Music Centre and the Alliance for Canadian New Music Projects. I was fortunate to win that year. An exceptional part of the competition is that they set up a tour for the winner. My tour was 14 concerts across Canada and a recording with the CBC, as well as the opportunity to teach young performers through master-classes. Through that tour, I was able to play for a lot of new audiences, and I also got to work with Canadian composers, including Karen Sunabacka, whose piece, Curlicue, I gave the Canadian premiere of in each of those 14 cities. The experience was a big boost in my career and helped me to solidify my interest in contemporary music.
JG: What was it that attracted you to contemporary music?
CC: For me, that wasn't really the question, rather it was, "What doesn't attract me to contemporary music?" It is great music. There is good and bad music in every period of time. Contemporary music is just music from our day, and there is a lot of good music from our day. It is, of course, a different language than more traditional music, and it takes a lot of time and dedication to get used to that language. One can't just play one piece and expect to feel comfortable and communicative in the idiom. Just as in Beethoven sonatas, you can't just play one, you should try and play many sonatas, and know the historical context too. One must learn to understand Beethoven's "shorthands," as it were, how he uses specific musical ideas to signify the emotions involved. It is the same with contemporary music. There have been traditions and shorthands established in the last few decades that are necessary to know before one tackles a piece of contemporary music. As for the historical context -- that's the easy part -- we're living in it! So I find you must give this music (as will all music) the time and dedication to master the technical challenge -- technique for the piano has just evolved so much. Once you understand the language, you see how much you can communicate through this music.
Whenever I play mixed concerts, for example, a classical sonata alongside contemporary music, I often have people come up to me afterward and say, "I really want to learn more about that contemporary piece you played, I was very interested." And that for me shows that if we choose to put the time into it, and choose to make the effort, contemporary music can be very powerful.
JG: What kind of repertoire are you playing now?
CC: I have played a lot of the standard modern composers, like Boulez, Berio, Carter, Ligeti. Now I am also trying to move towards playing more works by living composers. This is probably a product of my recent move to Germany. There, the general definition of contemporary music is much closer to music written in the last decade or two, and there's a very strong community of young composers, which is very exciting for me to see. There is something different about working with someone who is living, and whose score and music is still a living, changing product. That is why it gives me great pleasure to work with people like Unsuk Chin, Toronto's own Brian Current, Hans Thomalla (a German composer I met in Darmstadt this year, whose Piano Counterpart I will premiere in Canada next year), and Alice Ho, whose solo piano piece Aeon I premiered last year, and with whom I'm working on a new concerto.
JG: What are you doing with Unsuk Chin's music?
CC: The first time I heard Chin's music was last year, played by the Ensemble Intercontemporain of Paris. I heard it in a concert that was full of new music, and all of it was quite good, but her music just jumped out at me. So I looked up Unsuk Chin, and I realized that she had written this set of piano Études. She has meant to write 12, but for the time being she stopped at six. So I looked into the Études, and when I started working on them, I realized how masterfully crafted they were, and what wonderful music they were. I decided I wanted to make it my next project to record all six of these études next year, after performing and touring them in Europe and Canada. The reason I wanted to record these is because they signify another benchmark in piano music. We've had the Chopin Études, Liszt Études, Debussy Études, we've had many, many benchmarks when we are talking about developing pianistic technique. We've had Ligeti's Études, who was Chin's teacher, and now we have her contribution. They are very concise, very short pieces, but they are so perfectly crafted. When you play them, you have the feeling that nothing is missing. I want to work on them to get them to the highest level possible so I can share them with a wide audience. I think the level of difficulty in these pieces might hinder their ability to be heard.
JG; So you have met with Chin, and worked with her?
CC: Yes, she lives in Berlin and we met in France last year. She doesn't talk a lot about her musical history, but when you play these études, you can tell this is someone who really, really knows the piano at a very high level, to even be able to imagine the sort of technique involved. And it works -- everything works. When I worked with her, she was very gracious. The first thing she said when she heard me play was "Wow! Bravo! How can you even play this piece?" as if she was surprised. Her writing is very specific and well-notated, even her tempos. One thing I found while working with her was that as specific as she wants the details to be, she also doesn't want any humanity to be lost. Even when we see something so detailed in notation, there is still a responsibility to make it personal, to make it understandable. I think that's something we must remember as interpreters of contemporary music, that professionalism and notes are one thing, but we have no less of a responsibility to interpret and communicate as when we are presenting standard repertoire.
JG: What are you playing in your Music Gallery concert on Dec 7th?
CC: It is repertoire that I love. I am doing four of the Chin Études, Carter's Caténaires and Brian Current's Sungods. I am also playing another great Korean composer, Isang Yun's, Gasa for violin and piano with Véronique Mathieu, as well as Fragments by American composer Derek Johnson. In addition, Veronique will be presenting Pierre Boulez's Anthèmes. It's a fantastic program, and I'm very excited to be working with Véronique again after first playing some Lutoslawski with her in New York City a few years ago.

Interview edited and condensed
Be sure to catch Claudia Chan's next concert:
Dec 7, 2012, 8 p.m. at the Music Gallery, Toronto www.musicgallery.org
Emergents recital with violinist Veronique Mathieu. Solo works from Unsuk Chin, Boulez, Carter and Current, as well as duo works from Isang Yun and Johnson
Calling all HuffPost superfans!
Sign up for membership to become a founding member and help shape HuffPost's next chapter