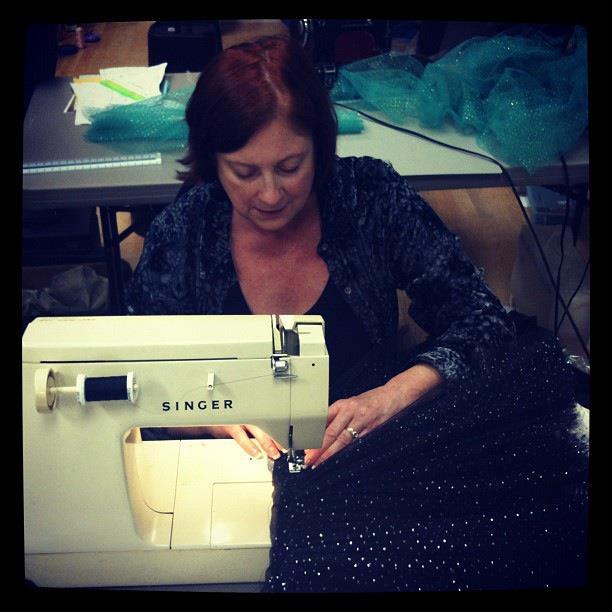 Claudia Folts of Tutu.com

Tutus are every girl's dream at sometime in her life. I like the idea that Tutu.Com has a hand in making those dreams come true. -Claudia Folts-
The story of Tutu.com goes back many years to when Claudia Folts was a ballerina. She performed with several companies including Harkness Dance Theatre, the Baltimore Ballet, Ruth Page's Chicago Ballet, Alphonso Cata's Ballet on Broadway and The New York City Opera. While performing with one company, she became frustrated with having to wear ancient, recycled Ballet Russes costumes on stage. They didn't fit, they'd never been washed and they needed repairs. She began, out of necessity and curiosity, to teach herself how to make repairs and adjustments. In the process, she learned to reverse engineer tutus and was eventually able to build her own. When Sylvester Campbell, Dean of Baltimore School of the Arts, called and begged her to fabricate twelve tutus, her next career began to fall into place.
Ms. Folts's dancing career ended and she went on to open her own school and dance company in Charlotte, North Carolina. Naturally she made her own tutus for performances. As time went on, she began to get more requests from people wanting her tutus since it is a specialized skill that few possess and the price of getting them made by established costumes shops made it prohibitive for companies on a tight budget. She has now written books on the subject and is a recognized expert whose work is sought after by leading ballerinas and ballet companies.


Swan Lake, the Gelsey Kirkland Academy of Classical Ballet
Costumes by Tutu.com, photo by GKACB
Twenty years ago, many ballet companies had their own costume shops and made most of their own costumes. There were also some large theatrical costume shops in New York City that made tutus and specialty costumes. However, rising costs and shrinking revenue forced many dance companies to let their costume shops go and many independent costume fabricators ceased operation. This left a gap between supply and demand that Ms. Folts has been able to fill by understanding her clients' differing needs. Her company, Tutu.com, specializes in making tutus for ballerinas both amateur and professional. Her business is growing and she has just expanded into new space in Charlotte.
Costumes for ballerinas might seem like a luxury when money is tight but Folts has made it into a growth industry by recognizing and meeting a need through specialization. Her company also sells a full range of ballet clothing, fabric, notions and accessories, but tutus are the core of her business.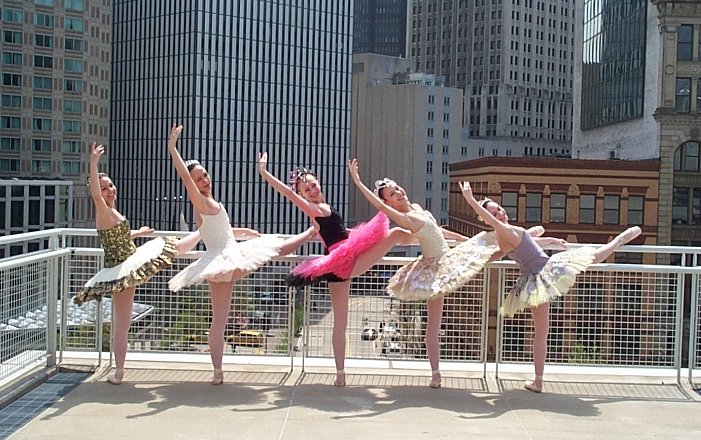 North Carolina Dance Theatre students at the RDA Festival in Pittsburgh
Tutus and photo by Claudia Folts
Classical and Romantic are the two basic types of tutus. The Romantic (from the mid 1800s) tends to be knee length or longer and is less structured. The Classic stands straight out with hoops. It evolved in the late 1800s, the Swan Lake era. Tutus changed as technique changed. As dance movement became more technical tutus moved up to allow the whole leg to be seen, not just the foot. The changes now are more stylistic rather than having to do with technique.
The success of Tutu.com is in understanding that customers have varying needs and budgets. At the top of the line is her custom made couture tutu. Dancers in many of the world's best dance companies wear her tutus while performing the great classical dance roles. Her tutus are also frequently seen on dancers in international competitions. They are among the highest quality tutus made today.
Practically every ballet company does some form of The Nutcracker and there is a great need for costumes but budgets are always limited. For those customers, Folts has created tutu kits. They can be ordered in varying degrees of finish allowing the consumers to decide how much they are willing to invest in upfront cost and their own labor to arrive at a finished tutu. The kits may include a bare tutu with appliqués and notions that can be finished by the buyer. For the ambitious and experienced seamstress, there are patterns available which allows companies to make their own from scratch, thus saving a great deal of money.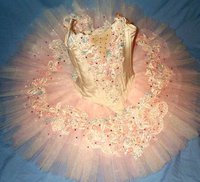 Sugar Plum Fairy costume for The Nutcracker
Costume by Tutu.com, photo by Michael Hawkins
An important recent growth area has been in rehearsal tutus. Many dance schools have come to realize that it is important to teach girls how to move in tutus well before they reach the professional stage. A smooth and gliding stride is required to keep a tutu from bouncing around unglamorously. Dancers, both male and female, also need practice to learn how to partner while wearing a tutu.
Want to make your own tutus but don't feel quite ready to do it alone? Ms. Folts travels periodically around the country (and is soon going to Australia) to host three day seminars in which she teaches the art and craft of tutu making. Travis Halsey, from the Joffrey Ballet, gives lessons in making the bodice that goes along with the tutu. The last part of the puzzle is making the tiara, the all important ballerina topper. That class is taught by Kellie Sheehan from New York City Ballet as part of the seminar. At a recent session, called TutuSchool-NY, Ms. Folts was busy sharing her knowledge with aspiring tutu makers from New York City and beyond.
Ms. Folts, who offers more than just tutu lessons, says:
We also talk about the business. I have a lot of people coming tonight who aren't part of the seminar. They have small businesses. The business part of it is always the hard part. Everyone is an artist and no one wants to deal with the money side of it.
At the most recent edition of TutuSchool-NY, a ballet studio in Tribeca was transformed into a costume shop for the weekend. Each seamstress had her own sewing machine set up with tables for cutting and pinning the patterns. Ms. Folts explained that participants in her seminars must have basic sewing knowledge and must bring (and know how to operate) their own sewing machines. She roamed around the room giving out encouragement and instruction. The atmosphere is friendly, collegial and upbeat. Everyone is working on a different costume project involving a tutu. One of Folts's favorite expressions is, "That will be fun." Judging by the participants, it is.
The skill level of the participants ranges from beginners to highly experienced women who are attending their third and fourth seminars. The more advanced participants are building on their knowledge gained in previous classes to expand into more difficult and complex tutus while the beginners are just learning the ropes. Carol and Mairi Brascoupe, a mother and daughter team from Canada, specialize in gymnastics costumes and see an opportunity to expand their business with tutu-making skills.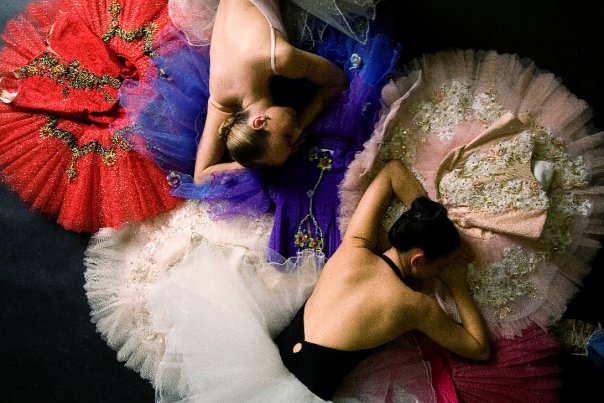 Ballerina Dreams, realized by Tutu.com
Photo by Brian Mengini
Toya Dubin is a 16-year-old dancer from upstate Orange County Ballet Theater based in Cornwall, NY:
I want to go to school for costume design. I've made five tutus on my own but I felt like I had a lot to learn. I started when I was thirteen and decided I would make my own patterns which is impossible! This (TutuSchool) is pretty amazing. I still have one year of high school left. I'll use this tutu for performances and then donate it.
Catherine Zehr is here for the fourth time. She designs and builds costumes for Ballets with a Twist in New York City. She is highly experienced and feels that her costuming really took off after attending her first Tutu.com seminar and looks forward to each one she attends. She says, "It's a lot of fun for me, sort of a vacation. It's kind of like Project Runway for costumers." Her current project is making a costume for the character of Bloody Mary for a ballet titled Cocktail Hour. This time around she is learning how to incorporate ribbons into her tutus.
Rebecca Shelton is a semi-retired dancer, current ballet teacher and now aspiring tutu maker. She is making a tutu for herself and is planning on making more for the New England Civic Ballet. Said Shelton, "I love making costumes. I've made tutus on my own from patterns, but never like this. This is the real thing and I'm learning so much. It's exactly what I needed. The amount of knowledge she (Ms. Folts) has is amazing."
Caralyne Hart is from Australia and now lives in Old Greenwich, Connecticut. She said, "I'm a volunteer wardrobe mistress at the Greenwich Ballet Academy by default. I'm the only one who can sew. This is my fourth visit to tutu boot camp, as we call it, and I just love it. Each time I come I learn a new technique and make a new style of tutu." Her current project, a double hand-pleated tutu, will be worn by her daughter in competition. She hopes to make and design her own tutus in the future. Why does she keep coming back for additional seminars? "I go home inspired," she answers with a smile.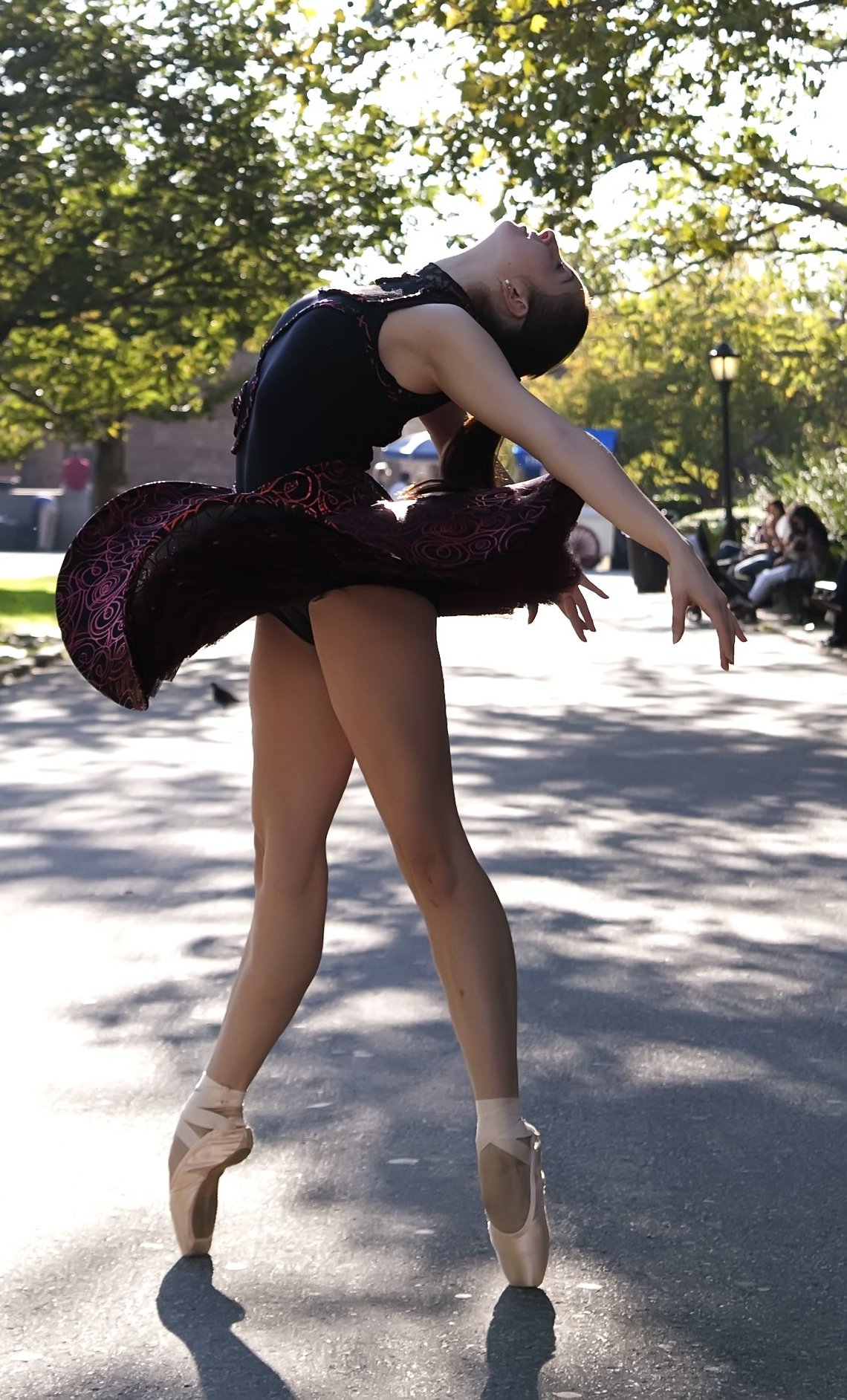 Sophie Folts in another Tutu.com creation
Photo by Brian Mengini
Popular in the Community