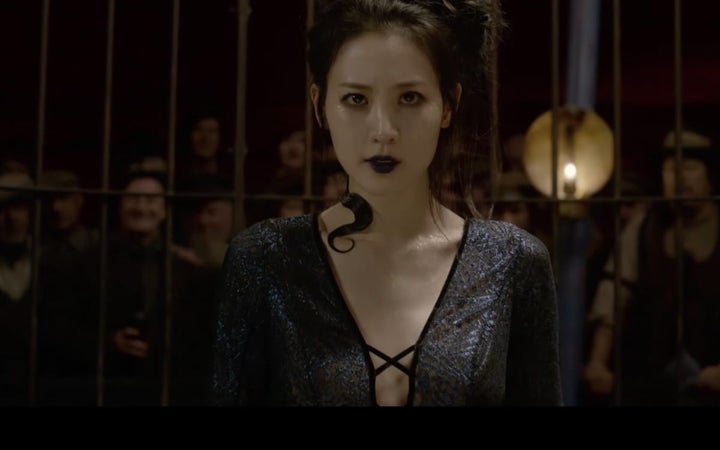 HOGWARTS, LOS ANGELES ― If you ask actress Claudia Kim about the evolution of her "Fantastic Beasts: The Crimes of Grindelwald" character, Nagini, she'll answer the question as if she were any other "Harry Potter" fan. 
"I am so curious how she gets there," Kim mused during a panel Q&A at Universal Studios Hollywood.
In this case, "there" refers to the moment when Nagini transforms permanently from a woman into a snake ― or more accurately, one of Voldemort's living, breathing Horcruxes. When a moderator pried for more details about Kim's role in the J.K. Rowling franchise, she had only this to say: "I don't know."
Until about two months ago, with the "Fantastic Beasts and Where to Find Them" sequel due to hit theaters a week before Thanksgiving, Kim's role in the movie was almost entirely obscured. Her character was originally listed as "Maledictus," which, according to the fan site Pottermore, is "a witch who carries a 'blood curse' that 'destines her ultimately to transform into a beast.'" 
But in September, a trailer confirmed her fate (and a popular fan theory): Kim's Maledictus would be Nagini, who before falling prey to Voldemort's reign was a young female circus performer with the ability to temporarily morph into a snake. 
It's at the circus where Nagini befriends one of the central characters from the first "Fantastic Beasts" installment, Credence (Ezra Miller), who's struggling to define himself after an adolescence spent under the purview of a magic-hating foster mom in New York, where his wizarding abilities spiraled out of control.
Meanwhile, the Ministry of Magic ― plus protagonist Newt Scamander (Eddie Redmayne) and American auror Tina Goldstein (Katherine Waterston) ― are hoping to track down Credence before Gellert Grindelwald (Johnny Depp) does. The evil wizard believes that Credence, who was able to survive the Obscurus parasite that formed inside him when his foster mother forced him to repress his magic, will help Grindelwald execute his dreams of wizard-muggle domination. 
"The path has been laid," Grindelwald says. "And he's following it. The trail that will lead him to me."
Kim mostly serves as a sympathetic companion to Credence in "The Crimes of Grindelwald." The film doesn't provide many clues about her eventual transformation into a snake, nor does it explain how she ends up turning to the dark side in the "Harry Potter" series.
She doesn't yet have a wand, a fact she lamented during the panel. But unlike lovable, goofy Jacob Kowalski (Dan Fogler) ― a no-maj, the American term for "muggle" ― Kim told Entertainment Weekly in a recent interview, Nagini does have "powers that are yet to be explored."
Nagini's future is canonical, but just how she gets there ― that's the stuff of intrigue. It's the kind of breadcrumb-laden story that will likely reel viewers into theaters for the third, fourth and fifth installments of "Fantastic Beasts," no matter how lackluster the sequels prove to be.
Like most Pottheads, Kim, now 33, read all of Rowling's books when they came out. She said she thinks it's "so cool" that her character isn't confined to the "Fantastic Beasts" storylines and also appears in the "iconic 'Harry Potter' films."
"Korean translations weren't available, so I had someone send books from the U.S. to me," she said during the panel, which was held in front of the Hogwarts replica at Wizarding World after a fan screening last week in Los Angeles. 
While she's new to Rowling's universe, the actress has been part of other popular franchises. She played Dr. Helen Cho in Marvel's "Avengers: Age of Ultron," and last year she starred alongside Idris Elba and Matthew McConaughey in "The Dark Tower," based on Stephen King's popular books.
When Warner Bros. announced Nagini's involvement in "The Crimes of Grindelwald," Rowling admitted to her Twitter followers that she had been sitting on the character's origin story for "around twenty years." It's the kind of revelation that Harry Potter fans live for; a primary player's biography ― two decades in the making! ― is finally escaping the depths of Pottermore for the silver screen. Rowling was probably not prepared for the wave of criticism that followed.
After the trailer revealed that a South Korean actress would be playing a woman destined to become the pet snake of a white male villain, a group of fans on social media criticized Rowling for the casting choice. Some ― like author Ellen Oh ― argued that by picking an Asian woman for the role, the movie was perpetuating long-standing racist tropes.
Oh said she believes the casting controversy blew up in part because "of what is a clear, stark division within the fandom."
"Those who will not hear one single bad word against their fave and those who recognize that she is human and as problematic as any of us can be if we don't learn from our mistakes," Oh told HuffPost.
"We have to consider the type of representation we are getting," she added. "I'm of the mindset that no representation is better than bad representation because bad representation has far-reaching negative ramifications. But I know that there are some who believe bad representation is better than none."
Oh noted that Rowling "never addressed the hurt she gave the Native American community for the cultural appropriation she committed when she published the history of the magical community in North America."
"I feel like it was an opportunity for her to listen and learn, but instead, she doubled down and continued to expand the 'Harry Potter' universe without thinking about the ramifications to her IPOC [indigenous people of color] fans," Oh said.
Rowling disagrees with her critics regarding the casting for Nagini. In response to the backlash, she tweeted, "The Naga are snake-like mythical creatures of Indonesian mythology, hence the name 'Nagini.' They are sometimes depicted as winged, sometimes as half-human, half-snake. Indonesia comprises a few hundred ethnic groups, including Javanese, Chinese and Betawi."
"When I found out that I'm playing Nagini, I thought it was meaningful because it's an important character in the 'Harry Potter' series," she said. "'Harry Potter' is a franchise film with many Caucasian actors, so I thought many Korean viewers would be happy."
She added that she is "looking forward to viewers being satisfied and the controversy fading away once the film premieres."
However, if the controversy surrounding Kim's casting fades, it may give way only to discussions of the various other parts of the film that fall short. Namely, the gaping holes in the Wizarding World's timeline and the cumbersome twist at the end of the movie. (We won't give it away.)
There are parts that work. It takes a while to warm up to the fact that Jude Law is young Dumbledore, but the handsome actor nailed his entry into the "Harry Potter" franchise. (During the panel at Hogwarts, he said that he was on vacation with his family when he heard he landed the role and that he started carrying around a twig as wand practice.) Depp, perhaps in part due to the controversy surrounding his own casting, is easy to despise as Grindelwald.
Most notably, Kim does a solid job as a fellow newcomer to the "Harry Potter" world. Despite the meager amount of dialogue for her, she dazzles as a woman struggling to contain her inner beast. Her transformation from human into reptile is truly a wonder to watch on screen, thanks in part to the visual effects team and her work with a contortionist.
Kim told audiences in Los Angeles that the more she learned about Nagini's backstory, the more she sympathized with the character, adding, "That doesn't change the fact that Nagini is absolutely terrifying."
The "Fantastic Beasts" franchise might not yet have realized the same complexities that Kim has, but it has at least three more movies to figure it out.
"Fantastic Beasts: The Crimes of Grindelwald" hits theaters Nov. 16.
Calling all HuffPost superfans!
Sign up for membership to become a founding member and help shape HuffPost's next chapter