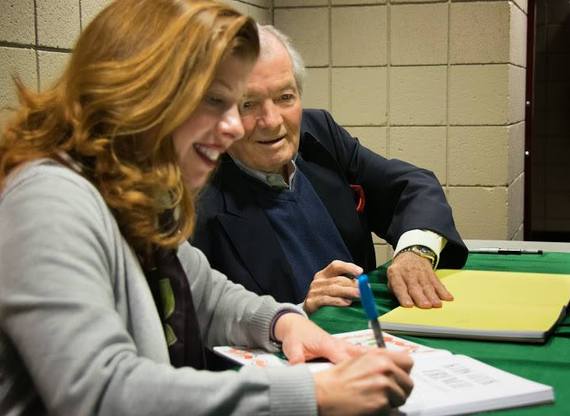 When Claudine Pépin was approached to write a book to inspire children to cook, she turned to the best local ingredients she could find: her family. With a husband who is a professional chef and instructor, a daughter who is a first-class taste tester, a mother who taught her everything she knows about entertaining, and a father who is perhaps the greatest chef in the world, writing a cookbook would be a piece of cake.
The result is Let's Cook French, A Family Cookbook: Cuisinons Francais, Un livre pour toute la famille (Quarry Books), a fun, bilingual, interactive cookbook that introduces families to the art and joy of French cooking. It also gets kids interested in making their own meals and encourages better eating habits, while also teaching the importance of culture.
Named "Woman of the Year" by the Academie Culinaire de France - Filiale des Etas Unis in 2002, Claudine grew up in the kitchen and joined her father, world-renowned chef Jacques Pépin, in preparing delicious meals and sharing cooking techniques on Jacques Pépin's Kitchen: Cooking with Claudine, Jacques Pépin's Kitchen: Encore with Claudine, and Jacques Pépin Celebrates. All three of their series have received the prestigious James Beard Award.
She and her 12-year-old daughter Shorey have also made appearances together on Essential Pépin and Jacques Pépin Heart & Soul. In addition, Claudine has made numerous television appearances including Cooking Live with Sara Moulton, Good Morning America, and Molto Mario with Mario Batali. With an undergraduate degree in political science and philosophy and graduate work in international relations from Boston University, Claudine also spent a great deal of time in the wine industry, with two years as the brand ambassador for Moët & Chandon and Dom Perignon Champagne in New York, while also teaching food and wine pairing for both the French Culinary Institute and the Sommelier Society in New York City.
"We had such fun putting this book together," Claudine says. "My husband Rollie worked with me on every single recipe and he always let me have my way, which is nice. Without him, I don't think we could have done the job that we did."
The illustrations for Let's Cook French were provided by Claudine's daughter and her father. An accomplished artist, Jacques was given a list of illustrations that were needed for the book and he and Shorey, a talented artist in her own right, worked together to add the finishing touches to the book. "We always have a special guest book or menu book and when people come for dinner, we do a little drawing and write the menu and everybody signs it," Claudine explains. "My father has amassed about seven or eight of them. The artwork that's in there is amazing and it's really fun to look through it and remember the dinner parties we had. Plus when you have people over again, you can remember what you served them. Sometimes wine or sauce will spill on it and that just makes it better. So it was perfectly fitting to have my dad and Shorey illustrate the book."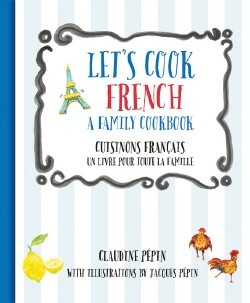 Let's Cook French features classic, simple dishes inspired by French cuisine and each recipe is shown in both English and French. "I'm hoping that the translations will appeal to educators because if you're a French teacher, you're always looking for ways to inspire kids, whether they are little or in high school and I think food is usually a good inspiration. Teachers could have the kids take home the recipes and try one at home for extra credit. I think something like that would be really fun. Following recipes and cooking helps you learn math and science, and, in this case, maybe a bit of French or English, too."
Recently named a finalist for an International Association of Culinary Professionals (IACP) Award, Claudine says her whole concept for this book is to make "classic" French recipes really approachable for everyone, particularly kids. "People can get intimidated by names like vichyssoise, but it's not scary. It's very simple. The heart of the book is just really simple family recipes," she explains. "As a society, we have tried to encourage kids to eat healthy foods by hiding them or disguising them as something else or pouring bad cheese sauce on them, and I think that is a disservice to children. They don't come into the world eating only chicken nuggets, pizza, and French fries. They will eat the food they are given. That's the food that they will become used to and enjoy. So, if we feed them only 'kid' food, those are the tastes they will develop. If, however, we feed them all sorts of foods, they will eat them as well. Growing up, I was always given the same food that my parents and their friends were having, albeit I might have eaten earlier and a smaller portion."
Although many of the recipes in the book may have French names, most of them are very relatable to American recipes--perhaps with an added twist--but Claudine encourages readers to experiment and adapt the recipes to suit their own family's tastes. It's a perfect way to get children to try new things, inspire healthier eating habits, and spark their creativity, and that makes for some very happy cooking.