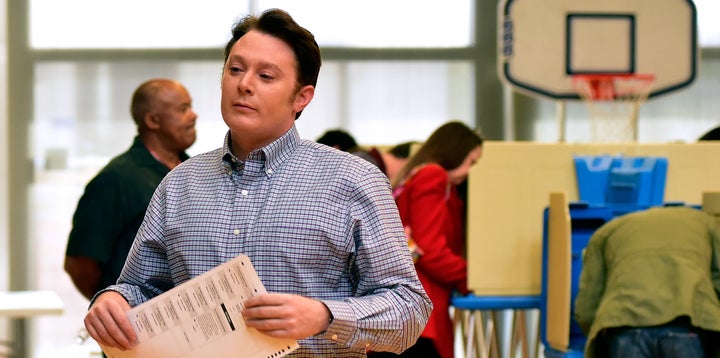 Clay Aiken's congressional run in 2014 was never going to be a typical political affair. Not only was he a former "American Idol" and reality television star trying to hack it in the world of politics -- he was an openly gay man running in a conservative House district in North Carolina. The ingredients were there for a tumultuous race.
Along the way, however, the campaign veered away from being entertaining into a dark, somber place. Just days after losing to Aiken by a narrow margin, his opponent in the primary, Keith Crisco, was found dead -- bringing the election to a halt and deeply affecting everyone involved.
In the latest episode of the Candidate Confessional podcast, Aiken opens up about just how profound an impact that moment had, revealing the guilt he grapples with to this day. 
"This sounds incredibly selfish, because who am I to be bothered by my lack of closure when he has children, and a wife and grandkids that didn't have closure with him? But I never got to tell him that I had a lot of respect for him and I never got to apologize for the fact that, at times, I wasn't nice to him," Aiken said.
"I wonder if his family hates me. I hope not," he continued. "But I can't help but wonder if one has a heart attack after they spend $750,000 and still lose to that little queer when he was far more qualified for it, at least on paper."
When he found out about Crisco's death, Aiken was sitting in a restaurant with his top strategist looking at potential campaign managers for the general election. A call came in to the strategist with the news. Everyone around the table was floored. They stayed there for an hour, barely speaking.
They decided to go dark politically. Aiken took down his ads and his website. He thought about going to the funeral but opted against it, worried that if he showed, he would become the story. Instead, he had a top aide reach out to the family to convey his condolences.
He never reached out himself, Aiken said.
"To be completely honest with you, I didn't have the balls. I ain't going to lie," he said.
Eventually, things reverted back to normal -- however normal a campaign can be. The general election began, Aiken struggled to overcome his perception as a pop star and went on to lose a race that, in all likelihood, neither he nor any Democrats was going to win in the difficult 2014 cycle. In the weeks and months after Crisco's death, Aiken said he was too overwhelmed -- physically and emotionally -- to reach out to Crisco's family. But in the months and years that followed, he hasn't connected still. The guilt hasn't receded, Aiken said, fighting back tears as he spoke.
"I have, almost every month even still here a year, two years on now, almost two years since he has passed away, have wondered, have thought about wanting to see her," he said of Crisco's widow. "I don't think she hates me today. I hope she doesn't."
"I hope the family, his kids, don't hate me today. They might still. But I'm sure they did that day," Aiken said. "He had spent his last three months of his life away from them. He had canceled a vacation that he and his wife -- they had planned to go to Cuba actually -- and he had canceled that vacation to stay on the trail and run against me. The last three months of his life were stressful and not enjoyable, and I was to blame for that."
This podcast was edited by Christine Conetta and record by Nicholas Offenberg.
Listen to the podcast above or download it on iTunes. And while you're there, please subscribe to, rate and review our show. Make sure to tune in to next week's episode, when our guest will be Tim Miller, the communications director for Jeb Bush's 2016 run for the White House. 
Calling all HuffPost superfans!
Sign up for membership to become a founding member and help shape HuffPost's next chapter