Christian leaders and social justice advocates responded with sharp rebuke on Monday to a Republican congressman's suggestion that people hunt and kill anyone they suspect could be a radicalized Muslim.
In the wake of a terror attack in London that left seven people dead, Rep. Clay Higgins (R.-La.) is urging people to kill anybody they suspect could be a radicalized Muslim.
"Hunt them, identity [sic] them, and kill them. Kill them all," Higgins wrote on his Facebook page on Sunday. "For the sake of all that is good and righteous. Kill them all."
Higgins, a former police captain who speaks openly about his Christian faith, wrote his post the morning after three suspected terrorists drove a car into a crowd on London Bridge and began stabbing people.
The assailants killed seven people and injured nearly 50 others before they were killed by police. The Islamic State militant group claimed responsibility for the attack.
Higgins used the attack to stoke anti-Muslim fear and antagonism, claiming: "The free world... all of Christendom... is at war with Islamic horror."
HuffPost reached out to Christian leaders and anti-hate groups on Monday to hear their thoughts on Higgins' framing of the incident.
'It Would Be Hard To Find A Statement More Antithetical To Christianity'
"It would be hard to find a statement more antithetical to Christianity, or more lacking in the most elementary understanding of Jesus," said James Martin, SJ, Jesuit priest and author of Building a Bridge.
"Jesus didn't say, 'Hate your enemies.' He said, 'Love your enemies.' He didn't say, 'Hunt down your persecutors.' He said, 'Pray for your persecutors,'" Martin continued. "And what did Jesus do to those who nailed him to the Cross? He forgave them. Mercy and forgiveness are hard teachings, but they are clear ones."
'It's Racist. It's Wrong. And It Could Lead To Violence'
Heidi Beirich, head of the Intelligence Project at Southern Poverty Law Center, called Higgins' comments "outrageous" and "the height of irresponsibility."
"He's treating every single Muslim as though they're a terrorist. This kind of talk opens wide the possibility for hate crimes. It's racist. It's wrong. And it could lead to violence."
'This Is Not A Battle Between Christians And Muslims'
Catherine Orsborn, campaign director for Shoulder To Shoulder, said Higgins' declaration "demonstrates an alarming misunderstanding of the issue" and "betrays American values."
"For politicians to try to turn us against one another is counter-productive and dangerous," she said.
"This is not a battle between Christians and Muslims, or between 'Christendom' and 'Islamic horror,'" Orsborn said in an email to HuffPost. "All humans who value dignity and equality should and do stand against horrific acts of violence like this one, just like all humans who value dignity and equality should stand against acts of violence coming from white supremacists or anti-Muslim extremists (like the recent horrific incident in Portland)."
'Jesus, Himself, Would Never Have Condoned Such A Statement.'
Rev. Dr. Katharine R. Henderson, president of Auburn Seminary, accused Higgins' rhetoric of exhibiting the same kind of extremism that people of all faiths should be fighting against.
"No one who calls himself a Christian can utter the words that Rep. Clay Higgins wrote about Muslims," Henderson said. "As a Christian minister, I denounce his words in the strongest terms. Jesus, Himself, would never have condoned such a statement."
"No one who calls himself a Christian can utter the words that Rep. Clay Higgins wrote about Muslims."
"What we need from our leaders ― political, religious, and otherwise ― is maturity and forbearance, not hateful rhetoric that stokes fear, hatred, and violence," she added.
'Here's The Thing About Hatred. It Hides In Plain Sight'
The Rev. Jacqueline Lewis, senior minister at Middle Collegiate Church in New York City, noted that Higgins comments can be summed up in one word: hatred.
"Here is the thing about hatred. It hides in plain sight. It comes dressed in all hues. It masquerades in all of our religions," Lewis told HuffPost.
"This horrible violence is no more Islam than the enslavement of Africans was Christian. ISIL is no more Muslim than the KKK is Christian... Any person who claims faith in God as motivation for the kind of hatred and violence exhibited by ISIL and in this irresponsible rant by Congressman Clay is not being honest about God as their motivation. This is about fear, retribution, disregard for human life, and violence," Lewis said.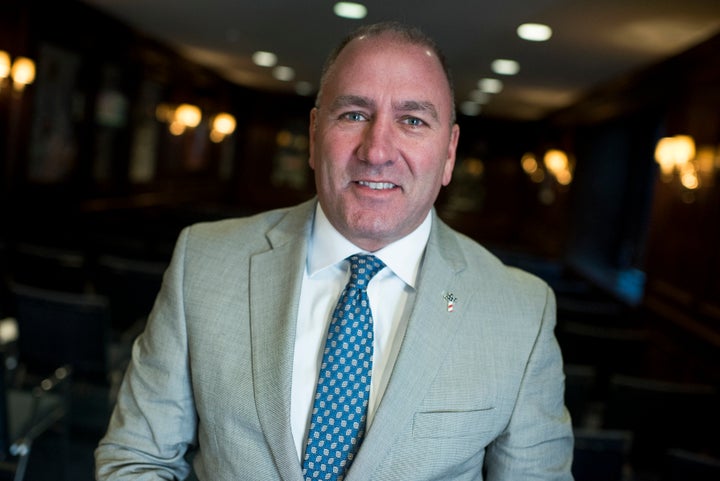 Andrew David, a spokesman for Higgins, provided a statement to HuffPost from the congressman that did not clarify how Higgins thinks people should identify radicalized Islamic suspects in order to kill them. Higgins' statement read:
We are a world at war. The enemy is radicalized Islamic jihadists. The terrorists certainly take advantage of the politically correct madness that consumes the West. They revel, that many in the western world are frightened to speak freely. I've never been accused of being politically correct. I call things the way I see them. The meaning of candid speech is frequently mischaracterized or misunderstood. This is about prioritizing national security and protecting American lives. Every measure must be taken to eliminate radical Islamic terrorism and the threat it poses to the free world. My only concern is protecting the people that live in my district, my state, and my country. We must stand strong against radical Islamic terror. The fate of the free world will be determined by the courageous, not by the intimidated.
Higgins' representation of Saturday's attack as evidence that the U.S. is "at war" with radical factors within Islam echoes President Donald Trump's campaign comment that "Islam hates us." Such statements have had a direct and dangerous effect on the lives of Muslim Americans.
"As a Christian, I want my American Muslim neighbors to know that I stand with them against violence and extremism in all its forms, and I will continue to work alongside so many others to live into our national ideals," Orsborn said. "We all want a country where no one is afraid to walk down the streets.
Henderson added: "We reach out to Muslim neighbors in this country and around the world, as well as to the people of London, with compassion and in solidarity, as together we seek to create the world of inclusivity and human flourishing that God intends."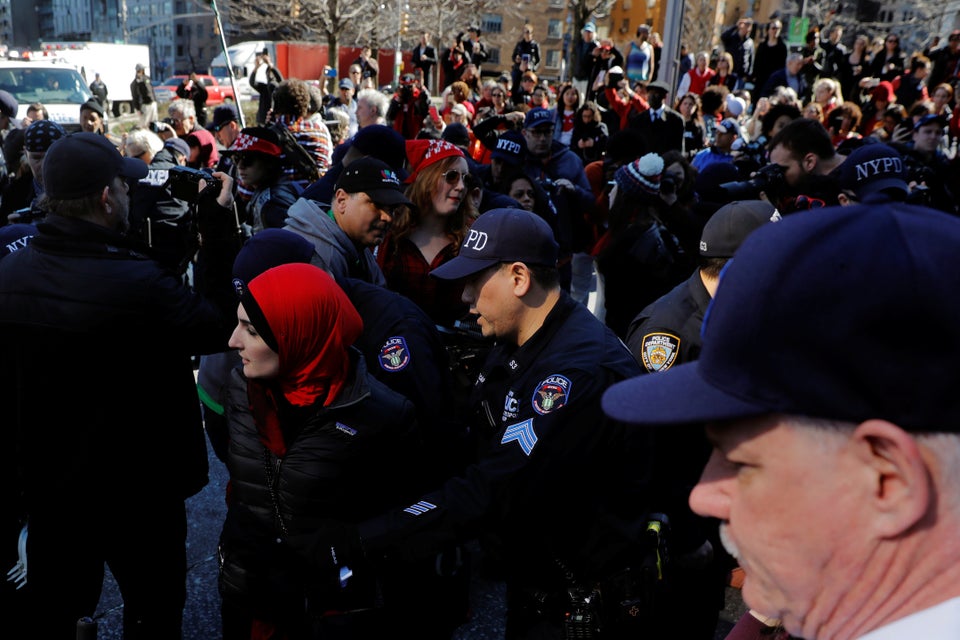 Muslim Women Protesting Around The World