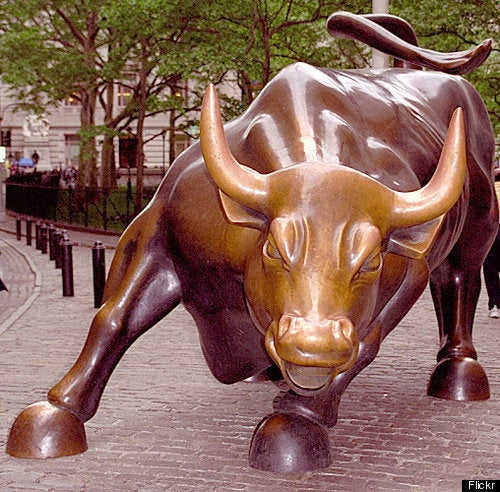 When the former president and chief operating officer of Wall Street's foremost mortgage-loan due diligence firm testified under oath before a federal panel that his firm found that its clients' standards were a joke -- that as many as 2.5 million potentially toxic mortgages got a rubber stamp -- his former employer's representative, seated next to him at the hearing table, didn't say a word to contradict him. In fact, the two were quite cordial. The company lawyer, seated behind the two, didn't say anything, either.
That was two weeks ago. Now, D. Keith Johnson's old company, Clayton Holdings, is distancing itself from the statements of its former executive, telling the same government investigators that his claims were "inaccurate."
Clayton sent the Financial Crisis Inquiry Commission a letter pushing back against Johnson's claim that as much as 28 percent of the home mortgage loans its clients likely passed on to investors through the credit rating agencies failed to meet basic underwriting standards. The company also shared that letter with at least one credit rating agency, Fitch Ratings, which in turn leaked it to at least one rival news reporter. The Huffington Post obtained the letter from Clayton late Monday.
Spreading the letter around suggests that the company seeks not only to discredit its former president's testimony, but also to calm nervous Clayton clients and other market participants who could face litigation or further government investigations into what those firms knew, and when.
During the boom years, Clayton controlled as much as 70 percent of the market for so-called third-party due diligence, Johnson testified, which involves analyzing mortgages given to borrowers with poor credit for Wall Street firms, which then packaged and sold those mortgages in the form of bonds and other securities to investors.
During the Sept. 23 hearing in Sacramento, Calif., first reported by The Huffington Post, Johnson and a current Clayton executive, Vicki Beal, described Clayton data showing that not only did more than a quarter of loans sampled fail to meet underwriting standards, but also that Wall Street banks ignored Clayton's recommendations nearly half the time and likely purchased those loans anyway, selling them to unwitting investors who were never told that the biggest home loan due diligence firm in the country had found potential defects in these mortgages.
Under oath, Johnson referred to the findings as "alarming." He added that he thought the firm's findings should have been disclosed to investors during this period, and that they could have been "material," meaning relevant to a possible legal judgment. An untold number of lawsuits have been filed in the wake of the subprime mortgage crisis and subsequent housing market collapse -- filed by investors, homeowners, government-backed entities and counterparties.
But Clayton is pushing back against Johnson's testimony after various market participants reached out to the Connecticut-based firm and expressed concerns with what Johnson -- and by extension Clayton -- was sharing with the public, according to its letter and people familiar with the matter. Now under pressure, Clayton is trying to undo whatever damage the public release of its data and testimony of current and former executives may bring to past, current and future clients, people familiar with the matter say.
Johnson, who testified both in public with Beal, who was accompanied by Clayton counsel, and in at least one private interview in the presence of Clayton counsel, told the crisis commission how his former firm tried to capitalize on its data by meeting with the three major credit rating agencies -- Fitch, Standard and Poor's, and Moody's Investors Service -- and pitching them on the firm's services. Clayton met multiple times with the rating firms throughout 2006 and '07, according to Johnson's testimony and Clayton's letter.
Clayton was able to track whether loans met standards and how often those that didn't were waived into pools by Wall Street firms, which then likely purchased them and bundled them into securities, according to testimony and documents provided to the crisis commission. Clayton could tell, in effect, how often firms like Morgan Stanley and Deutsche Bank ignored its red flags, on which mortgages, and when.
Company representatives thought this capability could serve Wall Street banks in their quest to identify declining underwriting standards at subprime mortgage originators like New Century Financial and Fremont Investment & Loan. If Morgan Stanley, for example, knew that a certain percentage of New Century loans didn't pass muster, it could force the lender to tighten its standards.
A Wall Street firm could also recognize how often its employees purposely ignored red flags and purchased possibly defective loans. Traders, who got their bonuses in large part based on volume, effectively ran the mortgage-securitization practices at many firms. The more securities they bundled and sold, the higher their bonuses. Risk management officials could have used the Clayton data to rein them in.
Just over half -- 54 percent -- of the more than 910,000 loans Clayton sampled met underwriting standards, documents show. Another 18 percent met the standards with the help of mitigating factors, like a huge down payment, for example. The rest -- 28 percent -- were initially flagged by Clayton. Of those, 39 percent were waived in by firms like Morgan and Deutsche, among others. Virtually every big Wall Street firm used Clayton, records provided to the crisis commission show.
Clayton typically sampled just 10 percent of the loan pool, Beal testified. At the height of the boom, that dipped to as low as five percent. That means that as many as five million loans didn't meet initial underwriting standards, and that more than half of them didn't meet those standards even when there were mitigating circumstances.
Clayton data could have helped managers "get 54 percent closer to 100 percent," Johnson testified. "Good managers manage exceptions and try to get that down," he said.
Credit rating agencies could have used it, too. Clayton's due diligence reports were "a great product to show clients," Johnson told the commission last month.
In a series of acts which the commission's chairman, Phil Angelides, described as "enlightened self interest," Clayton pitched its services to rating firms by effectively saying, "Wouldn't this information be great for you to have as you assign tranche levels of risk?" Johnson testified.
A typical mortgage-backed security is divided into different levels, called tranches, given different ratings based on risk of default. The lower tiers, wiped out first if homeowners defaulted on their loans, were the riskiest and thus have the lowest ratings but offer the highest yields. Higher tranches, wiped out last, have the best ratings but offer the lowest yields. They are supposed to be safer.
Firms like Fitch and S&P could have used Clayton data to help them better analyze the risk of default, information like the percentage of loans in the security pool that failed to meet underwriting standards.
"All of them thought this was great" and "wonderful to have," Johnson testified.
But the rating agencies declined to sign up for the service. The reason, Johnson said, was that if a rating agency bought Clayton's services it would likely have been more stringent, which would have cost it market share as Wall Street issuers turned to a more permissive rater.
"The loss of their services could have an adverse effect on our business and results of operations," Clayton said of Johnson and two other executives.
According to its Sept. 30 letter, Clayton claims Johnson presented "inaccurate testimony" by telling the crisis commission that the firm took its client reports and data to the rating agencies.
"First, at no time did Clayton share any client reports or data, much less the beta Trending Reports, with any rating agency," reads the letter, addressed to Angelides and signed by Paul T. Bossidy, Clayton's chief executive officer. "Let me be clear, Clayton never shared any client reports or data with the rating agencies during a period when the rating agencies were reviewing securities for ratings issuance.
"Second, Clayton used these meetings solely to market its products. At no point did Clayton set up a meeting with a rating agency in an effort to discuss 'concerns' Clayton had about the securitization process and the ratings being issued.

"Indeed, as detailed below, the only discussions Clayton had with the rating agencies regarding changes to the due diligence process occurred after [emphasis in original] the securitization market for new issues had collapsed in early 2007. Simply stated, there was nothing Clayton discussed with the various rating agencies prior to the collapse of the securitization market, that to Clayton's knowledge would have lead the rating agencies to alter their approach.
But Johnson never said he took client reports or data to the rating agencies. He simply referred to Clayton's "exception-tracking mechanism," which Clayton rolled out to its clients beginning in late 2005, according to its letter.
The overall trends Clayton identified -- again, more than a quarter of loans failed to meet underwriting standards -- could have been enough to pique a credit rater's interest.
Yet Clayton spent the next several paragraphs asserting that it never shared this data, repeatedly pointing out whether Johnson, its former chief operating officer, was present in the meetings with the rating agencies.
Johnson declined to comment. A Clayton spokesman declined to comment beyond the letter.
Clayton then went on to explain how three current and former Clayton executives "advised against the [crisis] Commission's reliance" on the firm-specific data Clayton provided.
The reports suffered from a "lack of standardization" and too many "variations" which means, "when aggregated and measured across our clients, it is not possible to form a meaningful basis of comparison," according to the letter.
Because of these "constraints," a former Clayton executive said she expected it to take "several years" to complete reports that would allow for meaningful comparisons. Thus, the crisis commission "should not draw any conclusions" from the reports that compared Morgan to Deutsche and so on. If it did, however, the panel should provide "these appropriate caveats so that the information is not misleading to the public."
However, Clayton was trying to sell the service that produced the reports it's now attempting to back away from. The firm dominates the due diligence market for residential mortgages. It claims to have developed a reputation as the "go to" firm for risk analysis, according to its website.
But even if those reports were bogus, Clayton never indicated that during public testimony, despite ample opportunities. During the hearing, Johnson testified alongside Beal in an almost conversational format in which both frequently spoke up and offered testimony while the other was being questioned -- a different setting than the commission's typically more formal hearings in Washington. Beal was flanked by legal counsel for Clayton.
At no point did Beal or a Clayton attorney interject and try to rebut Johnson or challenge his claims.
And Johnson, like other witnesses typically before the commission, had previously been interviewed by the panel's investigators. In past hearings, when commissioners caught inconsistencies between the testimony provided in private versus public, they drew attention to it and asked witnesses to explain.
Nothing of the sort occurred during the Sept. 23 hearing for Johnson.
And according to Clayton's letter, the commission interviewed several current and former Clayton employees. In past FCIC hearings, when employees of the same firm or agency gave conflicting testimony, commissioners would likewise raise it publicly and demand clarification.
Nothing like that occurred during Johnson's hearing, an indication Johnson's claims were in lockstep with Clayton data and the information provided by Johnson's former coworkers.
A spokesman for the commission acknowledged receipt of Clayton's letter and said the commission is reviewing it. He declined to provide further comment.
Speculation about Clayton's motives to send the letter a week after the public hearing center on the firm's desire to not run afoul of former, current or future clients.
The information provided to the FCIC "should have a phenomenal effect legally, both in terms of the ability of investors to force put-backs and to sue for fraud," Joshua Rosner, managing director at independent research consultancy Graham Fisher & Co., told the Huffington Post shortly after the Sept. 23 hearing.
Original buyers of these securities could sue for fraud; distressed investors, who buy assets on the cheap, could force issuers to take back the mortgages and swallow the losses.
As for the rating agencies, which declined to use Clayton's service for fear of losing market share, according to Johnson, the newly-unearthed information could cause both legal and regulatory headaches.
Sources say Clayton provided its letter to at least one firm active in the securities industry. Asked how Fitch Ratings obtained a copy of the letter, a Fitch spokesman declined to comment.
Johnson testified in September that the mortgage madness "could have stopped ... if the right data went to the rating agencies."
READ Clayton's letter to the FCIC:
*************************
REAL LIFE. REAL NEWS. REAL VOICES.
Help us tell more of the stories that matter from voices that too often remain unheard.