Hours before Oklahoma inmate Clayton Lockett writhed through a bungled execution, prison officials used a stun gun on him and discovered a self-inflicted wound in his arm.
Earlier on Tuesday, Lockett, 38, had been obstinate, refusing to eat, cooperate with guards and meet with his lawyer, KRMG reports.
The new details come from a timeline about Clayton Lockett's last day provided on Thursday by Oklahoma Department of Corrections Director Robert Patton to Gov. Mary Fallin.
Patton sent the report because the lethal drugs that were supposed to knock Lockett unconscious and kill him quickly, didn't work. Lockett lost consciousness, but a vein collapsed in his groin and the intravenous tube carrying the drugs failed. Prison officials abandoned the execution, but Lockett died from a heart attack 43 minutes after the execution began.
However, the Guardian points out that the timeline doesn't mention the three minutes Lockett writhed in the execution chamber, breathed heavily and tried to lift his head after he'd supposedly lost consciousness, according to witnesses.
Lockett was sentenced to death row for shooting 19-year-old Stephanie Neiman and standing by as two accomplices buried her alive.
His last day on death row started at 5:06 a.m. when guards arrived to take him for X-rays, but Lockett wouldn't allow them to place him in restraints, according to Patton's timeline. (His report also includes a series of immediate actions, including a full probe of Lockett's death and an indefinite stay of execution for other death row inmates.)
"After giving a verbal order to be restrained, offender Lockett refused, and an electronic shock device (Taser) was administered," Patton wrote.
Three minutes later, in a medical room, "it was found that he had a self-inflicted laceration to his right arm." Officials transported Lockett to the state prison's medical facility where he was treated and kept for observation.
Officials brought Lockett back to the original building at 8:40 a.m. He turned down breakfast and a chance to talk to his lawyer.
Guards checked his cell every 15 minutes. In preparation for the execution, Lockett had a 15-minute meeting with "mental health personnel" at 4:55 p.m.
A phlebotomist spent 51 minutes examining Lockett's arms, legs, feet and neck before finding a "viable insertion point' for the IV in his groin.
The execution commenced at 6:23 p.m. with Lockett declining to make a final statement followed by the introduction of the drug midazolam.
Ten minutes later, a doctor determined that Lockett was unconscious, at which point the vecuronium bromide and potassium chloride were injected.
At 6:42, the shades into the execution chamber were lowered, preventing witnesses from seeing what's going on.
At 6:44, the doctor determined that Lockett's vein collapsed, meaning "the drugs had either been absorbed into tissue, leaked or both."
In response to questions from Patton, the doctor said that Lockett hadn't received a lethal dose of drugs yet and that that there was another vein where they could reconnect the IV.
There was "a faint heart beat" and Lockett was unconscious at 6:56, at which point the director aborted the execution.
In another 10 minutes, Lockett was declared dead at 7:06 p.m.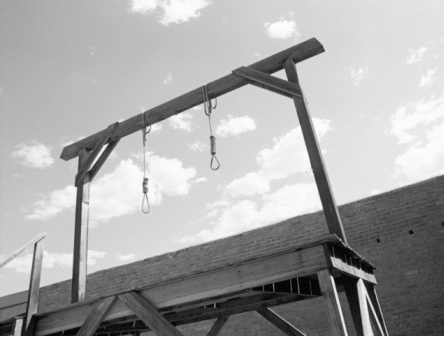 A History Of Capital Punishment In Texas