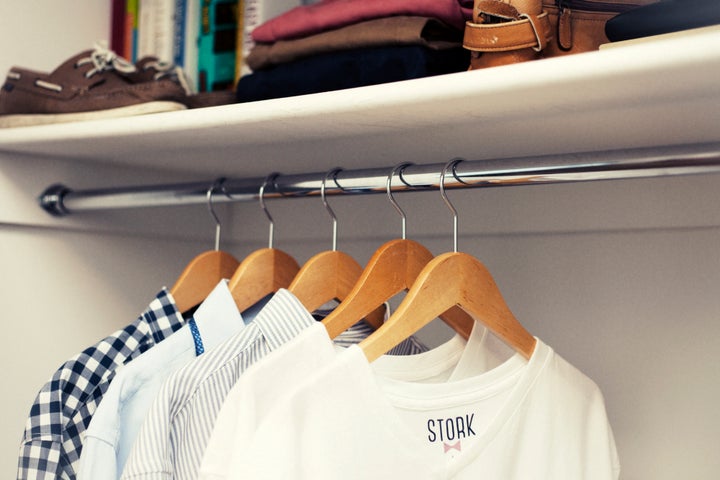 Not only can most men relate to the need for a product like this, but it's a very simple and smart concept that Greg has taken to a level where he decided to rethink the product as a whole. It wasn't enough for Greg to take a plain t-shirt made of cheap fabric and stuff it in a box. Instead, he thoughtfully reinvented the undershirt to serve its purpose with comfort and proper fit and created Stork around it.
I had a chance to catch up with Greg over a walk from New York City's Chinatown to the East Village, a route studded with passionate hustlers and entrepreneurs that built the character of the streets in which we walked. The following is an excerpt from that conversation.
Brian Kil (BK): What was the idea behind Stork?
Greg Schwartz (GS): I was on the treadmill running in an old shrunken, yellow undershirt, and thought to myself 'why do I still own this shirt?' It was several years old, and I was too lazy to throw it out and buy new ones. I couldn't try on an undershirt before I bought a pack of them, and I'd also always forget to buy new ones. Stork seemed like a logical way to 'scratch my own itch'. As it turns out, many others feel the same way too.
BK: How did you come up with the name?
GS: The name originally came from the idea behind the Stork Club, a famous New York City nightclub that catered to celebrities like Frank Sinatra, Joe DiMaggio and Marilyn Monroe. The history of an iconic New York destination mixed with the dependable, routine nature of a Stork delivery, fueled the idea behind the name. The undershirt is a classic garment, and the original concept was to improve upon that classic product while modernizing how it's purchased and delivered to the customer.
BK: What was the hardest part about launching Stork?
GS: I learned just how damn hard it is to make a good shirt. Our shirts have over 15 different measurements, which makes it a much more complex product than most people realize. Stork's first product truly wasn't what I envisioned, and I had to go back to the drawing board. Through really helpful customer feedback and help from people in the fashion industry (namely, my girlfriend Allison), we eventually made a product that people really like. Now as Stork rolls out new products, we're prepared to meet the expectations of our customers on day one.
BK: What made you want to create your own undershirt from scratch? It seems like a major undertaking. Why not just buy them at wholesale and send them out?
GS: Initially I thought about the wholesale angle, but I really didn't want to be just another place to buy Hanes or Fruit of the Loom. Amazon has that covered. Also, when I looked at the undershirt market we really didn't find options that we liked at the price point we were willing to pay. We designed our flagship product to fix the common pain points around fit; boxy fit, bunching at the shoulders, not staying tucked. We wanted to make something better than what's out there, and we're pretty darn confident that we did.
BK: Walk me through the process of creating a perfect undershirt.
GS: It wasn't pretty, but I started by asking people what they liked and disliked about undershirts. People consistently mentioned the short length, boxy fit, and bunching shoulders of the average undershirt that they wore. This happened to be in line with my own likes/dislikes, and with the help of some people in the fashion industry I used this research to make a better shirt. Coordinating with suppliers is incredibly difficult, and making sure that your design matches the actual product you receive from your supplier is also much, much harder than anyone would expect.
BK: I just default to Fruit of the Loom when I go buy my undershirts. How can I trust your quality when I can't go to a retail store to check them out?
GS: First, Stork lets everyone try a shirt for $5 before they decide if they want to join. We thought this was a clear differentiator, as with most services you can't 'try things' before making a larger purchase. After the two week trial you tell us whether or not you like the shirt. If you do, we'll send your first full pack which has 3,5 or 7 (depending on how often you wear undershirts. After that Stork sends fresh shirts every 4-6 months depending on your preferences.
BK: What was the moment after the launch where you thought, "Hey, this might actually become something..."?
GS: After Stork's first piece of coverage on the Tribeca Citizen, a small hyper-local blog. The founder/writer for the blog agreed to cover me, as the Stork founder, and I had no idea what it would yield. Turns out, the concept resonated with a lot of people, and the article had almost a natural Kickstarter effect. I then launched Stork on Product Hunt and it had similar awesome results. After Product Hunt I convinced myself that 'hey, maybe this is worth it.'
BK: Why haven't you taken outside, or institutional, funding like so many other subscription services?
GS: At such an early stage taking funding can accelerate growth but it can also hamper your ability to learn over time by rushing that growth. I was more interested in learning about what people want to make sure that we're not just attracting people to Stork for a one-off purchase (however you can if you wish). Building a long term relationship with any customer takes a damn good first impression. There may be a time where taking on investment will make more sense, but right now I'm content growing Stork as a 'cash-in cash-out' business.
BK: I'm hearing rumors of product line expansion. Could you tell me more?
GS: Shhhh -- just kidding, I'm happy to share. This month Stork is launching a gray undershirt, and in the coming months we'll be launching a regular, more standard-fitting shirt to satisfy those who prefer a less-fitted shirt. Stay tuned!
Related
Popular in the Community