With chart-topping single "Rock-a-Bye," Grammy-winning Clean Bandit praised single mothers around the globe. Now the wrenching music video for follow-up "Symphony" aspires to do the same for another often-overlooked segment of society, says founding member Grace Chatto.
"Gay men of color are really an under-represented group in mainstream pop culture," Chatto told Party Foul Radio with Pollo & Pearl. "So we wanted to cast two male black actors for the roles."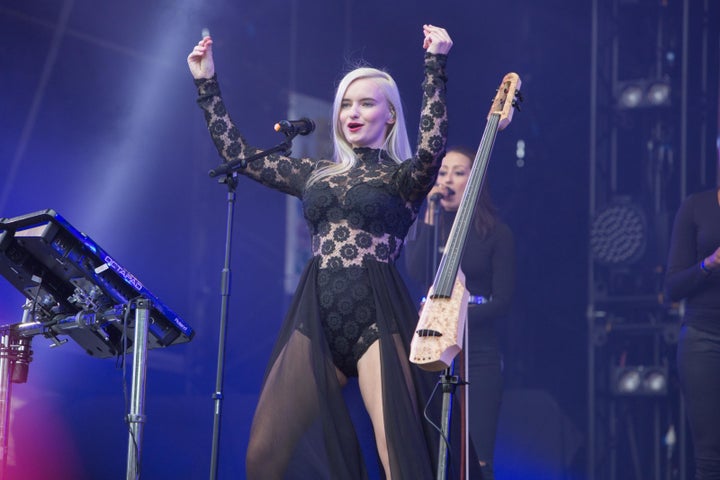 Calling the track – which features vocals by Swedish pop standout Zara Larsson -- "an emotional banger," Chatto and company decided to deliver an equally impactful visual. One of the group's first forays into a "narrative video," it traces the heartbreak of a gay man whose partner is killed in a bicycle accident.
"It feels really special to us," said Chatto, vocalist, cellist and percussionist with Clean Bandit since starting the group a decade ago. "I think so many music videos are about heterosexuals. It's not really representative of the real world."
Clean Bandit seems to love reflecting the lives of real people in its music. "Rock-a-Bye," Clean Bandit's ode to a mother's love, certainly struck a cord. With British singer Anne-Marie and reggae act Sean Paul on vocals, it topped charts worldwide and remains in Billboard's U.S. Top 20.
"Symphony," Chatto told Podomatic's No. 1 LGBT Podcast, brings even more to the table than its predecessor, both emotionally and in its production. It features a sonic return ("Lots of strings!" she gushed) to earlier songs like "Rather Be," the Grammy-winning collaboration with singer Jess Glynne which launched Clean Bandit to international stardom.
"We wanted a song you could cry to and dance at the same time," Chatto said of "Symphony." "It's a huge, powerful, very good song that delivers. It's quite epic, I think."
Unlike their previous music videos, which Chatto describes as "more abstract," Clean Bandit had a story they wanted to tell with the song – but were nervous to do so. Surprisingly, the group's concerns had nothing to do with its central characters being a same-sex couple.
"We wanted to get across that he'd died without it being too graphic, for it to make sense," she explained. "But I'm really pleased how it came together, and the actors were amazing."
WATCH: Clean Bandit Feat. Zara Larsson "Symphony"
Per usual, the British band filmed the music video on its own. Unlike past scenarios, where friends or those they know take lead roles (the characters in "Rather Be," for example, are people they met on tour in Tokyo!), this time they needed actors. As a result, they "auditioned loads of actors" to find the video's romantic leads.
"We asked them to cry in the auditions, and it was so moving," said Chatto of the "amazing" performers who tried out for the parts. "It was really difficult to choose the actors, but I was really happy with both of them. They're natural – and they're natural together."
Now with "Symphony" building momentum, the group's sophomore album is scheduled for later this year. As they push toward its release, they are headlining a North American tour with Larsson and Australian breakout singer Starley opening.
During an April 3 performance in San Francisco, Clean Bandit previewed "Shoulda Known Better." Describing it as "a great break up song," Chatto admits the cut has yet to be recorded but is a likely choice for the album.
Though rocked by the abrupt departure of openly-gay violinist and pianist Neil Amin-Smith in October 2016, Chatto promises fans more collaborations with guest vocalists and a variety of sounds from the ever-expanding group. On tour, Clean Bandit includes two women covering most vocalists and only one violinist.
"American tour buses are smaller than tour buses in Europe, so we had to cut back on the size of the band," she admitted, but assures listeners a full string quartet is coming soon.
As for their future, since taking home a "Best Dance Recording" Grammy in 2016, Chatto says "it's been crazy" for the group. After working a decade for such a breakthrough, she says members are finally able to focus on making the music they want and enjoy success.
"We've been literally all over the world, seen so many places and so many different cultures," Chatto said, dubbing the experience "a whirlwind." "Now we've nearly finished our second album, and it all feels in a really good place. It feels really exciting."
LISTEN: Grace Chatto of Clean Bandit and returning dance music star Kym Sims on Party Foul Radio with Pollo & Pearl.
Calling all HuffPost superfans!
Sign up for membership to become a founding member and help shape HuffPost's next chapter