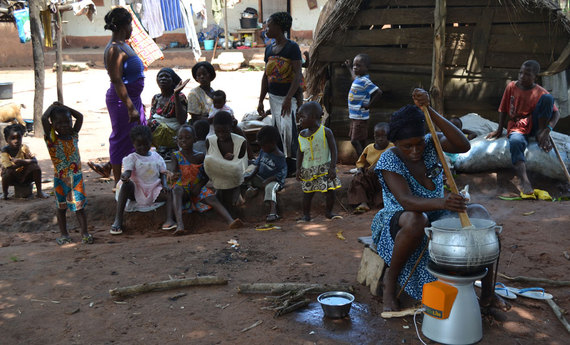 The Gates Annual Letter, always inspirational, is no exception this year. In their 2016 message, Bill and Melinda Gates lay out their case for why having "more time" and "more energy" would be their chosen superpowers. Their message is clear: "Poverty is not just about a lack of money. It's about the absence of the resources the poor need to realize their potential. Two critical ones are time and energy."
As the leader of an organization trying to change the way millions of people in developing countries cook, I couldn't agree more. Household energy is critical to powering productivity within the home and in the local community. Hours spent collecting fuel and cooking inefficiently over an open fire could be hours saved with a more efficient cookstove or fuel.
I fully support the Gates' choice of superpowers - more energy and more time. Achieving either would be catalytic and significant, but achieving both could be truly transformative. This is at the heart of what the 1,400 partners of the Global Alliance for Clean Cookstoves have been working on, and these two superpowers would allow us to accelerate our efforts toward universal adoption even faster.
On energy -- every day, nearly 3 billion people rely on burning solid fuels like charcoal, wood, and animal dung to cook their food. The resulting toxic smoke penetrates deep into the lungs, resulting in more than 4 million deaths each year and a wide range of deadly chronic and acute health effects such as child pneumonia, lung cancer, chronic obstructive pulmonary disease, and heart disease. Children and women are disproportionately affected.

Universal access to clean energy at the household level, particularly clean and efficient cookstoves and fuels, would be immensely impactful: we could save millions of lives and make vast improvements to public health; we could protect the environment and significantly reduce the global percentage (25%) of black carbon produced from cooking; and we could improve the quality of life for women and their families.

On time poverty - globally, women spend an average of 4.5 hours a day cooking, cleaning and caring for others. Without access to clean fuels and stoves, many women will also spend hours more gathering fuel to cook with. Time spent on unpaid work results in tradeoffs for time spent on other pursuits like health, education, or career. It can also cost society dearly. Studies estimate that unpaid work being undertaken by women today amounts to as much as $10 trillion of output per year, roughly equivalent to 13 percent of global GDP.

There are countless stories and now a strong evidence base on how access to clean and efficient cookstoves and fuels is transforming people's lives. One such story comes from Natalie, a cookstove user in Haiti who works with one of our many partners there. After switching from a solid-fuel burning stove to one that burns ethanol, Natalie said, "My new stove is clean, burns with no smoke, and cooks all our meals quickly, including fried chicken. I can now spend more time with my children. My family is happier and much healthier with our new stove. We no longer suffer from coughing and burning eyes."

Improving people's health. Reducing toxic air pollution. Enabling a mother to spend more time with her children and pursue economic opportunities. These sound much like the powerful accomplishments of a cape-wearing superhero.

The good news is they're not only for caped crusaders -- these types of heroic results are actually within the reach of all of us by helping to increase access to clean and efficient cookstoves and fuels. Like Bill and Melinda Gates, make your #SuperpowerForGood "more energy" and "more time." Let's work together to help change the way much of the developing world cooks. And let's ensure cooking no longer kills. Learn more about this under-reported issue and how you can help at www.cleancookstoves.org
Related
Popular in the Community