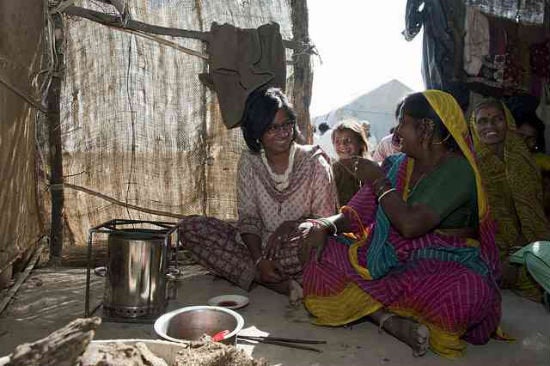 This post is part of the Global Mom Relay. Every time you share this blog, $5 will go to women and girls around the world. Scroll to the bottom to find out more.
For mothers around the world, preparing the family meal is a daily ritual and an act of love. But it's also a grave risk for approximately three billion people who cook with open fires and inefficient stoves that burn solid fuels such as wood, animal and agricultural waste, and coal. It shouldn't have to be this way, but there are real risks. These include:
Health risks:

Women often spend hours cooking over open fires and inefficient stoves, which emit harmful household smoke that can cause pneumonia, respiratory issues, cancer, and other health challenges. In fact, a recent study estimates that household air pollution from cooking with solid fuels kills four million people annually.
Burn risks:

As mothers know, children enjoy running around at home, but there is a very real risk of burn accidents when rudimentary stoves or open fires are in use.
Safety risks:

Women and children, usually daughters, often have to walk long distances in the early morning when it's dark outside to get the fuel they need to cook -- putting their safety on the line and making it harder for girls to go to school.
If we want to improve the health of mothers and their children, we have to tackle the cookstoves challenge. The United Nations Foundation and more than 650 public and private partners have joined together as part of the Global Alliance for Clean Cookstoves, which aims to create a thriving global market for clean and efficient household cooking solutions that help keep families safe and healthy.
I wanted to learn more so I talked recently to an expert (and mother): Radha Muthiah, the Executive Director of the Global Alliance for Clean Cookstoves. Below are excerpts from our interview: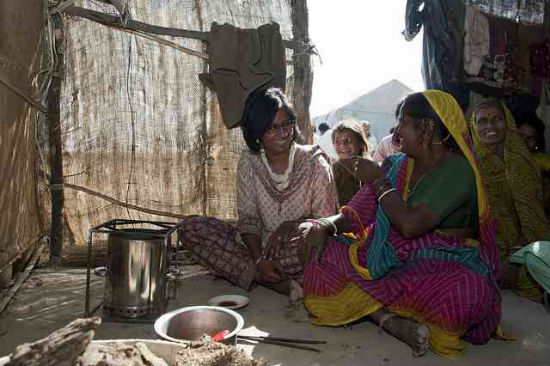 Executive Director of the Global Alliance for Clean Cookstoves Radha Muthiah (L) chats with salt worker Bhavana Ben (R) who uses a clean cookstove in her hut in the salt pans in the Little Rann of Kutch in Surendranagar district in Indian State Of Gujarat
Kathy Calvin: What have you learned from mothers you've met around the world and in the U.S.?
Radha Muthiah: It may be a mother in the U.S., Kenya, Ghana, or India, but fundamentally we have the same goals: to raise our kids and to help them do well and make the right choices for themselves in this world.
I've seen a kindred spirit and connection where mothers understand how challenging it can be, even though the challenging circumstances are different from region to region, and I think mothers are very interested in helping one another out if they can.
What motivates you personally to tackle the challenge of inefficient cookstoves day after day?
Personally, there are two reasons. One is that I'm Indian, originally from Malaysia, and whenever we would go to India to visit my grandmother, her biggest interest was in cooking our favorite foods for us.
She would use kerosene and charcoal, and she would be in her kitchen filled with smoke for hours on end. And I thought, I've come here to spend time with her, but she's in the kitchen and it's full of smoke and I don't want to go in there. I distinctly remember the smell of the air and the smoke growing up. Now as an adult, having the ability and the opportunity and the privilege to be able to address this is amazing.
The other motivation for me is as a mother. I think I can safely speak for mothers around the world on this issue because when you have a child, you hope to protect, nurture, and educate that child.
I put myself in the position of one of these mothers who uses an open fire or traditional stove -- she is cooking her food thinking that she is nurturing her child, but in that process, the smoke that is emitted actually can be incredibly toxic and harmful. She is putting herself at risk as she goes out to collect that wood, and if anything were to happen to her, then we've got children who are being raised without a mother. So those are some of the reasons that I think motivate all of us in this field and me personally to continue to try and make a difference.
Kathy Calvin, CEO, UN Foundation, speaks at the reception for Global Alliance for Clean Cookstoves. Credit: Keith Bedford/Insider Images for United Nations Foundation
The challenges you work on are big, but so are the opportunities. What gives you hope in your work?
There is so much hope. I have worked in the private sector and in development for 18 years or so, and the amazing thing is that there is real interest among a variety of different actors to address this issue now. Whether you're speaking with designers, small artisanal producers, large corporations, investors, or governments, they all see a role that they can play.
The Alliance is similar to conductors of an orchestra. There are various different players, and they are very interested in working together because they know that they each bring one piece of the puzzle, but that all of the puzzle pieces have to come together.
So what gives me hope is that we've got a strong commitment toward addressing this issue from a variety of quarters -- from people interested in the environment, forest preservation and protection, improving public health and the health of women and children, and women's empowerment.
Clean cooking solutions are one intervention that has so many different benefits, so that gives me hope that regardless of what your interests may be, clean cookstoves can be a mechanism to help achieve those goals. This is not a new issue, but we're now addressing it in a concerted, cohesive manner, and we can see the picture at the end of the day. That's why I'm optimistic about our efforts really being able to bear fruit and pay off.
Each time you share this Global Mom Relay piece on Facebook, Twitter, or Email, or donate $5 or more through clicking on the above graphic, a $5 donation (up to $62,500 per week or $125,000 every two weeks) will be donated by Johnson & Johnson and the Bill & Melinda Gates Foundation to Girl Up. Join us by sharing it forward and unlock the potential for women and children around the globe. For more information, visit www.unfoundation.org/globalmomrelay. The United Nations Foundation, Johnson & Johnson, BabyCenter, The Huffington Post, and the Bill & Melinda Gates Foundation created the Global Mom Relay, a first-of-its-kind virtual relay with a goal of improving the lives of women and children around the globe.