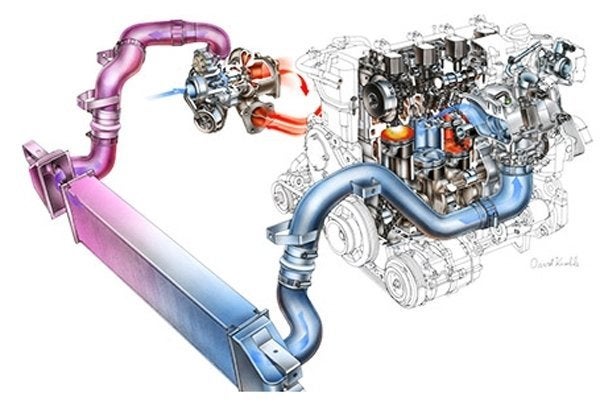 Sometimes, it's the incongruities, not the new models, which make the auto industry so interesting.
For many Americans, maybe the majority of car-buyers, cars coming with a "clean diesel" or a "diesel/electric hybrid" engine might not make sense, at first.
But they're going on sale this summer, and as summer rolls into the traditional new car introductions of the fall (and remember how fun those were?), several Euro car-makers have a good chance of dominating the sales of vehicles with the new clean diesel powerplants. (Audi has won the 24 Hours of LeMans the past three years running their R10 turbodiesel engine package; Audi is plannning on their Q7 to be the first car in the US with a V10 turbodiesel; gas and diesel price rises, though, might have Audi putting that engine in a more utilitarian car).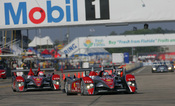 GM's use of diesels, mostly in Oldsmobile from 1977 to 1985, were a low point for the company and their customers. GM thought that using a standard V-8 engine block and modifying its top end to run on diesel would be a neat trick.
Unfortunately it was a terrible failure almost from the start, and GM had to replace a lot of diesel engines with the company's standard gasoline V-8s.
These new clean diesels have been approved for sale in California, the state with the toughest (and best) emissions laws. Until now, and since October, 1998, diesel engines were essentially banned in cars and light trucks in the state. California accounts for nearly 15% of all car and truck sales in the
country, so not being able to sell diesels in California forced all major car-makers to stop, or dramatically slow, sales of diesels nationally.
But these new clean diesels, which the car-makers say will run correctly only on the low sulfur diesel fuels, which is actually more expensive than gasoline.
Quick lesson on the benefits of diesel: engines last longer, and they are what we in the business call "bullet proof," because it's really hard to break these things. You really have to try. They get much better mpg than the same make and model with gasoline engines. Tune-ups really do not exist, at least in the conventional sense, when comparing them to gas engines. So ... better mileage, longer-lasting (there are many diesel engines which have 1,000,000 miles and more on them), easier to maintain and service are just some of the benefits diesels offer. And now, they're clean enough to sell in all 50 states.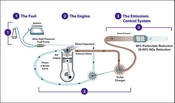 (Click on this one, above, to view it in a larger format; it's an Audi-supplied sketch of their turbodiesel system).
Mercedes-Benz (selling clean diesels with the BlueTec name), Audi and Volkswagen (their diesel models will wear the TDI badge) was pioneered by engineers from those companies. And unfortunately, it appears that the Detroit Three will be left out, at least initially, as these highly-refined and sophisticated cars hit the showrooms.
Volkswagen's Touraeg-2 SUV will get the turbodiesel V10-treatment. The 4.9-liter turbodiesel engine makes 310-horsepower and a whopping, ridiculous and impressive (can you tell I'm excited?) 553 foot pounds of torque. So if your 60 foot motorhome needs a tow, forget about that Good Sam towing service card in your wallet (and that was a very good, inside reference) You can just hook it up to the Touraeg and shout "Mush!" Look for many more clean diesel offerings from VW, which will probably, and eventually, offer a turbodiesel version of every car in their US line-up (as they've done in Europe, where VW, Mercedes and Audi all offer a much larger choice for buyers, with both diesel and gasoline engines).
Coming from Mercedes Benz in November, 2008 will be several BlueTec-equipped products, including their ML320 Bluetec, and GL-, ML- and R-class sport crossover utilities (and someday: a Vision GLK BlueTec diesel hybrid). All could be outfitted with the company's 3-liter turbodiesel V-6 and offer EPA mileage estimates of 18 mpg in town and 24 mpg on the highway. Some of these Merc's will base-price around $46,000. (BMW's cute little 1-series, one day soon, is going to be available with a variable twin vein turbodiesel engine, producing impressive horsepower and of course the huge amount of torque diesel engines make).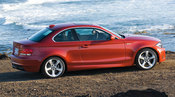 BMW recently announced a turbodiesel powerplant for some of their new 1-series cars sold in the US. These cars will use twin-turbo four-cylinder engines, and BMW's 120d is the world's first four-cylinder engine with Variable Twin Turbo.
Audi, which has won the last three 24 Hours of LeMans endurance races, the world's most important sports car event, using a V12 5.5-liter turbodiesel. They plan on dropping a 3.0 liter V10 turbodiesel version of their racing engines into the attractive (well, I like it) Q7 SUV within the next few months.
Acura will put a diesel (I know, that "diesel in an Acura" threw you for a second) in more than one car and truck starting in 2009. The just-introduced TSX could be the first. Starting in early 2009, the lux-o division of all-mighty Honda says they may use a 2.2 liter four-banger called i-DTEC (sounds like some security feature at airports, doesn't it?).
The all-new 2010 Maxima from Nissan will have a diesel option, a 3-liter V6 dCi they call it, which was first displayed as a concept at the Frankfurt Auto Show last year. It was developed along with business partner Renault, whose president, Carlos Ghosn, is also the head of Nissan. Rather than gas/electric hybrids, Ghosn is much more excited about diesels and, especially, developing all-electric EVs. Their Altima hybrid uses technology purchased from Toyota. (Audi's turbodiesel racing engine shown during a moment of rest; trust us, there's a 5.5 liter V12 over 600 horsepower turbodiesel lurking).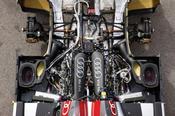 And can you blame them? Figure the costs in time and effort, to create a gas/electric hybrid, like the Prius. It's far easier to simply approach Toyota and buy it off the shelf.
Jeep's Grand Cherokee (are they still making that?) can be had with a 3.0 liter turbo diesel engine which makes 215 horsepower and 376 pounds feet of torque (which is best defined as "it's what you feel" when you step hard on the gas pedal, or diesel pedal, as the case may be).
GM, Ford and Dodge will continue to offer the various diesel powerplants in their trucks. No word on when this clean diesel technology will make it to Detroit. But when you can't sell your trucks because of their size and cost and low mpg figures, it's going to take a lot of work by GMC, Chevrolet, Ford's
F-series, Dodge's Ram and (maybe) Pontiac to get people into their stores. (Peugeot built their own turbodiesel race cars to specifically challenge Audi's numerous titles in the world's endurance racing series. When Peugeot officially announces their return to the US, you can bet at least one of their vehicles will be turbodiesel-powered; and, yes, Peugeot finished second in this year's 24 Hours of LeMans).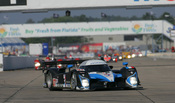 In 2009, a diesel will be offered in light-duty full-size GM and Chevy pickups, instead of only in their heavy-duty models. GM has also announced a 2.9-liter V6 diesel for European-market Cadillac CTS sedans beginning in 2009, but haven't said if that is US-bound.
Hey, you never know. I can remember when a diesel engine for the Corvette was being seriously discussed by GM and Chevrolet. It happened during one of the first gas shortages in the early 1970s.
Subaru is planning in 2010 to use a 2.0 liter turbocharged diesel with the company's signature "flat four" configuration on their Legacy sedan and/or their Outback wagon. The company estimates that EPA numbers will be in the neighborhood of 33 mpg in the city and 47 mpg on the highway. Both cars should be base-priced under $30,000.
So that's the clean diesel line-up --- At least so far. Please leave us a comment or two, about what I've written and, especially, if I missed anything that we should have mentioned. Also, when it comes to bio-fuel, does anyone have any experience with these new engines and running them with bio-fuel? Car-makers say its use will harm the engine.
And, especially, how do you feel about this new generation of diesel engines, which will run correctly only on low sulfur fuel, and that fuel is pricier than gasoline these days.