Can education save the one out of every five children in India who die before the age of 5 from infections caused by dirty water? I believe it can, and I believe India's 500 million children are the ones who can and must lead the transformation in hygiene practices that can save these lives and help address the nation's water crisis.
What really brought this home to me was a recent two-week service trip to India in the company of Jacqueline Lundquist, the Chief Serendipity Officer at WaterHealth International who knows India and its people and culture very well. The wife of former U.S. Ambassador under President Clinton, Richard Celeste, Lundquist lived in India from 1997 to 2001, and her heart and her work bring her back there frequently. Her latest initiative, the Jaldhaara Foundation (jaldhaara means "flowing water" in Hindi) was launched on Jan. 3, 2014, in a rural village 45 kilometers south of Hyderabad, under the sponsorship of WaterHealth corporate leadership.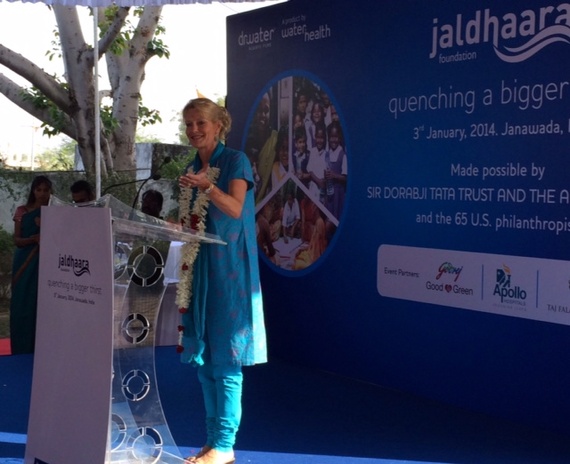 Jacqueline Lundquist provides opening remarks to 1000 villagers, local and national media/press, and distinguished guests at the launch of Jaldhaara Foundation on January 3rd, 2014, at Janwada Village near Hyderabad.
Lundquist explained to me Jaldhaara's mission: "In rural India, 850 million people [out of a total population of 1.2 billion] consistently drink water from contaminated sources, even when purified water exists at affordable prices." The issue is not only the lack of sanitation infrastructure in these villages, but also what she calls "old practices and generations of exclusion." The problem is cultural and psychological; such traditional practices as defecating openly even when constructing toilet systems is possible expose communities to such painful illnesses as diarrhea, cholera, typhoid, and parasitic infections that, says Lundquist, "are otherwise easily preventable."
In a very real sense, what is really killing children in the rural villages of India, the largest democracy in the world, is a cognitive disconnect--a lack of understanding that there is a crucial link between habitual hygiene practices and the quality of the water consumed, and between the quality of the water and the quality of human health.
Jaldhaara nonprofit, corporate social responsibility initiative, is aimed precisely at engendering that understanding. Its mission is to educate the people of rural India about the health need for clean drinking water and to inculcate into their culture and their minds the kind of hygiene behaviors that can guarantee that what they and their children drink is safe.
This is a big job. It entails nothing less than effecting a collective behavioral transformation, something that is notoriously difficult to achieve. Overturning customary norms to mobilize a new pattern of action is something humans are typically not very good at. That is why it makes such good sense that Jaldhaara will focus on women, children, and schools to execute its educational mission. Convince the kids, and the grown-ups will follow the young to good hygiene practices and clean water.
Many of us can testify to the power of children to change adult health habits. I, for example, smoked cigarettes for 20 years -- until my young children simply forced me to stop, because they learned about how bad smoking is in their school and the media. Plus, we all know the power of mothers. How did Americans begin to learn they couldn't drink and drive? It started with one mother whose daughter was killed by a drunk driver and spread to become a nationwide organization powerful enough to be known only by its acronym, MADD. Women and children are the natural stewards of good health practices, and that is why I like that Jaldhaara decided to start with them.
It makes for a two-pronged approach. As WaterHealth India extends the reach of its WaterHealth Centers -- low-cost purification systems providing access to safe, affordable water -- throughout the communities of rural India, Jaldhaara will educate and employ the women, supply water to nearby schools and educate children of those communities in exemplifying and thereby teaching change in daily hygiene behaviors.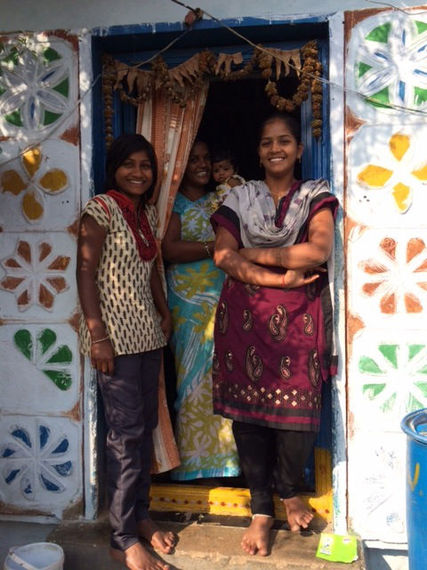 Recruiting and empowering women to run the clean water centers is at the core of Jaldhaara's education mission.
Vikas Shah, COO of WaterHealth International explains, "Too often these two activities occur in isolation such that education and awareness efforts are made in communities where there is no availability of safe water." Jaldhaara and WHI working together can change that. Shah believes that their success should help demonstrate the power of this two-pronged approach. "We hope that Jaldhaara will provide a platform and an ecosystem where multiple, motivated partners can come together to implement practical solutions to the drinking water crisis."
A Jaldhaara team has been working on the approach for the past year, surveying what works in India. The first step is to train women in the communities to run the WaterHealth Centers. This creates jobs and empowers the local women; it is they who conduct the programs ensuring that school children in their community receive clean and safe drinking water daily; that, in turn, teaches the kids the behaviors that maintain the water as clean and safe. Simultaneously partners are being sought in communities where other NGO's and private agencies have been actively working on similar goals. It is estimated that over the next two to three years, this initiative alone can provide clean drinking water to nearly a million school children resident within a few kilometers of WaterHealth's existing portfolio of over 500 WaterHealth centers in India.

The long term is what really counts -- that is, sustaining the change effected. And that is why, as a learning scientist interested in epistemology (knowledge development), I see the "water-health problem" as first and foremost an education issue. Neither a single profound event nor the most charismatic leader on earth can transform individuals or their community without a shift in their awareness, understanding, and an acknowledgement that the transformation is necessary, warranted, and desirable. In that regard, India has a bit of luck: half the Indian population is under the age of 25 and 65 percent under 35, and to my mind, there is always greater hope for change when youth is involved.

We're talking about a multi-dimensional problem with many moving parts--logistical, cultural, psychological, scientific, technological, etc. In terms of the water-health issue, for example, it's clear that, to change old habits, it is going to be necessary to weave a new and inescapable "cognitive connection" among various pieces of knowledge: 1) the technical: how to make clean water available, 2) the psychological: how to evolve hygiene practices, 3) the scientific: how to take care of people's health, 4) the social/cultural: how to cultivate economic development. It's a lot to ask.
This year, I decided to support Jaldhaara's mission because I want to contribute to solving the drinking-water crisis. We still need to figure out how to use education technology to create, maintain, and scale a system for global water education, but this organization is already off to a great start, with great leadership and a multi-national celebrity-studded support that can energize and mobilize India's youth towards change.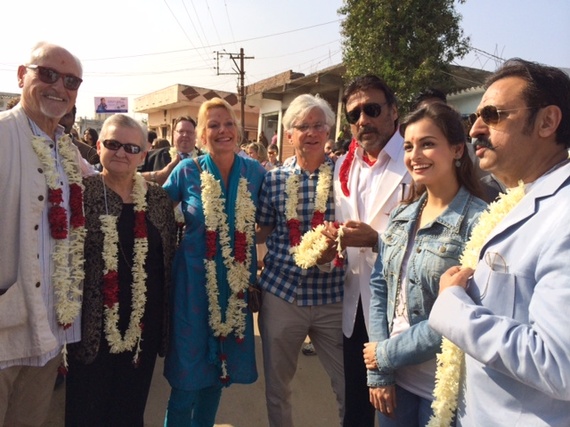 A multi-national celebration of Jaldhaara launch [left to right]: Former US Ambassador to India Dick Celeste, current US Ambassador Nancy Powell, WaterHealth International VP Jacqueline Lundquist Celeste, Hollywood producer John Williams, and Bollywood stars Jackie Shroff, Dia Mirza, and Gulshan Grover.
At the festive launch on January 3 in Jonwada village we were 65 philanthropists from Colorado, Texas, Ohio, New York, Illinois, Washington, D.C., and California, including Hollywood's Emmy-winning actor Jon Cryer (lead, Two and a Half Men); talk show host Lisa Joyner; Tony-winning playwright, Gretchen Cryer; movie producer, John H. Williams (Shrek); NPR and McNeil-Lehrer News Hour reporter, Lee Cullum; several finance, media and tech CEOs (including yours truly). Indian film fraternity that showed their gracious support were Bollywood stars Gulshan Grover, Jackie Shroff, and Dia Mirza, as well as prestigious business sponsors Sir Dorabji Tata Trust and the Allied Trusts, Apollo Hospitals, Godrej Industries, and Taj Hotels.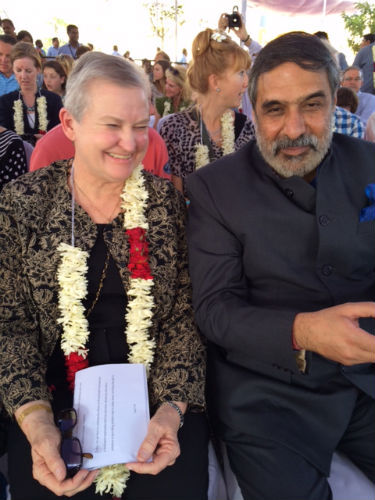 U.S. Ambassador to India, Ms. Nancy J. Powell and India's Commerce Minister Mr. Anand Sharma were the chief guest speakers at the ceremony, expressing the need for a US-India collaboration involving international and local social entrepreneurs, corporate sponsors, scientists, technologists, educators, philanthropists, governments and citizens -- all joining forces to solve the drinking-water crisis in India.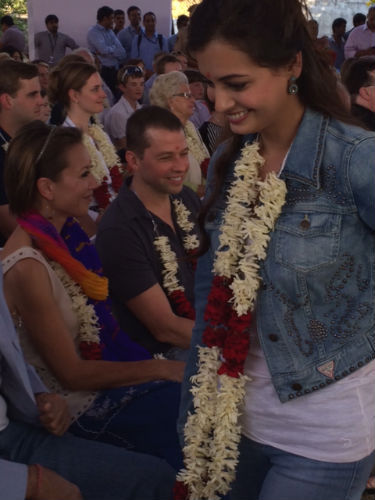 To energize and mobilize youth, Lundquist recruited the support of Bollywood actress and producer Dia Mirza (former Miss India), Hollywood actor Jon Cryer (2 ½ Men) who's highly popular in India, and his wife, talk show host, Lisa Joyner.
Globally, more than 1.2 billion people lack access to clean drinking water. If Jaldhaara will demonstrate transformational success in India, it can benefit the world. So, if I were a wagering woman, I would bet the farm that India's 500 million youth can lead the way to safe-water awareness and new habits of hygiene throughout India -- through technological innovation and women-empowered 'water education' that leads to passion for change. And for 2014, I resolve to think about the power of awareness and education technology--and child power -- in a deeper way.