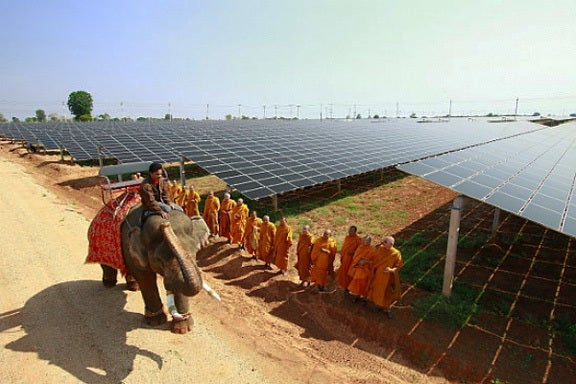 Co-authored by Matt Sebonia Global Climate Capital
According to the IEA Southeast Asia has quietly increased its share of coal in the overall energy mix (by 7%) while clean energy development has been stagnant causing clean energy's portion of the pie to actually decline (by 1%). Worse, the region is projected to add another 160 GW of new coal capacity by 2040 - roughly the size of India's coal fleet today. That's why it has catapulted into the number one position globally in CO2 growth per capita. In short, at a time when a clean energy transition is not only a real possibility, but an active reality in the two major Asian economies China and India, it's missing in action across Southeast Asia.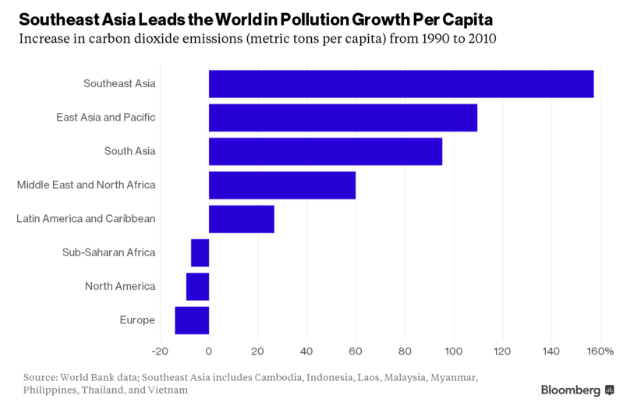 Take Indonesia for example. According to BNEF non-hydro clean energy technology only accounts for 5% of the country's installed electricity (mostly geothermal, biomass, waste). Wind and solar aren't even on the map with a measly 79 MW of solar and 3 MW of wind installed to date.
Worse, while much effort went into developing a subsidy regime to support PPAs for new solar projects the local utility is now subject to abruptly revised regulations that cap Feed in Tariffs (FITs) at 85% of local grid costs. This will hit the Java/Bali grid the hardest where prices are lowest and where 85% of planned capacity additions and the bulk of power demand growth are likely to occur. That means solar energy must beat out local low cost and low quality coal by 15% in order to power Indonesia's growth. A proposition that all but ensures projections of another 55 GW of coal (most of it the dirtiest most inefficient form) will indeed be added over the next 20 years.
In nearby Vietnam the picture isn't much better. Today the country is essentially a hydropower economy with 44% of its 34 GW coming from large dams. Solar is not on the map and wind capacity clocks in at a measly 143 MW (less than 1%). Zoom out to 2030 though and plans to build a coal fleet the size of Germany's (thanks to a pipeline of 45 GW of proposed projects) all but ensures coal will power the country's future unless steps are taken today to change course.
Luckily steps are indeed being taken under the auspices of the country's new power plan which ditched plans for 23 GW of coal and which has a modest amount of ambition vis a vis renewables (20GW of wind and solar). But with PPA's structured to push too much risk onto developers and supportive policies like a FIT and solar NEM languishing at the PM's desk projects are just not happening.
There are of course a few bright spots. In Thailand there is about 2 GW of installed solar while the Philippines is an increasingly competitive market with the country's largest solar project (150 MW) just breaking ground. But policy progress has been up and down and few expect the kind of rapid growth we've seen in other Asian nations anytime soon.
Part of the problem is that without clear and consistent supportive policy to jumpstart these nascent markets the amazing price reductions we see globally haven't materialized. that's why BNEF has found a wide range of solar LCOE with the highest prices in the region consistently found in Southeast Asia where key supporting ingredients are lacking.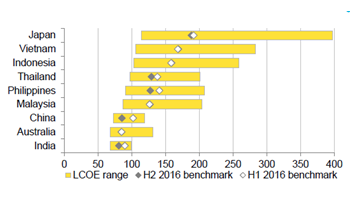 But it's important to remember that there is no fundamental reason that Indian and Chinese prices should be so low compared to those in Vietnam, Indonesia, Thailand or the Philippines. In fact, interest rates are actually the highest in India of all those countries. What that argues is that India's government push that included not only supportive policy but active measures to de-risk private investment with public resources created local deployment ecosystems that reduced stubborn soft costs and narrowed the gap between dirt cheap clean energy globally and relatively expensive clean energy locally. Indeed, in just 5 short years of competitive auctions and investment support India has brought solar costs down 73%.
Breaking trail across the clean energy longtail
So what's to be done? First and foremost the global climate community needs to recognize the rapid growth occurring across this region. But more importantly it must recognize that without dedicated transitional support that growth is likely to be powered by coal. That's a tragedy because this 19th century fuel source is rapidly being left behind in both India and China where policymakers are either publicly saying they don't need any new coal plants for the next decade or they're responding to an 'airpocalypse' by taking dramatic measures to peak and reduce coal consumption.
Secondly, we can't afford to assume that the benefits of increasingly cheap and abundant clean energy automatically accrue in geographies with little historical activity. This simply doesn't happen by osmosis - it requires years of spade work to plant, nurture, and grow a clean energy economy.
Last but not least this isn't charity, it's investment. The global community needs clean energy development in Southeast Asia in the long run just as much as the region needs our concessionary support today. If you look at global deployment we are perilously concentrated in just few major markets still prone to boom and bust cycles. We desperately need growth in the long tail to help balance out, stabilize and mature a sustainable global market in the long term.
Germany subsidized the first demand boom, China subsidized the following supply/manufacturing boom and South East Asia can grow the longtail of demand to stabilize the market. But to get from here to there requires motivated policy makers, financial institutions, impact investors, and others to pony up concessionary capital, sweat equity, and time to jumpstart clean energy in these markets. If we learn lessons from previous attempts and lean into this challenge we can take important steps to close the gap between how dirt cheap clean energy is everywhere else, and how artificially expensive it is in Southeast Asia today. Once we close that gap the rest is history.
Popular in the Community