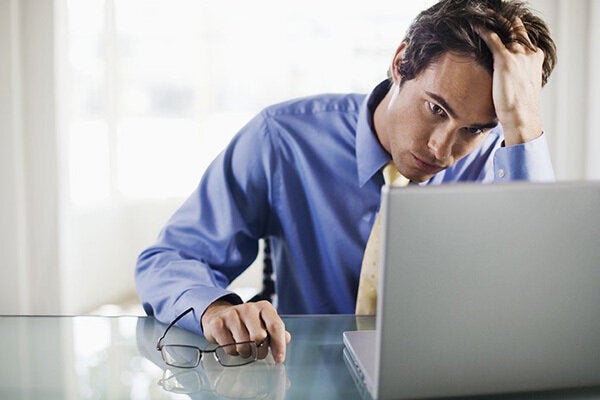 Spring is a time for renewal, and many people celebrate the coming of spring in a common way. The ritual of "Spring Cleaning" gives us a reason to clean out our basements, garages, closets and computers. Yes, that's right, I said computers. George Carlin said that a home is just "a place for your stuff," and spring cleaning allows us to purge all of that extra stuff that we don't use anymore, and gives us the room to collect even more stuff. Such is the case with computers as well.
Typical computer users purchase their computer and never give a second thought to maintenance until a problem pops up. Then you call the guys in the black and white VW bugs, your neighborhood computer repair shop, or your family IT support person (you know, the person in your family that everyone calls when the computer breaks).
To use another analogy, you take your car in for oil changes and tunes-ups to keep it running well. Why don't you do the same for your computer? Originally sponsored by the Institute for Business Technology, and in existence since at least 2000, Clean Out Your Computer Day falls on the second Monday in February -- February 8th this year.
Some PC clutter statistics:
The average American adult has 1,800 digital files.
Executives waste six weeks each year looking for lost items and information.
Americans waste nine million hours per day searching for misplaced items.
In 2007, more than 40 million computers were discarded, up from 20 million in 1998.
One of the most often cited PC frustrations is a computer that runs slow.
"As increasing amounts of time are wasted in work places and at home because of slow computers and psychological research shows the negative impact of clutter - digital or otherwise - on our lives, this day was created as an opportunity for us to remember to clean up and delete old and unused files. So, get into the spirit of the day, and clean out your computer!" (Clean Out Your Computer Day promotional literature)
System Mechanic by Iolo Technologies
At this year's Consumer Electronics Show, I happened across a company, Iolo Technologies, that makes a software package called System Mechanic. Designed for this very purpose, I was offered the opportunity to try out the software.
I installed System Mechanic on my main computer, the one that I take great care in maintaining on a weekly basis. I use a number of programs to perform my routine each week, preferring a manual approach (I am a geek, what can I say). I made sure to perform my routine BEFORE I installed System Mechanic, because I wanted to focus on what I was missing, and see how detailed their utility was.
The installation was pretty straight forward, and the utility installs the main program and an optional sidebar widget (Vista and Windows 7). When you first start it, you are offered the choice of a Quick Analysis or a Deep Analysis. I chose the Quick option and the scan discovered three problems that I had not known about. One nice feature of System Mechanic is the option to fix the problems semi-manually, choosing the specific steps you want to complete. However, most users would probably choose to have the program fix the problems automatically.
The problem report is quite detailed and the program logs all problems and fixes, and allows you to roll-back changes in case something goes wrong. After I performed the repairs, I restarted my computer and tested things with my other utilities - everything was fine. I had no performance problems whatsoever. In my case, I did not notice a significant performance improvement, but for the normal user that does not maintain their computer regularly, you will likely see your computer speed up.
A few days after the first test of the software, I ran the Deep Analysis, and found even more issues. This time, I allowed the program to perform the repairs automatically, again having no issues afterwards at all. The interface is clean and professional, and I really like the sidebar gadget -- it gives you a quick idea of the health and security status of your computer with an auto-like dashboard display. You can launch the program to analyze and repair your system directly from the widget.
My conclusion? Definitely a keeper. Although I received a Not for Resale copy of the program for review, I would definitely consider buying this, and will gladly pay the renewal when the time comes.
System Mechanic is designed to work on Microsoft Windows Vista, XP, and 2003 Server operating systems and has been tested to work on the latest releases of Windows 7. System Mechanic is both 64-bit and 32-bit compatible. The program license allows you to install the program on up to three computers. Unlimited phone and email technical support is provided. Additional details, screen-shots, product videos and other products are available on their website at www.iolo.com.
The program is actually sold as a yearly subscription, which includes periodic updates to both the program and the analysis criteria. The current version is System Mechanic 9.5, and can be purchased directly from their website or at retailers nationwide. The list price is $49.95 for a one year subscription, and a free trial is available for download from www.iolo.com. Until February 25th, you can get 50% off your purchase of the program from this website.
Check-It Diagnostics by Smith Micro Software
Another program that I discovered at CES was Check-It Diagnostics, published by Smith Micro Software. I was originally drawn to their booth because of their fantastic Stuff-It file compression software, I found that they actually have a wide variety of very useful products. I hope to review some of these products in detail over the coming months.
Where System Mechanic focuses on the operating system and software on your computer, Check-It Diagnostics performs a detailed analysis and testing of your hardware. It works with Windows XP, Vista or 7, in both 32-bit and 64-bit environments. It requires 64Mb of RAM and 110Mb of hard drive space (very minimal requirements). The program license allows for installation on up to three PCs.
The program installs easily, and runs in Administrator mode on Vista and Windows 7 machines. When you start the program, it scans your computer, and presents you with several categories of hardware devices - on my computer, I see System, Storage, Communications & Network, Attached Devices & Audio/Visual. Within each of these are several groups that correspond to the various hardware installed and attached to your machine.
Each group then has a list of tests that the program can perform. You select and run the tests one group at a time, receiving either a Success message, or an error message that provides you with additional information.
Like with System Mechanic, I was provided a Not for Resale version of the program for review. I would also choose to purchase this program, as it provides a useful tool that I had not yet acquired in my arsenal of computer utilities.
Check-It Diagnostics is $49.99, but there does not appear to be a trial version available. You can purchase Check-It or any of the other Smith Micro products on their website at www.smithmicro.com.
Personal Software Inspector (PSI) by Secunia
In addition to the two programs that I have reviewed above, I wanted to share a few other programs that I have had in my toolbox for some time. The first one, the Personal Software Inspector (PSI) by Secunia, is a free program (for personal use) that I have been using for a couple years.
Windows includes a utility called Windows Update (or Microsoft Update) that checks periodically for updates to Windows and select Microsoft programs. What about your non-Microsoft programs? How do you know when updates or security issues exist for them? That is where Secunia PSI comes in.
Just like Windows Update, you set PSI to periodically scan your computer and compare your product versions to their immense database of programs, or more importantly, security vulnerabilities. Secunia is a European company that studies and tracks security vulnerabilities. PSI provides you an automatic and easy way to check your programs against their list.
The current version is 1.5.0.1 and it runs on Windows XP (SP2 and later), Vista and 7, both 32 and 64-bit editions. The program does require administrator privileges to install and run, and an internet connection is required for download and connection to their databases.
As I mentioned, this is a free program for personal, non-commercial use. You cannot use PSI in a business or corporate setting - they have an advanced version called Corporate Software Inspector (CSI) available for purchase. You can find additional information and alerts about security issues, check out the corporate product or download PSI from their website at www.secunia.com.
CCleaner by Piriform Ltd.
Another freeware program, that I have only recently started using, is CCleaner by Piriform Ltd.
CCleaner does two main things - cleans up the crap and crud that clogs up your system, and scans for (and fixes) registry issues. Both of these functions are actually included in System Mechanic above, but I am kind of attached to the simplicity and performance of this program.
In addition to emptying your recycle bin, the program can be set to clear your web browser cache and cookies, temporary directories, and even wipe free space for security. It can be configured, run and even scripted within Windows to perform these tasks automatically and on a schedule.
CCleaner runs on Windows 98, ME, NT4, 2000, XP, 2003, Vista and 7, in both 32 and 64 bit editions. Administrator access is required to install and run the program. They support 35 different languages, that can be configured via the installer and program configuration. Support is available via a forum on their website at www.ccleaner.com.
Again, the program is free, but if you find it useful, you may make a contribution via their website. They also have several other freeware utility programs available.
Support HuffPost
The Stakes Have Never Been Higher
Related
Popular in the Community