In 2014, Stanley Sturgill traveled 1,300 miles from his home in Harlan County, Kentucky, to Denver, where the Environmental Protection Agency held one of four public hearings and 11 listening sessions on new rules to limit pollution from power plants. The retired coal miner ― diagnosed with black lung and chronic obstructive pulmonary disease from his years toiling underground ― begged the agency for help: "We're dying, literally dying for you to help us."
On Tuesday, Sturgill, 72, drove three hours to Charleston, West Virginia, for the EPA's only public hearing on the Trump administration's proposal to repeal the Obama-era Clean Power Plan. Hunched in front of a microphone at a rounded wooden table in the Senate Judiciary Committee Room of the West Virginia Legislature, he made his plea once again: "We're still dying ― we're still literally dying ― for you to help us."
"Just how many people must pay the supreme price of death for a few rich, greedy people to bank a few dollars?" Sturgill said. He noted how long he and his wife, Sharon, had trekked just to speak for a few minutes. "We may be old, but we still love living."
His testimony, about 90 minutes into the 9-to-5 hearing, punctuated a morning packed with fawning praise for President Donald Trump, back-patting Republican lawmakers, and exhausted public health advocates who've spent years repeating the same statistics on climate change and asthma.
"Do I really think that this administration cares what this old, worn-out coal miner has to say? Well, I don't know. I really doubt it. But I had to be here," Sturgill said, "as long as I can draw breath."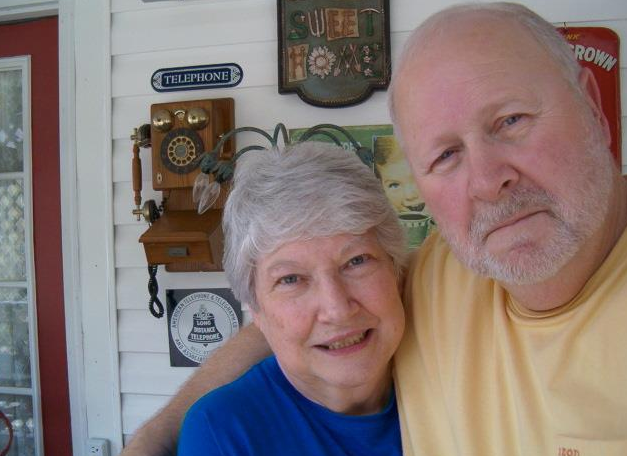 Last month, EPA Administrator Scott Pruitt proposed eliminating the Clean Power Plan, a set of regulations that limited carbon dioxide emissions from utilities under the Clean Air Act of 1970. The rules constituted the only major federal plan to reduce planet-warming emissions, and gave teeth to the U.S. pledge made as part of the 2015 Paris climate agreement. In 2015, Republican state attorneys general ― including Pruitt, who then was Oklahoma's top cop ― sued to block the rule, and won a temporary stay in the Supreme Court last year.
As a result, implementation of Clean Power Plan has been on hold. But that didn't stop opponents from lining up on Tuesday to cheer the Trump administration's plans to dismantle it, or to blame those regulations for the woes of the coal industry. In some of the first remarks of the hearing, Michael Chirico, deputy chief of staff for Rep. Evan Jenkins (R-W.Va.), called for legislation banning government regulators from considering carbon dioxide pollution's long-term costs without White House Office of Management and Budget approval. West Virginia Attorney General Patrick Morrisey, who is running as a Republican for the U.S. Senate next year, echoed that demand, saying he wants to make sure the Clean Power Plan "never again sees the light of day."
A spokeswoman for Sen. Joe Manchin (D-W.Va.), who is up for re-election next year, also testified in favor of repeal, calling for an "all-of-the-above" energy strategy. Manchin, a moderate Democrat who has repeatedly voted against the party line in favor of Trump-backed proposals and nominations, has long opposed the Clean Power Plan, which he argued "attacked coal and our hard-working coal miners."
The EPA estimates the social cost of carbon ― climate-change related damages to property, human health, economic growth and agriculture ― to be between $11 and $105 per ton of carbon dioxide pollution. But the real cost could be 129 times higher, according to a study released this month from Purdue University, which found that existing models relied on decades-old agricultural data.
In 2015, the Obama administration calculated that the climate and health benefits of the Clean Power Plan would total $34 billion to $54 billion. Subtracting the costs of complying to the new rules, the net benefits ranged from $26 billion to $45 billion. But Pruitt argued that rescinding the Clean Power Plan would save the U.S. $33 billion in "avoided costs" by 2030. To get that number, his administration narrowed the scope of the calculation to only include the domestic costs of carbon, and tripled the discount rate for how the cost would decrease in the future. The Natural Resources Defense Council accused him of "cooking the books."
"Just how many people must pay the supreme price of death for a few rich greedy people to bank a few dollars?"
Despite this ― and the fact that the Clean Power Plan never took effect ― supporters of repeal pinned the coal industry's struggles on the policy, accusing the Obama administration of deliberately attempting to "destroy our way of life," as one put it. For years, Republicans blamed Obama for waging a war on coal through environmental regulations meant to address climate change and air pollution.
The Clean Power Plan accounted for the potential job losses, and earmarked billions for job training, apprenticeships and grants to coal communities. But that did little to shore up wealthy coal company owners and shareholders. In spite of a bloody history of antipathy between coal barons and the workers who mine their product, executives wield tremendous influence in an industry that has systematically dismantled its unions in recent decades. Kentucky, for example, no longer has any unionized mines.
When Robert Murray, owner of the country's largest private coal company, announced plans to lay off as many as 4,400 employees last year, he urged workers to vote for coal-friendly politicians, including then-Republican presidential candidate Trump. "Frankly, I am frightened for you, my employees, and the survival of your jobs and family livelihoods," Murray said at the time.
Yet coal's real nemesis ― as Murray acknowledged last year, but failed to note on Tuesday ― is market competition from natural gas. Hydraulic fracturing, or fracking, rapidly drove down the cost of natural gas over the past decade, making it cheaper than coal.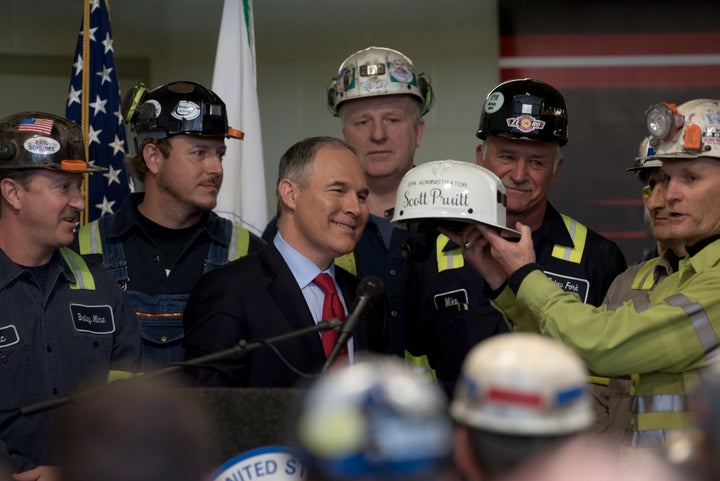 The fuel also seems like a safer bet. Even if the EPA repeals the Clean Power Plan, the agency is still required to regulate emissions under a 2009 determination, known as the "endangerment finding," that carbon dioxide emissions pose a threat to human health and well-being. That rule came in response to a Supreme Court ruling, and seems unlikely to be overturned, as it would require the administration to disprove in court the overwhelming evidence that increased carbon emissions cause global warming. Natural gas produces methane, a powerful greenhouse gas, but far less carbon dioxide, earning it a reputation as a cleaner energy source. The Trump administration may be aggressively rolling back emissions rules and denying the threat posed by climate change, but investors, who consider the effect of future regulations on the long-term viability of energy infrastructure, don't see coal making a comeback.
In a sign of how lopsided and partisan the fight has become, the natural gas industry was able to depict itself as an ally to coal. In official testimony, the American Petroleum Institute, the gas industry's top lobbying group, called for a repeal, but stumped for its own product ― the very thing gobbling up the coal industry's market share.
"If and when the EPA replaces the Clean Power Plan, the agency must leverage the benefits of clean, reliable, affordable natural gas," said Howard Feldman, a senior director at API.
In March, even Murray admitted Trump's policies couldn't return coal to its glory days, suggesting his ruthless opposition to rules that included aid to displaced miners had more to do with maintaining value for shareholders than the preservation of jobs. But on Tuesday, he assailed a policy he called the "no Power Plan" and compared it to "regulatory rampage."
"The Clean Power Plan would devastate coal-fired electricity generation in America, as well as the United States' coal industry," Murray said. "In President Trump, we finally have a president who will support coal."
At one point, he turned to a group of hard hat-clad miners sitting in the audience. "Thank you fellas for being here," Murray said "And God bless you! God bless every one of your families!"
"God bless President Trump and you coal miners," he added. "I love you, fellas."
But after his testimony, Murray greeted the workers with a stark reminder: "You guys know you have to work the afternoon shift, right?"

Before You Go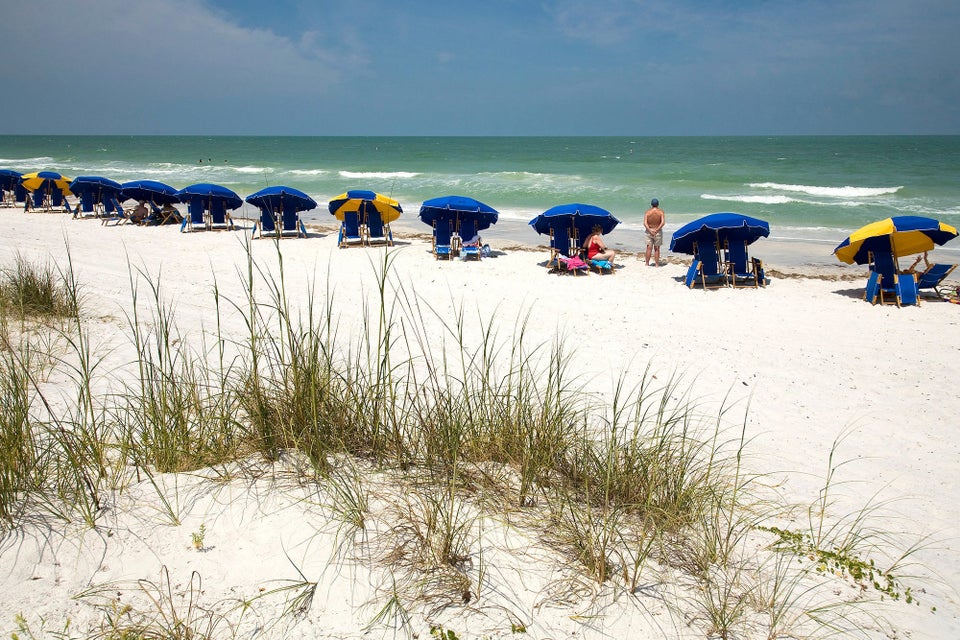 10 States That Burn The Most Coal