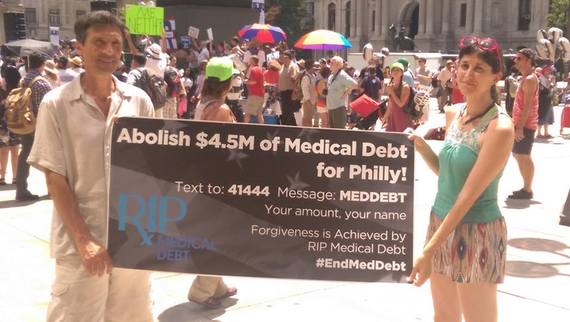 Uninvited and from seemingly out of nowhere, a team of "Goodwill Vigilantes" has given every DNC attendee a golden opportunity to leave behind themselves more than simply memories of Philadelphia -- a legacy of paid medical debt.
There is medical debt aplenty in Philadelphia, especially in the neighborhoods surrounding and north of the convention center where the highest percentage of the population is below the federal poverty level.
Philadelphia has the greatest amount of deep poverty of the 10 largest cities in America. The worst is located in the twenty zip codes housing some 825,000 people. Here, over 225,000 (or 27 percent) are living below the federal poverty level.
Given these grim statistics, Goodwill Vigilante spokesperson Alison Beth Levy holds out this challenge: that at least 1,500 Bernie and Hillary supporters step up to donate the magic figure of $27 to bring in enough funds to wipe out $4.5 million in unpaid medical debt in those poorest neighborhoods -- one of which surrounds the conference center itself.
Craig Antico, CEO of RIP Medical Debt, the 501(c)(3) non-profit that will receive the donated funds and perform the actual debt purchase and abolition, says that his organization presently has access to a debt portfolio of $15.5M in Philadelphia's high poverty areas.
"It would require $138,000 to vanquish the entire portfolio, but would relieve over 1,500 families in parts of zip codes mostly within one mile of City Hall and marchers," Antico says.
Why This Action, Why Philadelphia and Why During the DNC?
From the Democratic platform in 2006:
"We believe accessible, affordable, high quality health care is part of the American promise, that Americans should have the security that comes with good healthcare, and that no one should go broke because they get sick."
This year, 2016? The last sentence notably not referenced, although the Democrats are "proud of this progress...(the improvements brought about by Obamacare)."
It would appear that the grassroots, not the high cotton, is where charity begins. There is a larger theme involved, and it requires bottom-up thinking.
"The purpose is not only to raise much-needed money to help Philly's most needy. It is our intention to usher in a new paradigm of economic generosity within the reach of every caring American," Alison says.
"This demonstration of caring will set the stage for bringing that same generosity back home wherever DNC folk return. The blight of unpaid and unpayable medical debt affects every community, every city and every state, and that is not addressed by the ACA."
'The criteria of determining the campaign's success and their hashtag #EndMedDebt will not end with whatever dollars are raised and people rescued," adds Alison Beth. This forgiveness program is destined to go on for some time as the need is realized and more people become engaged.
But, back to the #EndMedDebt challenge. The formula is straightforward. For each $1,000,000 of debt to be forgiven, they will need to raise online (and onsite) something in the neighborhood of $14,000 in donations. To eliminate $2,000,000 would require $28,000 in donations, and so on.
This is not a new idea, by the way. That spirit of "people bailing out people" generosity was foreshadowed in Occupy Wall Street's "Rolling Jubilee" campaign which raised $700,000 to buy and abolish over $30 million in medical and other debt beginning in 2012.
That amount wasn't eclipsed by John Oliver in a recent Last Week Tonight program, but he did get the biggest headlines. In this segment watched on YouTube by over seven million people, he exposed the ease with which this debt can be bought and sold by collection agencies and debt buying firms.
Abolishing Debt, Neighbor to Neighbor. A great cause to support and habit to get into.
Calling all HuffPost superfans!
Sign up for membership to become a founding member and help shape HuffPost's next chapter