The Clean Water Act has been a great success. America's waterways are far cleaner than they were in 1972 when the law was passed -- meaning more are available for fishing, swimming and drinking water. The Act has also protected wetlands, which help filter pollutants and limit flooding.
But the Clean Water Act has been under attack, and because of a series of lawsuits, it's no longer even clear which waters are protected by the Clean Water Act. The Obama Administration is trying to change that by making clear that most waters are safeguarded by this landmark law - which limits pollution and destructive development.
Meanwhile, Republicans in Congress are trying to block the Obama Administration's efforts. In the next few days, the Senate may vote on a proposal to permanently block efforts to make sure that the most fragile waters are protected by the Clean Water Act. Senators John Barrasso (R-WY) and Dean Heller (R-NV) are offering an amendment to the Fiscal 2012 Energy and Water Appropriations bill (H. R. 2354) to prevent the Army Corps of Engineers from clarifying the extent to which wetlands and intermittent steams are protected under the Clean Water Act.
If the bill's authors succeed, it will mean that about 20 percent of the wetlands in the continental United States could lack Clean Water Act protection, and that more than 117 million Americans will be getting some or all of their drinking water from sources that might not have clear protection under the Clean Water Act.
Hundreds of enforcement actions have been adversely affected by the current legal uncertainty. EPA even acknowledges the current complexity of the law has hampered enforcement cases involving an oil spill to a river in Texas and manure discharges from a factory farm in Georgia.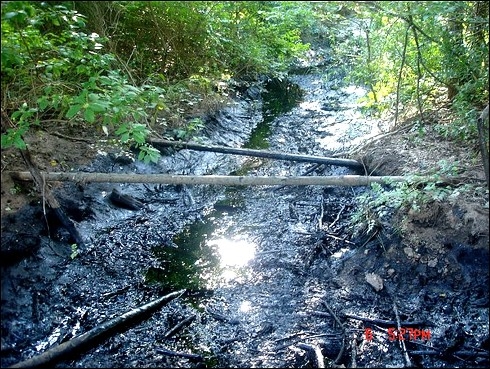 More than half the residents near Talco, Texas, get their drinking water from sources dependent on intermittent streams -- like Edwards Creek -- where EPA says it "did not attempt to pursue enforcement of this [oil spill] because it was too complex to prove the water was protected under the Clean Water Act." Photo: EPA's Office of Enforcement and Compliance Assistance (OECA)
Meanwhile, in New York State alone, thousands of small but hydrologically significant wetlands are vulnerable without clear federal or state protection, yet many are of major importance to New York City's drinking water supplies.
In western states like Arizona, upward of 96 percent of all waterways are at risk.
It seems a week doesn't go by where an extremist in Congress isn't threatening to undo our basic environmental laws. This week is no exception.
Fortunately, we don't have to sit idly by. Call your Senators and tell them to vote No on the Barrasso/Heller Amendment to the Energy and Water Appropriations Bill, H. R. 2354.

Related
Popular in the Community