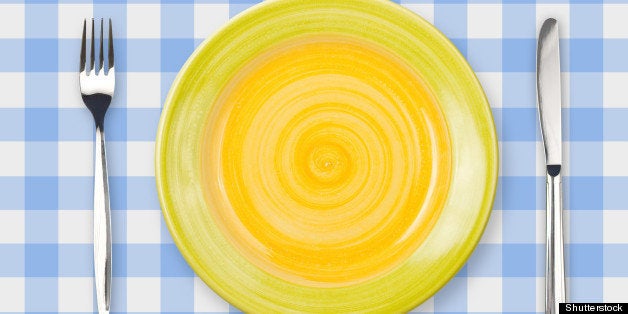 I really thought there was a Clean Plate Club.
Back when I was a kid, the country where kids-who-weren't-me were starving was Biafra, and my parents regularly told me to finish what was served to me at dinner because somehow that would help those needy children.
They also gave me a certificate all calligraphied and suitable for framing, that designated me a member of the local CPC chapter.
Parents know better now. Or not. A study in the most recent issue of the journal Pediatrics finds that up to two-thirds of American parents still urge their children to eat everything on their plates. And this is not just the case with small children. The advice is being given to teenagers (the average age was 14.4 years old), some of whom are considered medically overweight.
Today the country of comparison is more likely to be Greece and children are probably just as unlikely to care. (I confess my smart aleck answer to my mother was to tell her to send the uneaten food to Africa for the hungry kids.) The question, though, is why are today's parents, who are inundated with studies about how obesity rates in children are rising, and warnings that our children are eating too much and exercising too little, still sounding like old world grandmothers? Why do they answer "yes" when asked if they agree with such statements as: "My child should always eat all of the food on his or her plate" or "If my child says, 'I am not hungry,' I try to get him or her to eat anyway"?
As one who has been guilty as charged (I am married to a pediatrician, and have also covered child obesity for a living, yet still struggled over the years with urging my kids to have "one more bite"), my simple conclusion is that food feels like love. It is the first thing parents give to their children, usually in the moments after birth, and it's the only thing you can truly measure. Love, education, protection, advice -- we shovel all those in their direction, but who knows how much actually takes? A tall glass of milk, though? A second helping of your homemade lasagna? The ice cream sundae that makes them smile? Heck, more kale? You can see those, and feel you've done something.
But the researchers who surveyed 2,200 Minnesota teens and 3,500 of their parents warn that what feels like giving is really taking -- and in this case what is lost is a child's ability to read internal hunger clues and know whether they are hungry or full.
Better to put a reasonable amount of food on the plate in the first place, they suggest.
And make a donation to a charity that feeds the hungry.
Support HuffPost
A No-B.S. Guide To Life
Related
Popular in the Community