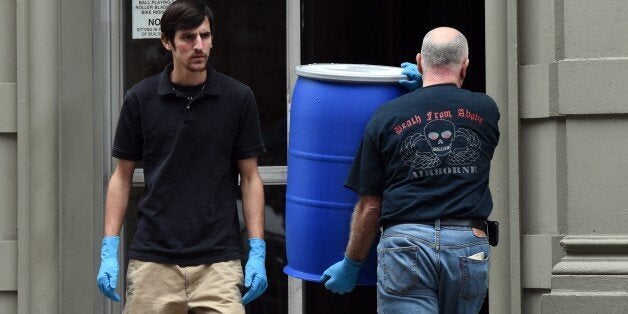 NEW YORK -- As the largest U.S. city grapples with its first case of Ebola, doctors, nurses, and Health Department officials have leapt to the forefront of a massive response effort.
But there's another, unlikely crew of professionals fighting the virus: The cleaners.
From Craig Spencer's Harlem apartment to a bowling alley in Brooklyn, cleaning crews are being called in to sanitize any lingering hazard from the Ebola virus -- and to assuage public fears about visiting establishments patronized by the Doctors Without Borders physician.
The Centers for Disease Control and Prevention says the Ebola virus only can be transmitted by direct contact with the blood or body fluids of a person sick with the virus, or objects like needles that have been contaminated.
Investigators from New York City's Health Department have determined that there is no risk of infection at places that Spencer visited, from a meatball shop in Manhattan's Chelsea neighborhood to a bowling alley in the Williamsburg section of Brooklyn. Spencer is said to have reported his condition almost immediately after discovering that he had a fever on Thursday morning.
But a state Health Department spokesman said that out of "an abundance of caution," a cleaning crew had been dispatched to Spencer's apartment. For hours on Friday, a 10-person crew from the Bio Recovery Corp. labored in heavy isolation suits to clean it.
The company's employees, all hazardous materials professionals, usually have the unpleasant job of cleaning up crime scenes. But on Friday, they were pressed into the arguably even more challenging work of responding to an infectious disease.
They threw out bed linens, towels, toiletries, food in the fridge and garbage, and wiped down hard, frequently touched surfaces, said the Health Department spokesman.
Robert Walters, a company technician wearing wraparound shades, spoke to a few reporters outside the building. He said the technicians were "highly trained" and have been preparing specifically for an Ebola cleanup in recent weeks.
"We've been waiting for this day," said Walters.
City Councilman Mark Levine, who represents the area, said he entered the building and spoke to the workers as they set up their equipment.
"These guys are pros. They've dealt with much worse than this, practically on a daily basis," Levine said.
At one point in the afternoon, Levine was overheard making calls on his cellphone, trying to find a company that would incinerate the contaminated materials from the apartment. Apparently, the companies that usually perform this sort of task were refusing to take the job.
"It's a highly specialized task," Levine explained to HuffPost. The councilman's chief of staff did not immediately respond to an email asking whether an incinerator had been found.
From all appearances, the cleanup itself was going smoothly. Lunch, however, presented a challenge. "Who's going to let us into their restaurant?" one of the workers asked the others as they walked away from the building, still wearing shirts emblazoned with biohazard symbols. They ended up going into a Subway sandwich shop.
A borough away, at the Gutter bowling alley in Brooklyn, owner Todd Powers was waiting on a private cleaning crew of his own before reopening his business.
Spencer visited the alley on Wednesday night, before he was aware that he had contracted Ebola. City health officials cleared the business to reopen, saying they believe there was no risk Spencer left any bodily fluids there, and no risk to other patrons. Still, Powers decided to hire cleaners.
"Out of an over-abundance of caution, they decided to close the place to allow cleaning to take place," said Brooklyn Borough President Eric Adams. "They have already received a clean bill of health."
Adams was unable to name the company contracted to clean the Gutter, but said the establishment would reopen by Friday night or Saturday.
"We would be bowling right now if the place was open," Adams said.
Calling all HuffPost superfans!
Sign up for membership to become a founding member and help shape HuffPost's next chapter
BEFORE YOU GO
PHOTO GALLERY
Ebola In New York