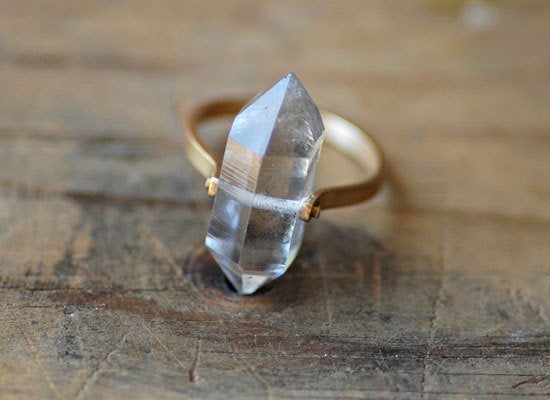 The holidays are here, and that means a lot of parties and spending time with friends and family. You've taken your best outfits to the cleaner and made an appointment with your hairdresser. You're going to look fabulous and feel wonderful. Now, ask yourself: Did you forget any details? What about your jewelry? Ah-ha! Will it look as good as the rest of your ensemble or will it tarnish your holiday sparkle?
Over time, your rings, necklaces and earrings simply get dirty, causing your once-sparkling gems to appear dark and cloudy. This is mostly because the back of the gemstones have accumulated a layer of soap film and other "yuck" which blocks light from shining through them and makes them look dull. The hardest part is that the back of the stone is the most difficult area to keep clean, which is where most of the grime hides.
If you haven't had your jewelry cleaned since last December, it's time to start thinking about it again. But what should you do if you don't have the time or the money to take it to your favorite jewelry store for a professional cleaning?
Here are a few suggestions for an at-home do-it-yourself cleaning that can really help brighten up your favorite jewelry items. This method will work on yellow or white gold or platinum jewelry set with most gemstones including diamonds, sapphires, rubies, tanzanite, amethyst, blue topaz and many others. Do not soak pearls, opals, onyx, emeralds or other soft gemstones, which may be damaged by the cleaning solution.
You need to give your jewelry a good bath in a diluted solution of water and a common household non-caustic cleaning solution.
In a small jar, mix about 1/3 parts household cleaner with 2/3 parts water. I recommend either Mr. Clean, Fantastic, 409, Windex or even one of those little jars of jewelry cleaner you get at the local store. The nice thing about those is they come with a little basket and a brush. If they contain some ammonia it's OK, but bleach can react badly with some metals.
The trick to really cleaning the back of the stone and all the hard-to-get-at little nooks and crannies is to soak the item overnight. This gives the cleaning solution a chance to dissolve the built up "stuff" in all those hard-to-reach places. After your jewelry has soaked for several hours, place a wash cloth in the bathroom sink, close the sink drain and turn on the cold water. Hold the ring firmly (it will be slippery) over the wash cloth and rinse it in the running water. You can even use a wet toothbrush to poke at the open areas of your jewelry to help remove any loose remaining "stuff."
Note: Never use toothpaste to clean your jewelry. Toothpaste is abrasive and can actually dull the finish on the metal. Also, never do this in the kitchen sink. You wouldn't want your diamond engagement ring to end up in the garbage disposal.
When in doubt, call your favorite jeweler and ask them what's safe to soak. If you follow these simple instructions on a monthly or even weekly basis throughout the year your jewelry will always look great and you'll enjoy wearing it all the more.
Related