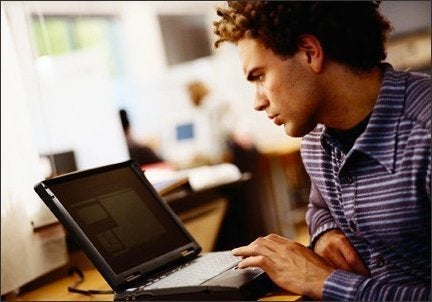 You would never let your front porch or storefront become dilapidated. You would never hand out a crumpled resume or business card. And you would never show up to an big meeting with mismatched socks a stain on your shirt. These days, maintaining your online image can be just as important.
But we all have a digital trail -- errant Facebook posts, Twitter accounts with no tweets, outdated LinkedIn profiles. And even the best businesses face occasional negative customer reviews that linger in cyberspace for eternity.
So what are the best ways to clean up your online image? Here are five things you need to know.
1. Remember, nobody's online image is perfect. You might arrive at every meeting on time, make incredible first impressions, greet every customer or client personally. Most of that is within your control. Your online image, however, is often created by other people -- on Yelp, Twitter and other sites featuring customer reviews and comments. So while you can correct misinformation or reach out to disgruntled customers, you'll never get rid of everything.
"Everyone understands a blip or two in the history of a company," says Rachel Weingarten, a corporate and personal brand strategist based in New York. "There will always be the cranky and damaging videos and feedback. Consumers have gotten savvier as to what's company hate, hype or authentic reviews and commentary. What they can't accept is sloppiness or ongoing mess-ups."
So you should do what you can to clean up your online act, but if some hater is firing missives and trying to make you look bad, take Weingarten's insight to heart. Their comments probably say more about them than you.
2. Tools can help. "There are many tools available online to help you stay on top of your company's brand," says Jenna Rutschman, an account manager for Terralever, a Phoenix-based marketing agency whose clients include Red Bull, BMW and Goodyear. "For smaller businesses, free solutions such as Google Alerts, TweepBeep, Kurrently.com, search.twitter.com and Boardreader can help you track conversations that are taking place online."
Here's a quick primer on some of the best tools out there:
3. You don't have to go it alone. Having someone monitor your online profile can cost money, but if you're monitoring your brand all the time by yourself, you're spending time, which equals money anyway. If you have any employees, enlist them to keep tabs on what's out there. You don't have to hire someone specifically to manage your online profile, but the bigger your company becomes, the more you may want to consider it.
Aside from the usual PR and marketing teams, some interesting services are out there to help raise your company's online profile. Companies such as RatePoint specialize in helping small businesses maintain a healthy online profile. If your business has been around for a while and has a strong regional or national presence, consider WikipediaExperts, which helps businesses create Wikipedia profiles. WikipediaExperts costs $295 for article creation and $99 per month for continuous monitoring and maintenance.
4. Get your own name out there. You don't have to let other people define you on the Web, of course. Blog enough about your product or an issue relevant to your industry, and sooner or later, your own words will surface higher on Google than the occasional lousy customer review. That's where a Wikipedia entry or positive media coverage can help. If you can establish yourself as an industry expert and offer yourself as a resource to the media, the more you're quoted, the more you'll show up.
As Rutschman says, "Remember, you are the advocate for your brand."
5. Manage your time -- and don't forget the offline world. It's possible to get so caught up in what people are saying about you online, you neglect your day job offline. Bryan Alaspa, who handles social media for K Squared Marketing & Public Relations, is sympathetic to the rattled entrepreneur. "The toughest part of a small business running a social media effort is finding the time," he says. "There are so many things you have to do when you run your business that it seems like too much to manage a social media image."
That said, don't pay your online image cursory attention, either. "Starting something like a Facebook page and then leaving it blank can look worse than never starting one at all," Alaspa says.
And when it comes to damage control, sometimes it's best to have the conversation the old fashioned way. As Linda Pophal, CEO of Strategic Communications, points out, if you're dealing with an online attack from an irate customer, "your goal should be to take the discussion 'offline' as quickly as you can."
The original version of this article appeared on AOL Small Business on 1/12/10.
Calling all HuffPost superfans!
Sign up for membership to become a founding member and help shape HuffPost's next chapter