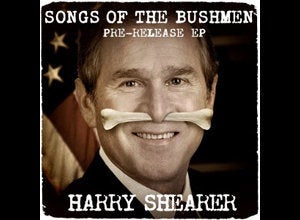 Clear Channel, the radio station and billboard powerhouse, has banned an ad for Harry Shearer's new CD "Songs of Bushmen" because it depicts George Bush with a bone through his nose, the New York Post's Page Six reports:
The outdoor advertising arm of notoriously conservative Clear Channel has banned signs for "Songs of the Bushmen" because the cover depicts the president with a bone through his nose. "Their tone turned from genial salesperson to angry schoolmarm - 'This is unacceptable,' " Shearer, the voice of Mr. Burns and Flanders on "The Simpsons," told Page Six. "And it's not like this is a dangerous time to criticize George Bush."
Disclosure: The ad is running on the Huffington Post, and Harry Shearer is a regular contributor to the site.
Related
Popular in the Community