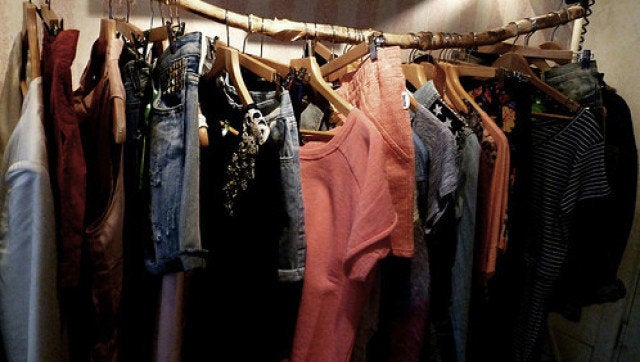 When thinking about new year's resolutions, many vow to get organized and clear the clutter from their homes. We are readily able to tackle the clutter forming on top of the piano or on our hallway table. We vow to get the filing cabinet sorted out... But what about the wardrobe? Many people have complete disorder living behind their closet doors and don't realize that this is the root cause of their sartorial problems.
So just bear with me. Go over and open your closet doors. What do you see? Are you storing dozens, if not hundreds, of garments? Do your clothes have room to breathe? Do you wear (and love) absolutely everything hanging on those racks? How is your closet organized? Are your out-of-season clothes stored away? Or is your sundress hanging next to your ski jacket?
Basically, is your closet a hot mess? If the answer is even slightly yes, it's time to start clearing the clutter from your wardrobe. Roll up your sleeves and be ruthless. Pull your clothes out in sections (not all at once or you might overwhelm yourself and decide to go have a martini instead). Go through every piece. Try things on. Be brutally honest. Do you wear it? Do you love it? Does it look good on you? Is it age appropriate? Does it speak to who you are as a person?
There will be items that you will have no problem getting rid of. Immediately put those in the donation bag. Then there will be items you aren't so sure about. You might wistfully think you'll fit into that pair of jeans after you complete your other new year's resolution to lose 10lbs. You don't really like that sequins chartreuse blouse but you did pay an awful lot for it...
If I were with you during these ponderous moments I would urge you to get rid! But I am not and I understand that it can be hard to get rid of so many clothes the first time around. So place anything you aren't sure about in storage bags and hide them away. If you don't think about those clothes for an entire year, chances are you will never wear them again and at the end of said year you can donate them to charity. Along with items you aren't sure about, store away your out-of-season clothing.
Hopefully what you are left with is a closet full of beautiful clothes that you absolutely love. A capsule wardrobe, if you will. You can now hang your clothes on matching hangers (no wire please). You can arrange them by color, like some boutiques do, or you can arrange them by category. Your garments will hang with dignity and when you open your closet doors every morning, figuring out what to wear won't be such a battle. It will be a pleasure.
So this new year, do yourself a favor and get your wardrobe sorted out. After all, clothes can be clutter too!
Support HuffPost
A No-B.S. Guide To Life
Related
Popular in the Community