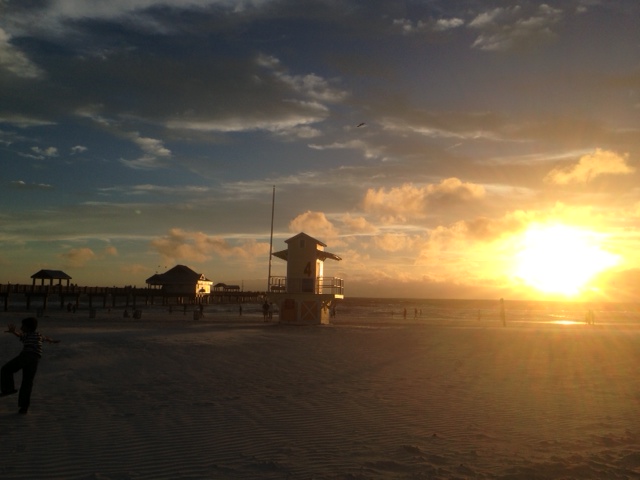 Clearwater, Fla., has recently been voted the number one beach in Florida. While a nice sandy beach is crucial for a great family beach vacation, I also need a place with really good food. Recently, I ate my way through Clearwater, trying many of the local establishments. I learned that the number one rule of dining in Clearwater is that you have to love grouper. Grouper seems to be the official fish of Clearwater and it appears on almost every menu in almost every possible permutation, including grilled, blackened and fried. The other highlight of the local food scene is key lime pie, which I wound up eating with almost every meal. To have the quintessential Clearwater experience, you need to eat your grouper and key lime pie while watching the sun go down. Drinking a beer is also encouraged.
I traveled with my twin boys and appreciated the fact that almost every restaurant we visited had a reasonably priced kids' menu (grouper included). One of our favorite restaurants was the slightly off the beaten track Clear Sky Beachside Café. In addition to the basics, Clear Sky serves grouper Picatta style (with lemon sauce), Tuscan style (with goat cheese and white wine sauce) and Oscar style (with Hollandaise). I loved the blackened version. Dinner was so good we went back for breakfast where the highlight of our meal was sweet cream buttermilk pancakes. (I am still searching for a comparable recipe).
The best place to eat with water views and my favorite spot to relax with a cocktail is the beachfront Palm Pavilion. The Palm Pavilion also has grouper cooked a million ways, but adds to the feel-good vacation vibe with nachos, outstanding burgers, and baskets of beer battered shrimp. Another Clearwater institution is Frenchy's. It's not exactly a chain, but Clearwater does have four Frenchy's and Frenchy's does have its own fleet of boats that catch the restaurants super tasty seafood. I went for the blackened mahi mahi with rice and beans, just to shake things up a little and it was amazing.
For special occasions, SHOR American Seafood Grill offers ocean views, an open kitchen and a sophisticated menu. Since it was my birthday, we splurged on the filet mignon and local snapper. Other indulgences include oysters, crab cakes and lobster mac and cheese. At the other end of the spectrum, you can grab a super casual meal at Post Corner Pizza. This is the place where you can enjoy a gyro, a small pie or a Greek salad and end your meal with baklava. Since this is Clearwater, even the pizza comes with a spectacular view of the sun going down.