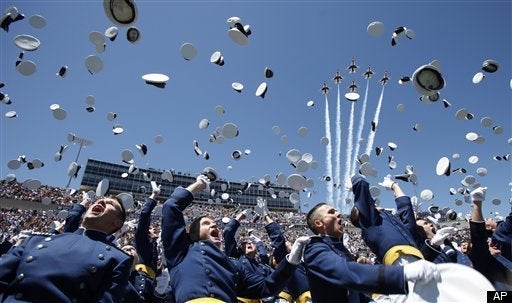 An activist group is calling for the resignation of Air Force Academy superintendent Mike Gould over his decision to host a controversial speaker at a February prayer luncheon at the school.
The Military Religious Freedom Foundation, long a thorn in the side of the Air Force Academy, wrote in a letter to Gould that retired Marine 1st Lt. Clebe McClary--a nationally-known motivational speaker--harbors ideas that are "not only antithetical to the clear mission of the United States Air Force Academy, they are totally anathema to the purportedly globally inclusive purpose of this National Prayer Luncheon."
The letter notes that McClary--a wounded Vietnam vet who overcame his injuries--says on his website that "U.C.M.C. will always mean a U. S. Marine for Christ."
The Academy has rebutted criticism by arguing that the prayer luncheon is not mandatory. "Nobody is being forced or coerced to go to this luncheon," Lt. Col. John Bryan, a spokesman for the Academy, told the Colorado Springs Gazette.
Related
Popular in the Community