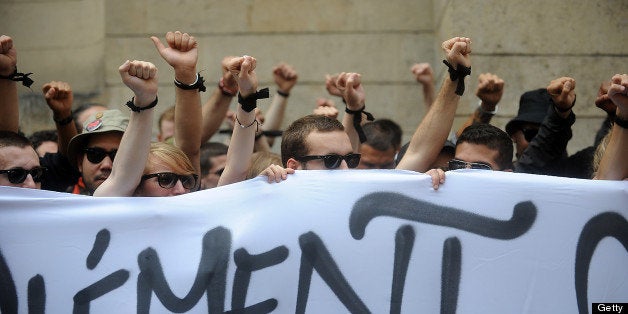 A young far-left activist died in a Paris hospital on Thursday after having been beaten up by skinheads in the French capital.
French Minister of the Interior Manuel Valls announced on Thursday that police had arrested several people in connection to the incident, including the man suspected of having dealt the fatal blow.
According to a police source, the alleged perpetrators "gravitate" towards the "core" of the Nationalist Revolutionary Youth (JNR) movement. However, further investigation will have to clarify the exact ties of the suspects to the group.
JNR's leader, Serge Ayoub, denied the group's involvement in the attack early on Thursday. Ayoub told the Figaro that he was "absolutely certain" that no JNR member was involved, claiming to have personally checked with each of them. Reached by the online news organization Rue89 Thursday morning, Ayoub said he eventually learned of those involved by "calling middlemen throughout the night." Ayoub claimed the alleged attackers do not formally belong to any far-right group.
Comprised of skinhead neo-Nazis, JNR is an offshoot of a larger group called Third Way and was founded in 1987. The group was revived in 2010 by Ayoub, also known as "Batskin" because of his penchant for ... baseball bats.
Believe in an alternative to leftist international and global capitalism. (…)

Fight in the long, traditional, revolutionary, European struggle for the defense of workers, self-determination, and for the progress of humanity. (...)

Obey our ethics of order and progress which are synonymous with the progress of civilization.
JNR made headlines on May 12, when its members interposed themselves between protesters and security forces at a stunt of the topless activists of FEMEN during a far-right protest in Paris.
BFMTV notes that essayists Caroline Fourest and Fiammetta Venner claimed in their book on Marine Le Pen that JNR represents itself as "the only organized skinhead group in France." According to AFP, the movement is composed of only a handful of members.
Third Way is characterized as an anti-liberal solidarity movement. Talking to StreetPress, far-right political scientist Jean-Yves Camus described the group as "a vague, originally respectable, doctrine which values work over capitalism and speculation." The group opposes both capitalism and communism (hence the name the "Third Way"). It spearheaded the anti-imperialist movement, thus distancing itself from other right-wing groups focused on the more "classic themes" of immigration and nationalism.
StreetPress writes that Third Way also respects the legacy of the 'non-aligned movement,' a group of countries that refused to identify as tied to the Soviet Union or the West. This part of its ideology differentiates JNR from other far-right groups who mobilize against Islam.
Third Way and JNR do not hesitate to support Arab regimes against America and Zionism.
During the event of May 12, 2013, attended by several right-wing groups, one of the slogans read: "Always the same enemies, In Syria as in Paris" or "Shut up Obama, France does not belong to you. Shut up Obama, Syria does not belong to you. "
This piece was translated from French and originally appeared on HuffPost France.
Calling all HuffPost superfans!
Sign up for membership to become a founding member and help shape HuffPost's next chapter
BEFORE YOU GO
PHOTO GALLERY
Clement Meric Attacked