Teen mothers are getting a taste of the prep school experience, replete with studying the classics from Dante to Shakespeare, through an innovative program in Massachusetts. The Clemente Course in the Humanities is a free 28-week, three-credit college course encompassing philosophy, art history, literature, writing and American history. It is offered at the Community Adolescent Resource & Education Center, an alternative education agency in Holyoke, Mass., where low-income teenage mothers can earn their high school equivalency diploma with the hopes of continuing on to college. Latina teen mothers make up 90 percent of the center's students, according to the program.
Known as the Care Center, the facility is situated in Holyoke for a reason: This city bears the state's highest percentage of children living in poverty, second highest percentage of children living in single-parent families and highest teen birth rate.
The course introduces the young mothers to reading the classics of literature; they also study the significance of history's most important artistic movements. Last year, the class explored the theme of "true love," examining how love is represented in art and fiction.
"On one level, we look like a regular GED program," Anne Teschner, executive director of the Care Center, told the HuffPost. "But we're really not. We've got a very strong focus on college prep because we just feel it's really important for teen moms. The idea that a GED is enough just doesn't make any sense anymore."
The Care Center borrowed the idea from Earl Shorris, a New York-based author who created the humanities class for residents of inner-city neighborhoods. The notion is that people living in poverty should be exposed to the same rich, intellectual stimulation as people of financial means.
"If we are really going to eradicate poverty, we have to give everyone access to all the goodies, and then see what happens," Teschner said. "The idea is to give them the room to explore just as white middle-class kids would," she added. "Prep schools have a certain set of expectations for their students, and they are given what they need to succeed. We took the GED model and layered it with a prep school model."
One success story from the center and its course is that of Kritzia Garcia, now 22, who was 17 when she first got pregnant with her daughter. "People here actually act like they care," Garcia told HuffPost.
"High school was always you either do your work or you don't," Garcia said. "Sometimes you don't do your work and they pass you on to the next grade," she added. "In high school, I never learned anything." Now she's preparing for her GED and has a tutor to help with her most difficult subject, math.
Garcia left school in the middle of her senior year in search of a job, thinking that "getting a job was more important" than continuing her education, she said. She credits her supportive family as well as lessons learned at the center with giving her a new outlook.
"Having a baby really changed my whole perspective on life," Garcia said. "I used to think that I was going to finish high school, go off to college and party. It's been a bit of a struggle."
The center offers a network of support, including free day care, tutors and transportation. The idea is to remove the barriers to learning so that students can focus on their education.
But there are challenges. Poverty follows the students. Administrators at the center said issues such as domestic violence, housing instability and even hunger can overwhelm some students.
When the program was first introduced, not all staff members at the center were pleased. "People left," Teschner recalled. "They said, 'This is really nonsense. These are students who have way too much on their plates as is. The last thing they need is to be struggling with Socrates and Plato,'" added Teschner, noting that one staff member quit.
To critics who ask why would people living in poverty care about Shakespeare or Plato, Teschner's response is simple: Why not?
Garcia for one says she has learned to think more openly. "I used to think that everyone had the same thoughts, but I was so wrong," she said. "Ten of us can read the same paper and I thought everyone would get the same answer from it, but that didn't happen."
Plus, she has benefited from teacher encouragement, Garcia said. Reading Plato and Shakespeare helped her to think. Now, she hopes to attend college.
Students at the center typically come in reading at a seventh-grade level, but after 18 to 24 months, most read at a 12th-grade level. In the last decade, from 80 percent to 85 percent of the center's students have attended some college, Teschner said. Many study social work, early childhood education or criminal justice.
Last year Michelle Obama presented a National Arts and Humanities Youth Program Award to the Care Center; it was one of 12 after-school and out-of-school programs nationwide to receive the award for an innovative humanities course.
If the students take one lesson with them, Teschner hopes it is this: "You don't just have to own your struggles, though you should, but you get to own it all: the beautiful mountain near you, the river you can row on. Own Pablo Neruda and Robert Frost, it's all yours."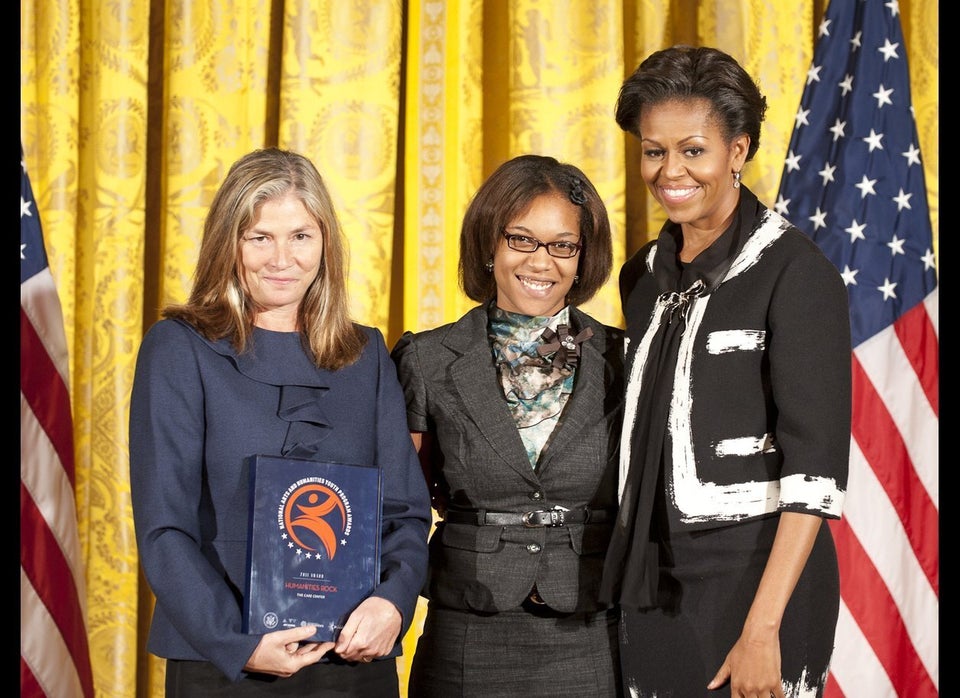 The Clemente Course at The Care Center
Popular in the Community