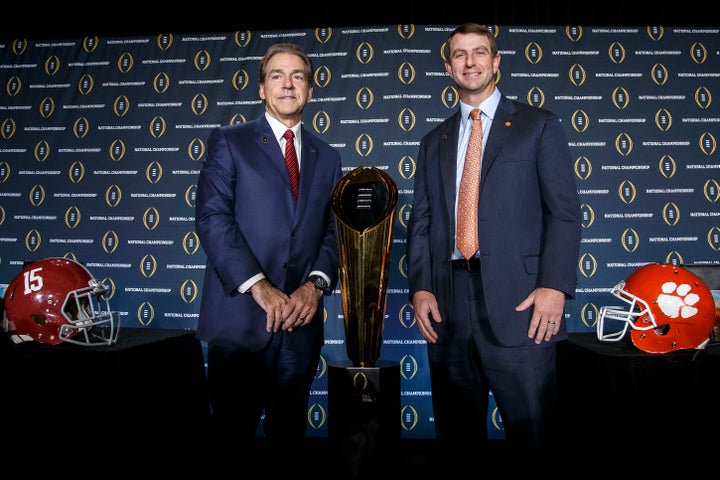 Clemson hasn't played for a national championship in 30 years. Its head coach, Dabo Swinney, is an Alabama native who played his college football... for Alabama. And, despite being undefeated -- the lone undefeated team in the country -- the Tigers find themselves a touchdown underdog in Monday night's tilt against Alabama in Arizona.
Without question, the availability of Clemson's injured megastar defensive end Shaq Lawson -- a genuine backfield wrecker whom Swinney says will play -- and first-year Alabama starting quarterback Jake Coker are crucial factors, but they aren't the most crucial. Here are the three things will determine who wins the title. 
The Alabama Front
Alabama coach Nick Saban likes to have a dominant defense, and he loves it that much more when he has a dominant front. The 2015-16 version of the Tide has both, something we saw in full display during a dominant 38-0 beat down of Michigan State in the semifinal game. The Crimson Tide have surrendered a Football Bowl Subdivision best 13.4 points per game and, according to Phil Steele, held opponents to 157 yards per game below their season averages.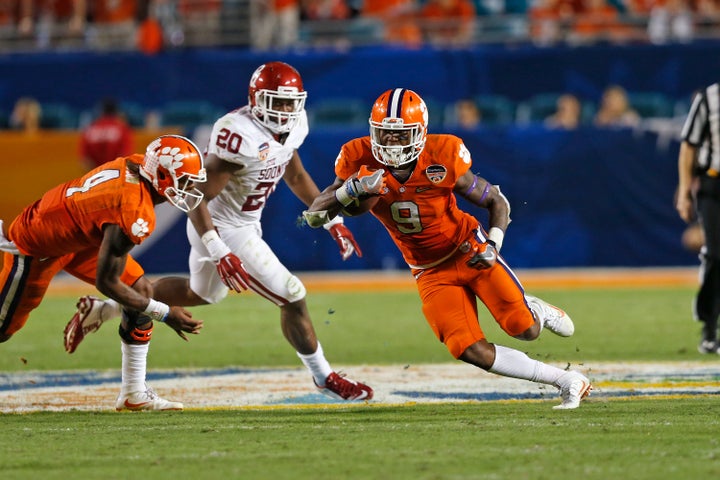 Alabama Heisman winner Derrick Henry's running game has garnered a lot of attention, but much has also been made about quarterback Deshaun Watson and a Tigers offense that set the world on fire this year. And yet, the 46-year-old Swinney wants to control the clock with the run while also implementing a lot of plays. His workhorse is sophomore running back Wayne Gallman, a 6-foot-1, 205-pound player who has totaled 1,482 yards rushing to go along with 12 touchdowns. Watson, meanwhile, has another 1,000-plus yards on the ground and 12 more touchdowns.
Alabama, to be sure, will clog running lanes with a terrific defensive line that excels at putting the offense in predictable down and distance situations. Sparty struggled to get its running game going against the Tide. However, if Gallman finds success early, the entire complexion of the game would change. 
The Saban Effect
Saban doesn't merely win football games, he wins big football games. Whether he's the best ever is debatable -- we have 'Bama legend Bear Bryant to thank for that -- but if Saban wins Monday night, it will be his fifth national championship: one with Louisiana State and four more in Tuscaloosa.
The challenge for Swinney will be to settle in early and employ his young quarterback to play freely, but also not to make a bad mistake.
Mr. Watson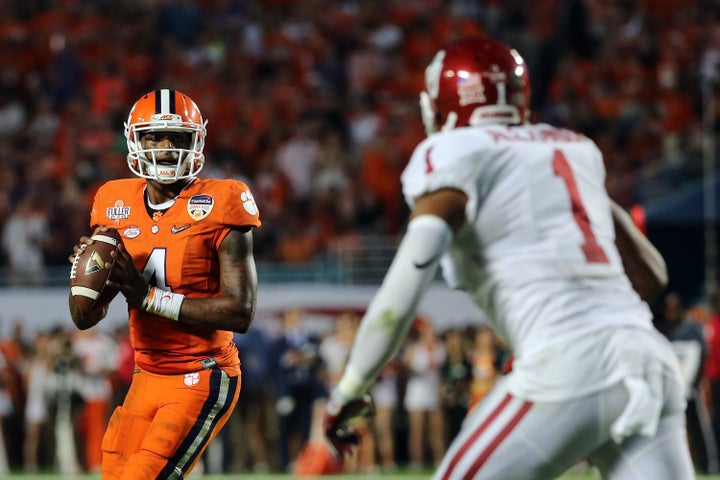 Speaking of Watson, Clemson's most dramatic and important advantage is clearly under center, where Watson, a Heisman finalist himself, has enjoyed a sensational sophomore campaign. Perhaps what makes him so special is how he handles the blitz. To be sure, 12-1 Alabama doesn't traditionally blitz a lot under this regime, but it's worth noting that when Watson has been blitzed in college, he has amassed 22 touchdowns and just three interceptions while ranking third in both total quarterback rating (92) and yards per attempt (10.2) among Power 5 players, according to ESPN Stats & Info. It is also worth noting that the kryptonite during the Saban era has been mobile quarterbacks: think Johnny Manziel, Cardale Jones and Chad Kelly, as well as Watson, of course. His dual threat ability has helped him produce nearly identical numbers to former ACC superstar Jameis Winston during his Heisman-winning season.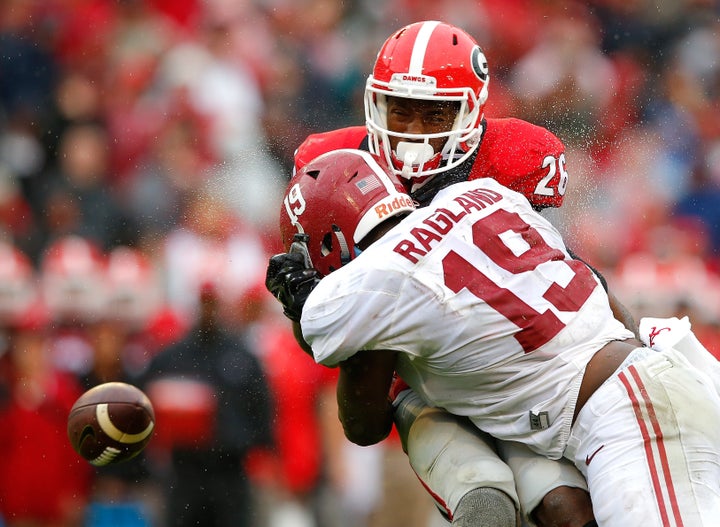 'Bama defensive coordinator Kirby Smart has a slew of talented linebackers led by All-American Reggie Ragland, a tackling machine and the heartbeat of the unit. His role against Watson will vary -- he might spy, he will rush and he will drop into coverage. How Watson handles it will help determine the outcome of this game, but Smart's philosophy will be to confuse the young quarterback with an onslaught of different looks. If Watson excels -- as he has all year -- Clemson will win this football game. If he struggles, or even if he's average, 'Bama will win and Saban will only further cement his legacy as arguably the best in the sport's history.
Calling all HuffPost superfans!
Sign up for membership to become a founding member and help shape HuffPost's next chapter