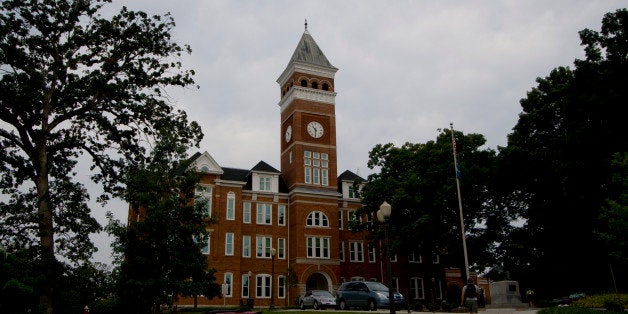 "We believe we could do more to build the foundation for Clemson's future by that action than by all the building projects currently blanketing campus," stated an open letter signed by nine faculty members and published last Wednesday. Jeremy King, a past president of the faculty senate, wrote his own letter urging the school to rename the building.
The professors told The Huffington Post they have not yet heard back from the administration.
Tillman, a 19th century South Carolina governor and U.S. senator also known as "Pitchfork Ben," was a white supremacist who said black men "must remain subordinate or be exterminated," according to author and historian Stephen Kantrowitz. Following the 1876 Hamburg Riot, when a white militia attacked and killed several black Republicans and freedmen, Tillman stood by as white men executed a black state senator who was on his knees praying.
Prior to the Charleston shooting, there appeared to be little political appetite to challenge symbols of the Confederacy in South Carolina. A South Carolina state law known as the Heritage Act requires two-thirds of the state legislature to agree to remove the Confederate flag from the state Capitol grounds or to rename buildings and memorials honoring historical figures.
Yet with state lawmakers from both parties and South Carolina's Republican governor now calling for the Confederate flag to be removed, the Clemson faculty members who signed the letter think the time is right to rename Tillman Hall.
The professors' letter rejects the argument that renaming the building would be little more than a symbolic gesture:
Renaming Tillman Hall is more than symbolic, it is real. It is an affirmation that hatred, represented by actions or symbols, has no place in the Clemson University community now or in the future. While renaming Tillman Hall will, in isolation, fail to secure a sustainable and more inclusive future for the University, it is far more than symbolic. It is an affirmation that honoring those whose station and legacy were achieved in significant measure via the vilest actions of intolerance has no place at Clemson University now or in the future—even as the history, university-related role, and scholarly study of those same individuals must have an indelible role in our educational mission.
Leidy Klotz, an engineering professor, said in a third letter posted last week that until the building is renamed, the Clemson community should refer to Tillman Hall as Old Main, its original name. "We don't need approval from the state legislature, and we certainly don't need the endorsement of the board of trustees," Klotz wrote. "So please, if you care about your Clemson family, exercise your freedom of speech and call it Old Main."
The university did not respond to a request for comment.
Red paint drips from the statue of "Pitchfork" Ben Tillman in Columbia, South Carolina, on Tuesday, June 30, 2015. Tillman was a former South Carolina governor whose white supremacist policies were written into South Carolina's 1895 Constitution. (AP Photo/Seanna Adcox)
Like Us On Facebook |
Follow Us On Twitter |
Contact The Author

Tyler Kingkade covers higher education at The Huffington Post. Contact him at tyler.kingkade@huffingtonpost.com.

Related
Popular in the Community