It's amazing that in 2016, modern culture is still fascinated with a certain Egyptian queen named Cleopatra -- Cleopatra VII, specifically. Admired for her legendary beauty as well as her equally legendary intellect and charm, the woman who considered herself a direct descendant of the goddess Isis has been an enduring character in the theater and cinema for decades, despite having died in 30 B.C. She has been portrayed by such Hollywood royalty as Theda Bara (in what's now considered a truly "lost" film), Claudette Colbert, Vivienne Leigh, and of course Elizabeth Taylor. If the Queen of the Nile is yet again ready for reinvention, who better to do it than award-winning, gender-bending actor and playwright Charles Busch?
From the celebrated persona to the eye-popping costumes and headdresses, Cleopatra is a juicy role indeed -- and it's a role that Busch tells me he's been preparing to play since he was 8 years old (!). It started when he first saw a photo of Ms. Taylor in Cleopatra-style eye makeup in a movie magazine, which led to a lifetime of fascination with (and inspiration from) a more glamorous era. Busch tells me,
I've been researching my roles since I was 6 years old. It's not like I had three weeks to learn a female character and asked, "How do I do that? Maybe I'll watch an old movie!" I've been absorbing the postures, the vocal inflections, the images, and the way these actresses turn their head toward the light. I try to visit their thought processes, and analyze why they are making that acting choice -- not just imitating that choice. Sometimes it's helpful to know what was going on in their lives that made them respond to a scene in that way. There are a lot things that go into it: a lifetime of study, and a lifetime of empathy for a certain kind of actress.
I never wanted to be a woman, but there many were times when I wanted to be an actress. As an androgynous man, I identified more with the female characters in the movies. It's a lifetime fascination with actresses, many of whom I never actually saw. I'm as much interested in theater history as I am in film history. As a kid, I was pouring over these big coffee-table style photo books of stars of the American stage and being as fascinated by a photograph of, let's say, actress Katharine Cornell -- who did not appear in films -- as much as I'd be fascinated by a photograph of Greta Garbo. In a way, the great ladies of theater, who I could not see, stimulated my imagination even more -- because I could create what their performances were in my head. They are as much an inspiration to me as movie actresses.
Does Charles Busch play Cleopatra like Vivienne Leigh? Like Claudette Colbert? Like Elizabeth Taylor? The answers are: Yes, yes, and yes... but Busch's Cleopatra also incorporates a good helping of Mae West, which is especially evident in some scenes. When a no-nonsense, unapologetic Cleo confronts an overly mannered and priggish Calpurnia, it's clear that Busch is paying homage to West's baudy charms. Busch tells me,
We're doing Cleopatra's whole story in 90 minutes! I evoke a lot of different actresses in this performance. I was concerned that it woulds just come off as an impressionist act and not a character. Somehow I seem to be able to take these fragments of other actresses' personas, and by the time it's over, the audience seems to be able to accept me as a complete character and not just an impressionist act. I worry that maybe it will come off as an impersonation, but I guess somehow I've infused it all with my own personality and my own concentration. Cleopatra is a powerful character, a woman of many colors. I use the 1934 Claudette Colbert movie as a template for the play, because I wanted it to be a 90-minute play. DeMille sort of did my work for me. That film is about 90 minutes, so it was easier to use that as the structure, as opposed to the four hour Taylor version! But the Claudette Colbert version is very much done in an Art Deco style, and Colbert's performance has a delicious element of her screwball performances; the same year, she did It Happened One Night. I took it a bit further: The first half of the story, where Cleopatra is young, I evoke a 1930's heroine: not just Claudette Colbert, but a little early Barbara Stanwyck, and Jean Harlow, and Mae West, with flourishes of Vivienne Leigh -- her form of kittenish royalty. As she gets older, I threw in more mature women like Susan Hayward, who never played Cleopatra (although she could have!), and Elizabeth Taylor. Throughout the whole thing, I am also throwing in some of those stage actresses -- with their intensity, their stylized performances, and their rich vocal tone. That is the glue that holds it together.
Enjoying a limited run at The Theater for the New City in New York's East Village, Busch's Cleopatra, directed by the artist's longtime collaborator Carl Andress, made news in the theater world when the show sold its entire two week run prior to its first performance on Friday, March 25. It created the kind of buzz that made the show the hottest ticket from here to Cairo. Cleopatra marks the third consecutive sold-out run for Busch at Theater for the New City. He previously sold out runs for 2010's The Divine Sister and 2012's Judith of Bethulia. Astonishingly, the show sold out largely through word of mouth and the dedication of the star's loyal fans. Busch tells me,
It's lovely. This has happened each time we've done a show at The Theater for the New City. Social media is a marvelous way to get the word out! We don't advertise or send out a mailing. It's very rewarding that there are people who really want to see me and who get their tickets in advance.
In the last few years, Busch has been enjoying a new career in cabaret, with one of his best roles simply being himself -- but, of course, still in drag! What motivated Busch to bring Cleopatra to the stage?
I missed the backstage camaraderie of being in a play. As an actor/playwright, I missed creating a world that other actors are a part of, and telling a more complete story. I was like, "Oh, let's try it again!" It's been a joyful experience. I really have been very fortunate with the critical response to my work. I can't complain. I've been treated with great respect, really from the beginning. They have been supportive, and sometimes they have been critical... but when they were, I thought I deserved it.
For Cleopatra, in keeping with the tradition of Busch's previous works at The Theater for the New City, the producers chose not to invite the press. Busch offers,
You do a play, and then you get the reviews. If they are great reviews, then you feel like, "Well, we've achieved our goals. Why do we have to keep on doing it?" If it's a bad review, you think, "Well, why do we have to keep doing it? We failed!" (Laughs) Maybe that's not the best response, but I find that it happens. I feel that it's good therapy to just do the play for the point of just doing it: investing yourself, and entertaining the audience too. I'm just lucky that for over 40 years I've developed a core audience who is very loyal, very enthusiastic, and very affectionate. I'm extraordinarily grateful!

Audiences seeing Cleopatra were indeed grateful as well, from the moment when we first see the titular heroine of Busch's play. She is carried into a camp at Tarsus by a hunky servant (Lawrence Bullock), wrapped up in carpet. When she is "unrolled" onto center stage, our queen -- in henna-reddened hair and a mint green silk dress -- first does what any self-respecting lady would do: She grabs a mirror to check her famous looks! The audience went wild. But that was just the beginning. The play was always smartly campy, often over-the-top, occasionally very raunchy, and always hilarious -- with an infinite all-you-can-eat buffet of priceless lines and situations running throughout. As Busch pointed out, Cleopatra is generally a very "male" story. Except for Cleo herself, there weren't do many meaty female characters in previous incarnations. In Busch's version, the queen's two handmaidens (Jennifer Cody and Ashley Austin Morris) enjoy some zesty roles and their own lesbian love story subplot. Jennifer Van Dyck, who has appeared in several of Busch's previous shows, plays the villain Octavian as well as his glamorous twin sister Octavia. Tony nominee (for Priscilla, Queen of the Desert) Tony Sheldon plays Julius Caesar, who gets killed off in the play fairly early. Still, the audience gets to appreciate Sheldon's masterful acting talents even after Caesar's death -- not just as Caesar's ghost, but also with his roles as Caesar's wife Calpurnia and the Roman Senator Lepidus. As Lepidus, even Sheldon's wordless acting is astonishing. Andy Halliday, Busch's frequent collaborator and friend since age 14, steals every scene he is in as "The Soothsayer". Joe Zaso completes the cast as a hunky Marc Antony, guaranteeing to arouse both Cleopatra's and the audience's "less-than-noble" intentions!
Charles Busch's Cleopatra is a trip down the Nile worth taking!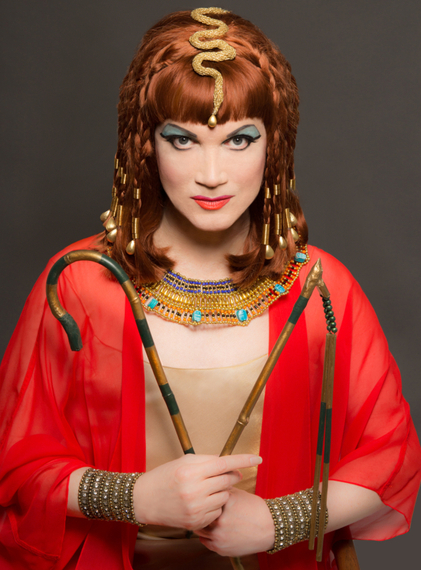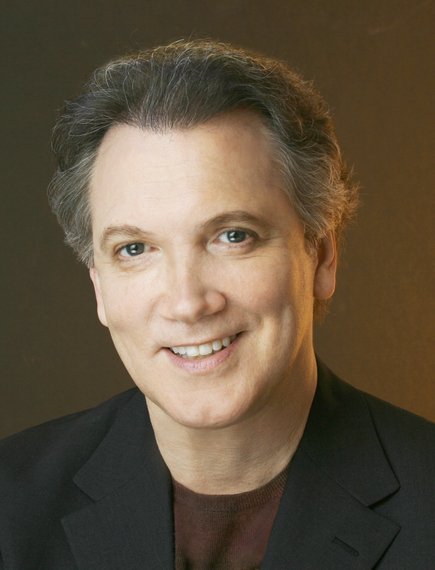 Charles Busch's Cleopatra runs through April 17th at Theater for the New City, 155 First Ave, NYC. Some tickets may be made available 72 hours before each sold out performance. Visit www.theaterforthenewcity.net/cleopatra.html for more info.(Photo of Busch as Cleopatra by David Rodgers. Photo of Busch in suit by Michael Wakefield.)
Popular in the Community