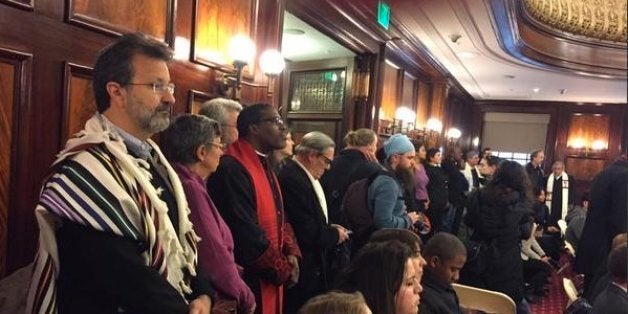 When a coalition of clergy arrived at the New York City Hall to stage a "die in" prayer protest on Monday Dec. 8, they were met with a welcome surprise.
Members of the Black and Latino Caucus had planned an action concurrently and were already assembled when the group of 75 faith leaders arrived at the city hall doorsteps Monday afternoon. The two groups came together to hold a "die in" for several minutes and read names of more than 100 victims of police violence from the last year.
"We came here today to New York City Hall and wonderfully found New York City council members were on the same page," Linda Sarsour, executive director of the Arab American Association of New York, told HuffPost from the protest.
Chanting "God can't breathe" and singing spirituals, the clergy were out Monday to protest the grand jury decision not to indict police officer Daniel Pantaleo for the death of Eric Garner.
"It's extremely important to me as a Muslim when I see that some of God's children in New York are not being valued," Sarsour said. "It's important for clergy to be part of bringing back the moral compass on how [law enforcement] treat all New Yorkers with dignity because that's what God wants us to do."
Rev. Donna Schaper wrote to The Huffington Post that she "had to stand up for what is right and decent and enough is enough. I love my country too much to let the police remain un-policed"
The coalition also delivered a letter signed by more than 100 clergy members calling for the appointment of a Special Prosecutor to oversee police misconduct and criminal justice reform in New York City and across the nation.
"Eric Garner couldn't breathe. And as a pastor and man of faith, I know that my faith can't breathe until we transform our sadness into a faith-rooted movement for real police reform, working for the restoration of a broken criminal justice system," Rev. Peter Goodwin Heltzel, Associate Professor of Theology and Director of the Micah Institute, said in a press release.
Signed by clergy from Christian, Jewish and Muslim traditions, including president of Union Theological Seminary Rev. Dr. Serene Jones, the Islamic Centers' Imam Khalid Latif and Middle Collegiate Church's senior minister Rev. Jacqueline J. Lewis, the letter appealed to New York Mayor de Blasio and other city leaders "to stand on the side of what is moral, just, and right."
We fear not, but walk on to bear prophetic witness to a world of peace and justice, where we all can live together in love. As faith leaders, we stand united in affirming that all people are "made in the image of God" (Genesis 1:27), and will continue to put our bodies and the bodies of our parishioners on the line until our city is safe for our children, especially children of color.
The clergy also called the lack of accountability within the police department "a spiritual problem," citing the work of faith leaders like Mahatma Gandhi, Rabbi Abraham Joshua Heschel, Dorothy Day, Ana Karim, Fannie Lou Hamer, Malcolm X, and The Rev. Dr. Martin Luther King, Jr who preached nonviolence.
"In contrast to militarized violence, our faith traditions call us to nonviolent love," the letter stated. "We are empowered to serve others, not to abuse our human power in destructive ways, including taking a fellow human's life."
Four New York rabbis engaged in similar demonstration on Thursday were arrested after reciting the kaddish, a Jewish mourning prayer, and reading the names of more than 20 black individuals who had been killed by New York police, followed by the statement, "I am responsible."
"Rabbis and all Jews need to stand up and say that every single person is a creation in the divine image -- that black lives matter," Rabbi Jill Jacobs told HuffPost after the Thursday protest. "We put our bodies on the line to show how crucial it is that the systems meant to protect us do protect all of us."
Related
Popular in the Community