Clergy members were at the front lines in Ferguson during mass protests on Monday that rocked a city still haunted by the fatal police shooting of unarmed black teenager Michael Brown.
Christian, Jewish, and Muslim clergy from around the country were among the first of more than 50 people arrested for disturbing the peace after staging a planned act of civil disobedience outside Ferguson's police headquarters, the AP reports.
The faith leaders linked arms and approached officers in riot gear, asking them to "repent" for the 18-year-old teen's death and for other acts of police brutality against people of color. Some clergy offered to take the officers' confessions and pray with them, the New York Times reports.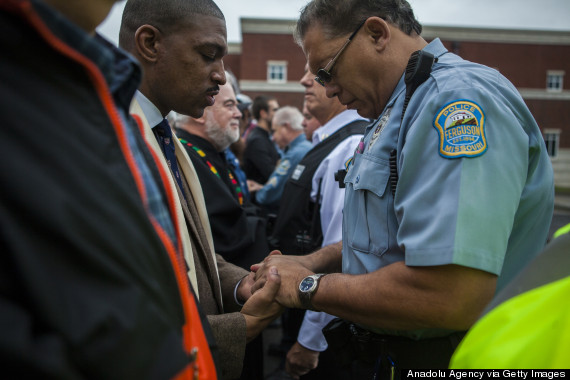 "It's not just about admitting wrongdoing but also committing to making changes that prevent further harm from being done, and there has not even been any admitting of wrongdoing yet by any of the powers that be in Ferguson," the Rev. Jim Wallis, one of those arrested, told RNS.
While some officers stood unmoved by Monday's demonstrations, other members of Ferguson's police department talked with the protesters.
"My heart feels that this has been going on too long," Ferguson officer Ray Nabzdyk told the clergy members. "We all stand in fault because we didn't address this."
At an earlier prayer service at Ferguson's Wellspring Church, clergy members said they were planning to turn the police headquarters' parking lot into a "sacred worship space" and a memorial to Brown, the Washington Post reports.
After a short march to the station, one pastor lay down on the ground so that fellow protesters could outline his body with chalk. The memorial reminded onlookers of how Brown's body was left in the street for four hours and 32 minutes after the teen was shot.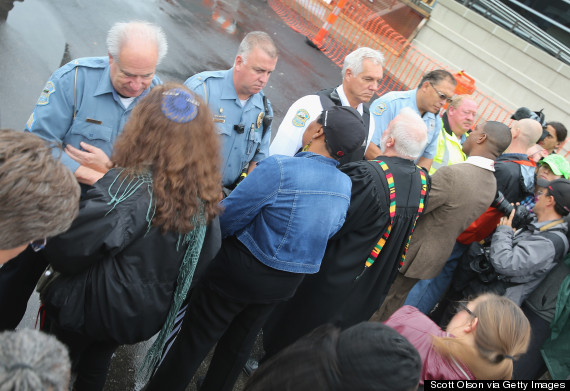 As rain poured down and drenched their clothes, the activists also waited that full length of time before lining up to be arrested.
Some knelt down in prayer as their turns came.
Author and activist Dr. Cornel West was among the first waves of religious leaders to be detained by the police. Rev. Renita Lamkin of the African Methodist Episcopal church, who was reportedly shot by a rubber bullet during a previous protest, was also arrested.
"We're standing against the criminalization of young black men ... and we believe as people of faith that our faith is supposed to look like something in public," Rev. Ben McBride told the Los Angeles Times.
The "Moral Monday" protests came on the fourth and final day of a series of protests the activists are calling "Ferguson October." At the top of their list of demands is the arrest of Darren Wilson, the white police officer who shot Brown on Aug. 9. A St. Louis County grand jury is still debating whether or not to charge Wilson with Brown's death, the New York Times reports.
The activists are also asking for body cameras to become part of police uniform and for independent investigations into all fatal police shootings.

Related
Before You Go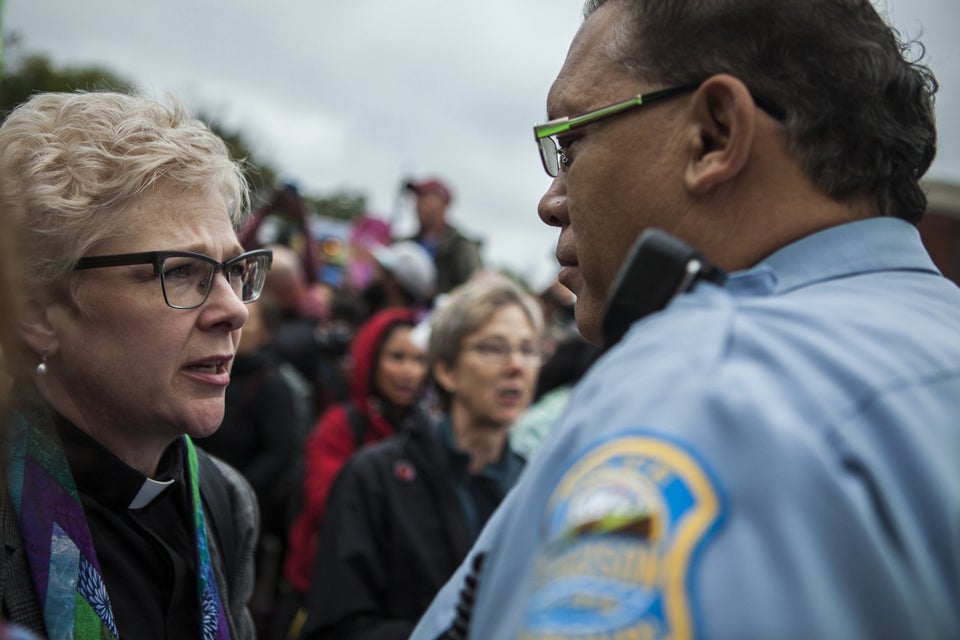 Clergy Arrested During Ferguson Protests
Popular in the Community