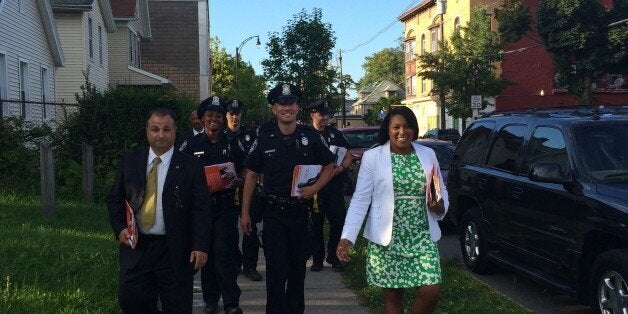 The city of Rochester, New York will kick off a program on Saturday aimed at improving relations between community members and law enforcement -- and the timing could not be better.
The idea behind 'Clergy on Patrol' is simple, Rochester Press Officer Jessica Alaimo told The Huffington Post. The program will pair up clergy members and police officers for foot patrols with the hope of improving relations between law enforcement and the local community, which have taken a hit in recent months.
"The goal is to mend the mistrust certain neighborhoods have in the police by using the trust they have in the clergy as a bridge," Alaimo said. "While we've been building this program for some time, the recent riots in Ferguson and the shooting we had here highlighted the need for it."
Seeds of the program have existed in Rochester for some time, and with a new mayor as of 2013 and a new police chief as of April, the city was ready for it.
"We've undertaken a number of initiatives to reach out to the community [since April] because our ultimate success is contingent on the level of trust within the community," Rochester Chief of Police Michael Ciminelli told HuffPost.
Mayor Lovely Warren, who made history by becoming Rochester's first female mayor, came up with the idea for the program last fall. During her campaigning she came across a clergy group that had begun walking the streets and praying for the community -- and she liked the idea.
"Some of our neighborhoods have been left behind," Warren told HuffPost. "If we all put things in perspective and recognize that this is a community and we have to work hand in hand, then we'll get through this and make our community safer because of it."
Burnice Green is the head pastor at God's Vision Ministries, which played a key role in developing the program. His church also happens to be located on the street where police officer Daryl Pierson was fatally shot on September 3 -- shortly after Clergy on Patrol conducted its first trial run. As news of Pierson's death surfaced, Green said he was flooded with calls from members of his congregation.
"'Tell me that wasn't one of the officers we walked with,' they said. That showed me the impact that just that walk alone had," Green told HuffPost. "People were really concerned."
The police department held three training sessions prior to the program's launch with over 100 clergy members in attendance. These trainings covered logistics and safety measures, which Ciminelli said were only a precaution.
"These clergy members are all known in the neighborhoods," Ciminelli said. "They're very comfortable there. We don't believe there's any kind of safety issue."
Primarily, the program aims to get police officers on a first-name basis with community members. The police department conducted a survey in 2013 to gauge residents' views on the police, and Ciminelli said one thing that stood out was the need for greater familiarity between officers and residents.
"The people who reported interacting with the police department were more likely to have a positive view of the department," Ciminelli said. "The idea is to pair clergy up with officers so they can introduce the officers to the people in the community -- because the more we talk to people, the more people get to know us and the better we do."
The population of Rochester is 66 percent Catholic, six percent Jewish and the rest largely Christian of various denominations, according to city data. But it is home to houses of worship from many faiths, including Muslim and interfaith, and the Clergy on Patrol program will recruit religious leaders from diverse backgrounds, Warren told HuffPost.
"It's anybody that wants to join," Warren said. "We've reached out to people of all different faiths and denominations."
The program is part of a multifaceted reorganization of Rochester's law enforcement and implementation of new strategy that will also address police recruitment and patrols. Following the events in Ferguson over the summer, many were concerned by what they saw as the militarization of the police and the racial divide that often leaves community members feeling marginalized by authorities.
Rochester is tackling this, Warren said, by recruiting new police officers from within local churches -- with the hopes of building a police force that reflects the community it serves. Ciminelli added that the city is also initiating a major structural reorganization that will break the department up into five smaller sections to focus more on smaller beats, increased foot patrol and more face to face interaction with the community.
"Our ultimate goal is to have a better relationship with the community," Ciminelli said. "We think that in turn will result in better policing and overall a more harmonious community."
The Rochester Police Department -- which is roughly 74 percent white, 11 percent black and 12 percent Hispanic, according to city officials -- has not had the time to develop the same kind of relationship with the community as local clergy has, Warren said.
But she added that in the 40 percent black city, churches play an important role in providing community members with services and a space to feel safe in.
"In a black community the church was always that safe haven," Warren told HuffPost. "But what I saw was that there was this disconnect between the government and the church."
Warren referred to an incident in 2013 that caused a major rift between police, clergy and community members. A white police officer reportedly hit Brenda Hardaway, a black woman, over the head during an arrest despite her repeatedly telling him she was pregnant. Video of the altercation appeared online and lead to widespread criticism of the police tactics. Many clergy members came out against the officer, Warren said.
"I looked at this as a way to put things in perspective," Warren said. "The officers go out there everyday to serve the community, but they can't keep our city safe without the help of the community. Clergy on Patrol is community policing with clergy members at the helm."
Rev. Green agreed with the mayor's sentiments, saying clergy provide "a face for the community" that can bridge any existing divisions.
"The clergy serve to bridge the gap and pull down those walls," Green said. "We wanted to open the doors so the officers can do what they do."
In order for Clergy on Patrol to work, Green said, it has to be sustainable. He did not sign up to be a part of something that would operate for several months and peter out.
"It's not just a project but a lifestyle," Green told HuffPost. "It's something we need to follow up on and have a way of seeing if this is working and then adjusting and improving on what we have."
Reversing years of mistrust between police and community members will not happen overnight, both Green and Warren stressed. But Clergy on Patrol is one promising start.
"I'm trusting in the Lord that everything will turn out," Green said.
Clergy on Patrol kicks off a 10 a.m. on Saturday September 13 at The New Life Fellowship in Rochester.
Related
Popular in the Community