An unusual vehicle is stuck in traffic on the highway from Nashville to Murfreesboro, T.N. It may look like an everyday passenger van but a glance inside tells a different story. Two imams, two rabbis and one evangelical pastor sit cheek-by-jowl with boxes of interfaith material blocking the back windows. With the rain pelting against the windows, the pastor and one of the rabbis pull up Facebook, excitedly checking how many friends they have in common. The conversation swings from good-natured teasing to philosophical discussions and disheartening stories of humiliation suffered in a post-9/11 world. This drive is just one of many this group will have taken together by the end of their 15-day Religious Leaders for Reconciliation ride through cities in the American South and Midwest. Their goal is to bring a message of unity and of interfaith understanding to a country they feel is forgetting what that means.

"A rabbi next to an imam, next to an evangelical minister: it sounds strange," explains Imam Yahya Hendi, founder of Clergy Beyond Borders, the organization sponsoring the ride, and the Muslim chaplain at Georgetown University. "But this is the America dream. This is what America makes possible. This could be a joke in Saudi Arabia or maybe in Pakistan. This could never be a joke in the United States of America. This is a dream we need to protect. This is the reality we need to nurture."

Deep recessions in the United States in the past have resulted in high levels of intolerance of immigrants and other minority groups. "History suggests that the quality of our democracy -- more fundamentally, the moral character of American society -- would be at risk if we experienced a many-year downturn," Harvard economist Benjamin Friedman predicted in "Meltdown, a Case Study," in The Atlantic in 2005.

For the clergy in the van, Friedman's 2005 predictions are today's realities. The stresses of the last decade have thrown American racism and prejudice into stark relief. An atmosphere of suspicion and misunderstanding has taken root, poisoning the religious and cultural plurality that many Americans point to with great pride. The motto of the trip is "One Ark, One Humanity," drawing from the premise that followers of the three Abrahamic faiths share the same ancestor, Noah. In other words, to ignore that bond is to ignore one's own faith. By talking about each of the religious traditions and better understanding them, the clergy hope to break down barriers between the practitioners of each of the faiths. Rabbi Nancy Fuchs-Kreimer, a ride participant said, "I don't actually think as a Jew, that I know everything there is to know about God and about religious truth. I love my tradition, I read the text of my tradition, but it's been my experience with Christians and Muslims that what I've learned [from them] enriches me, makes me a better Jew and makes me see things in my own tradition that I didn't see before."

The destination today is Middle Tennessee State University in Murfreesboro, T.N., the ninth city on the tour. While much of the media and political attention last year was focused on whether to build Park 51, the proposed Muslim cultural center in downtown New York, Murfreesboro was struggling with its own divisive debates over the building of a new mosque. No sooner had the land been secured, some members of the community opposed it. Bringing the matter to court over zoning laws, the case attracted the attention of national conservative groups. Soon, it was no longer about the legality of building the mosque but rather a referendum on American Muslims and on Islam itself. The Los Angeles Times reported that conservative activists were brought into Murfreesboro to say in court that "American Muslims -- including those in Murfreesboro -- want to impose Shari'a, or Islamic law, on the United States, and that the proposed mosque, gymnasium and swimming pool were part of a 'stealth jihad.'" Meanwhile, the county's planning commission argued that Islam was not a religion and therefore not eligible to own land for religious purposes.

The Judge ultimately ruled in favor of the Muslim community but just before the 10th anniversary of 9/11, the local Islamic Center received a bomb threat. Thus far, no contractor is willing to take on the project of building the mosque.

In the van, this recent history is well known. There was some anxiety as the group rolled closer to the destination. The event, co-sponsored by the MTSU Muslim Student Association, the Wesley Foundation and the Jewish Student Union, would be open to the public. One of the clergy remarked that earlier in the day while in Nashville, he was told that he would be going to 'Ground Zero.' His students at Duke University told him that they looked forward to seeing him if he got back, not when.

The program at MTSU was billed as an interfaith event but Islam and Muslims were firmly at the center of the discussion. Could this panel of clergy bring some words of reconciliation or encouragement to this town torn apart by anger and suspicion? Imam Hendi, with great verve and enthusiasm, tried to impress upon his audience the seriousness with which he takes the American ideals of religious plurality and freedom. "Many years ago," he thundered to the crowd, "I wanted to live free and I knew only in America can I live free. Only in the pluralistic, diverse America, can I be myself and I want America to continue to be pluralistic, to continue to be diverse. That is why I will continue to live in the United State of America. Not because I want it to be a Muslim America. No! If America wants to become Muslim, let me know so that I can move elsewhere."

Laughter and applause greeted his words, but skepticism lingered. In this traditionally Christian majority community, some wanted to know if by advocating for religious pluralism, these clergy were really advocating for an amalgamation of the three religions. Absolutely not, was the immediate reply. "I am an exclusivist," expanded Reverend Steve Martin. "How do I square that then with interfaith dialogue? Calling myself a Christian or claiming a certain faith experience doesn't mean that I have it all figured out. Although I believe the truth of the faith that I claim is definitive, there's a lot that I can learn about that faith by interacting with, by loving and caring, and deeply deeply respecting brothers and sisters of other pathways and other faiths. "

Other questioners spoke more to the political discourse of recent years, demonstrating the influence conservative talking points have had within the community. "Do you believe that Christians should be able to build as many churches as they wish and Jewish people should be allowed to live in Saudi Arabia and build as many synagogues as they wish?" asked one audience member suspiciously. "How do you plan to even begin on the oppression of your [Muslim] women?" asked another.

These provocative questions resulted only in calm answers. I'm so glad you asked that question, responded Imam Hendi. "I stand by you for a Christian to be able to openly and publically worship in churches in Saudi Arabia." Imam Abdullah Antepli, his colleague on the panel, jumped in, adding that not allowing minorities to pray in Saudi Arabia has no grounding in Islamic practice and is in fact a violation of Islam.

Turning the onus back onto the questioner concerned about Muslim women's rights, Imam Hendi added some provocation of his own. "I feel so angry when I see women oppressed in some Muslim countries. That happens not because of Islam, but rather despite Islam. Look at the history of the past 20 years in Muslim countries. Turkey had a female president, [as has] Bangladesh and Indonesia. Pakistan had a female prime minister. The American debate, unfortunately, is still if we can have a female president."

For many others, the themes of unity and of opening oneself up to ones' neighbors resonated deeply and without rancor. They made it clear that the debate over the mosque not only affected the Muslim community, but the whole community. It was their image and reputations on the line. Laura, a Murfreesboro resident, summed up many of her neighbors' feelings during the question and answer session. The portrayal of her town in the media over the past year was not a fair representation of her and of the people of Murfreesboro, she said. "There are many of us who support the mosque," she added. "A number of us have made some efforts in community organizing in order to come together."

As people lingered in the lobby following the program, the mood was positive. The message the clergy had been trying to impart all evening seemed to have fallen on receptive ears. "I think it was one of the best debates we've had, and I've been to several of them," said Jennifer Roberts, another Murfreesboro resident. "In the last year, [this] is all I want to talk about. I started a diversity group where I work and we're trying to get people just to learn. You don't have to become. You don't have to switch. If you know, it's not as scary."

Having been awake since 5 AM and arriving back at their hotel in Nashville 18 hours later, it had been a long day for the group. Early the next morning, they would pack up the van again and leave for their next stop: Louisville, K.Y. The schedule was punishing, but they had a mission. "A lot of voices in the name of religion have been dividing us," said Imam Antepli, who had gotten up at 3:30 AM to join the ride. "We are struggling to turn our differences into richness. It is the core mission of the clergy to make religion a strong force of peace and reconciliation."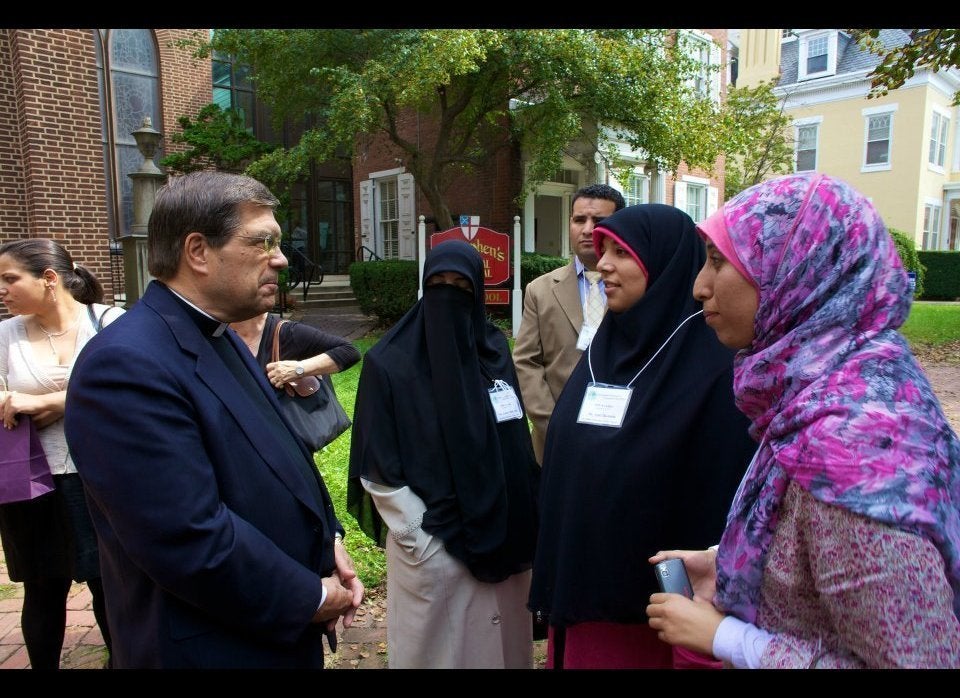 Interfaith Caravan Trip
Related
Popular in the Community