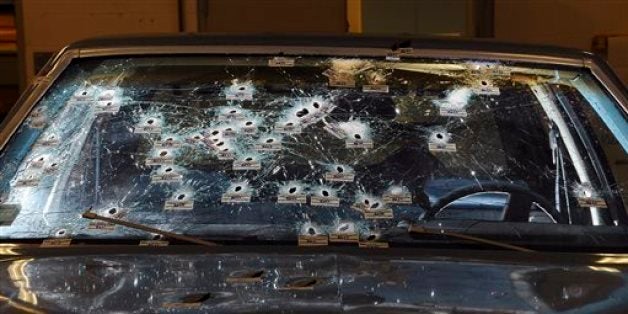 MARK GILLISPIE, Associated Press
CLEVELAND (AP) — The outcome of voluntary manslaughter charges against a Cleveland police officer likely will rest on a judge's decision whether the final 15 shots he fired during a 137-shot barrage by officers was justified.
Michael Brelo, 31, goes on trial Monday on two counts of voluntary manslaughter in the November 2012 deaths of Timothy Russell, 43, and Malissa Williams, 30, after a high-speed chase.
Brelo is the lone officer among the 13 who fired their weapons to be charged criminally. Prosecutors have said the threat to officers' lives was over when Brelo jumped from a police cruiser onto the hood of a beat-up Chevy Malibu to fire down into the windshield.
His defense team has argued that all 49 shots Brelo fired that night were justified and that the threat was not over until Brelo reached into the car and removed the keys. Russell and Williams each were struck by more than 20 rounds. Investigators concluded that nearly 100 rounds struck the Malibu.
Brelo's lawyers decided to have a judge, not a jury, decide the charges. He could receive a maximum sentence of 25 years if convicted.
The chase began with a failed traffic stop near a homeless shelter at the edge of downtown Cleveland. Russell sped off and drove past Cleveland police headquarters, where, investigators concluded, his car backfired. Officers and other witnesses standing outside were certain they'd heard gunshots. An officer's radio call to dispatch about shots having been fired prompted more than 104 officers in more than 60 police cars to pursue Russell and Williams at high speeds that reached at least 100 mph.
The chase ended in the parking lot of a middle school in East Cleveland where Russell and Williams found themselves trapped. Russell turned the car around and tried to flee down the school's narrow driveway but was blocked by cruisers. An officer who said he feared for his life when the Malibu drove toward him fired the first shots, prompting other officers, including Brelo, to fire. Brelo and his partner fired a total of 15 rounds through their own car's windshield before Brelo got out, climbed on top of another cruiser, and resumed firing.
Prosecutors contend that Brelo then jumped on the hood of the Malibu and fired the final 15 shots down into the windshield.
Brelo told investigators two weeks after the shooting that he didn't remember jumping on the hood. A rookie officer told the same investigators that Brelo talked about it afterward.
Investigators eventually concluded that neither Russell nor Williams had a gun.
The shooting helped prompt a months-long U.S. Department of Justice investigation that concluded in December that Cleveland police had engaged in a pattern and practice of using excessive force and violating people's civil rights. The city of Cleveland and the justice department are negotiating a reform-minded agreement that will be overseen by an independent monitor.
Popular in the Community