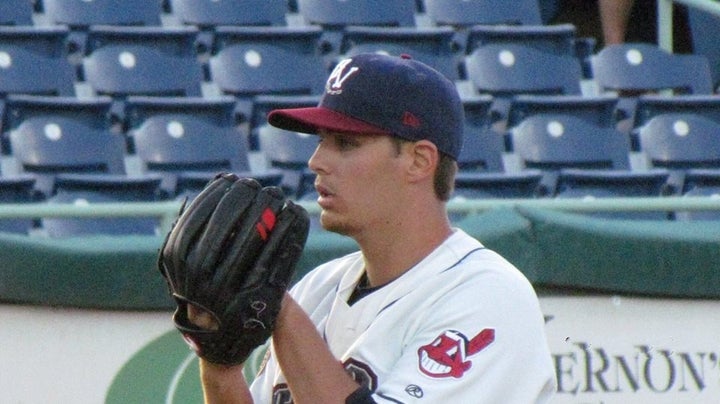 In a single calendar year, Brady Aiken experienced a myriad of drama and emotions.
Considered the finest high school pitcher to come out of the draft in nearly 25 years, Aiken appeared ready to embark on his professional career. However, draft controversy and Tommy John surgery led him to dramatically alter his plans and prepare instead for a healthy return to the mound in the Cleveland Indians organization.
At Cathedral Catholic High School in San Diego, Aiken emerged as a household name and eventually gained a foothold on the national stage playing for head coach Gary Remiker, who boasts strong baseball credentials. Remiker has developed pitchers such as Barry Zito, Dan Camarena and Stephen Gonsalves. In his senior season, Aiken put together one of the finest performances in school history, going 7-0 with a 1.06 ERA in 11 starts.
"He is a great coach. Most importantly at Cathedral it was a big part of my development for me. Gary would help us out each and every day, and it was good having players before me such as Daniel Camarena, who plays in the Yankees organization, and Stephen Gonsalves with the Twins, to learn from during my time there," Aiken said.
Aiken's dominance also extended to USA Baseball for the U18 national team. Coming off their first championship at that level since 1999 a year prior, Aiken led USA Baseball to a second straight title in 2013 and earned a goal medal for his performance against Taiwan, striking out 10 batters in seven innings to close the U18 World Cup. Earning gold for Team USA remains a crowning achievement for Aiken and a time he remembers fondly.
"That tournament was unbelievable for me," Aiken said. "The atmosphere against Taiwan was amazing, specifically that game. The championship games against Japan and Taiwan were probably two of the most memorable moments of my life; just being able to compete against some of the best players in the world. It was an awesome experience."
After achieving unprecedented success in the high school ranks and the World Cup, Aiken became the consensus first-overall pick in the 2014 MLB Draft when the Houston Astros selected him as the first high school southpaw taken in that slot since Brien Taylor was picked by the Yankees in 1991.
The contract negotiations were going swimmingly until the Astros discovered an abnormality in his UCL after taking a team physical. The Astros dropped their signing bonus from $6.5 million to $5 million and failed to sign Aiken, who became the first player taken first-overall since Tim Belcher in 1983 to not sign with the team that drafted him.
"There was never any issue with my arm before the Astros found that. Even before that point, my arm felt fine and there was never anything wrong there. It was a weird situation. It is in the past now and there really isn't much need to reflect. It's all about the future for me," Aiken says.
Looking to reenter the draft the following June, Aiken chose to forgo a commitment to UCLA and spend a season with IMG Academy in Bradenton, Florida. Since their inception in 1978, IMG Academy has served as a private boarding school and training for amateur athletes across multiple sports.
"IMG is a big academy. They have a high school and a post-graduate academy, and basically it is a big sports school. The main focus is sports, and they prepare athletes day in and day out for the challenges they face."
Aiken took the mound for his first start at IMG in March 2015 and exited the game after just 13 pitches, having torn his UCL. Like most pitchers in today's game, Aiken learned he needed Tommy John surgery and began the grueling recovery process.
"It was obviously a tough injury, but the rehab went smoothly and it took a long time to come back. It is one thing having to know that it is a slow process and it's not going to happen overnight. You are focusing on the future and knowing that a career move is more important," Aiken said.
While Aiken began recovering from the surgery he remained draft eligible, and many anticipated him as an early selection, but with teams primarily focused on taking college players in the first round, Aiken dropped to the 17th overall pick and was taken by the Cleveland Indians one pick after the Yankees took UCLA pitcher James Kaprielian.
With the drama of his previous draft saga behind him, Aiken worked diligently to return to the mound and made his professional debut in the Arizona League in May 2016. While there, he struggled to reach 86 miles per hour with his fastball, initially concerning Indians' brass.
After eight starts in rookie ball, the Indians promoted Aiken to the Mahoning Valley Scrappers of the New York-Penn League on August 10 to replace the recently-promoted Triston McKenzie. Aiken went three innings in his debut against the Batavia Muckdogs while searching to regain his previous form.
"My first outing was good. The main thing for me was to get my feet under me here, and I think it's important to take this outing and move forward with it and keep working," Aiken said to Indians on Scout following his first start in Mahoning Valley. "I think I have made a lot of progress over the last four or five months with not only rehab, but also the mental side of the game."
By his second and third starts with Mahoning Valley, Aiken began resembling the pitcher he was at Cathedral Catholic, upping his fastball velocity to 92 miles per hour and pitching five innings against Batavia and the State College Spikes. He recorded his first two victories in professional baseball against those two teams. In 13 innings with Mahoning Valley, Aiken has a 2-0 record with a 3.46 ERA and has held the opposition to a .204 average.
"When I was drafted I was still recovering from surgery," Aiken said. "I went over to the facilities and then came over to Mahoning Valley this year and it has been a good process so far. I had a few starts that have gone well and I'm looking forward to the future with the Indians. "
Considered a power pitcher out of high school, Aiken now sits in the low 90s with his fastball and features a power curveball and changeup, the latter serving as a feel pitch. Aiken's overhead delivery reminded scouts of a young Andy Pettitte prior to the 2014 draft and he displays the tools when healthy to become a potential front-line starter.
With McKenzie, Juan Hillman, and Mike Clevinger listed among the Indians' top 30 prospects, the club is placing a strong emphasis on developing young pitching internally and feels that Aiken can thrive in the right environment, eventually making his way up the ladder to Cleveland and reaching his potential ceiling.
Calling all HuffPost superfans!
Sign up for membership to become a founding member and help shape HuffPost's next chapter
BEFORE YOU GO
PHOTO GALLERY
Iconic Sports Photos