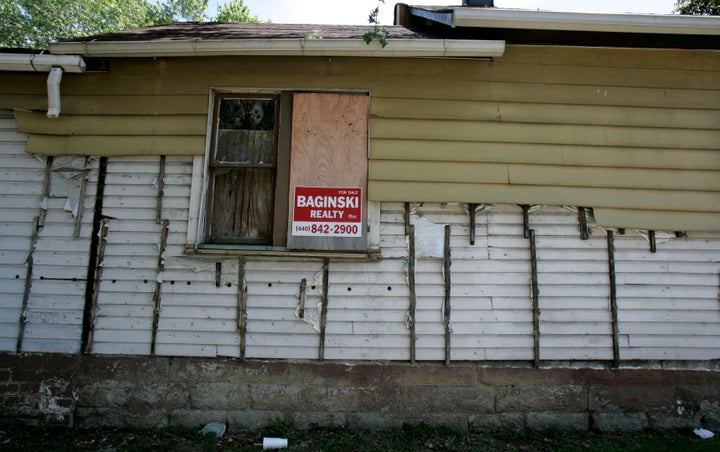 Funds meant to help struggling families in Cleveland are instead being used to knock down vacant and dilapidated homes left in the wake of the foreclosure crisis that ravaged this midwestern city. Over the past five years, Cleveland has spent $60 million coping with thousands of deteriorating, empty houses, and has had to divert funds meant to help poor families obtain affording housing, according to city officials.
While those cases wind their way through the courts, Cleveland will use some of the money from the multibillion mortgage settlement announced last week to do more demolition work. About $72 million of the $335 million Ohio is slated to receive as part of the deal will be used to pay for demolishing foreclosed and vacant homes. But Cleveland officials fear the city will still be left with a sizable vacant home bill.
Cleveland and the surrounding Cuyahoga County are home to about 23,000 vacant houses. One in 10 duplex and single-family homes is vacant, representing such a significant portion of the city's landscape that blocks occupied by just one family are not hard to find, said Frank Ford, senior vice president for research and development at Neighborhood Progress, Inc., a Cleveland nonprofit community development agency.
In some Cleveland communities, families with small children are surrounded by vacant homes with two feet of standing water in their basements and potentially toxic mold climbing the walls, Ford said. Rodents, drug addicts and criminal recyclers move in and out of other vacant properties with ease.
Cleveland is one of the only cities still left fighting. Courts have dismissed suits filed by Buffalo and Baltimore that claim that big banks created the conditions for widespread foreclosures, targeted low income and minority neighborhoods with high-risk loans and, in many cases, have failed to maintain vacant homes.
Although some litigation has been tossed out of court, the portions of the Cleveland suits still pending seek to hold banks or mortgage finance agencies accountable for the state of a few dozen vacant and severely dilapidated homes. Together the suits seek about $100,000 in damages. The city is also pursuing a large volume of code enforcement and debt collection cases against individual borrowers and banks.
Cleveland and Ford's Neighborhood Progress, Inc., have filed suit against more than 20 banks or mortgage finance agencies.
"The idea of suing, even for us, is a real David and Goliath type situation," Ford said.
The hope is that the suits will bring some money to the city but also change business practices, said Barbara Langhenry, Cleveland's interim law director.
The details of these deals vary. In most, the mortgage finance agency and banks have agreed to give, or sell for $1, deteriorated homes valued at about $25,000 or less, then, cover all or part of the cost of demolition. Gus Frangos, the land bank's president and general counsel, isn't convinced that the Cleveland lawsuits over vacant homes helped the land bank make those deals
Either way, the land bank has taken in more than 1,400 properties and sold, at a reduced cost, more than 500 of them, Frangos said. Many are now a source of local tax revenue.
He added that now, land banks in Atlanta and other cities are working to replicate the Cuyahoga County Land Bank's deals.
Popular in the Community