Harold Rasul recently returned to Hawk Hill -- the campus of St. Joseph's University in Philadelphia, Pennsylvania -- looking for a chance. During a muggy and humid weekend in the City of Brotherly Love, Rasul sought a chance for himself, his coaching staff and student-athletes from East Cleveland's Shaw High School. Traveling from Cuyahoga County, Ohio to have an experience that would strengthen his team for the upcoming school-year season, Rasul sought a chance to make an indelible impact in a space that provided him so much.
"It's all for the kids," said Rasul. "It's all for the kids, man."
Entering his second year as Head Coach of Shaw High School's Boy's Basketball Team, Rasul was eager to coordinate his team's participation in Phil Martelli's Overnight Team Camp.
"We decided we would bring this team out here because we wanted them to gain exposure and experience being in this type of environment, to compete on a college floor and to develop social skills while they interact with other kids, coaches and one another off the court," Rasul stated.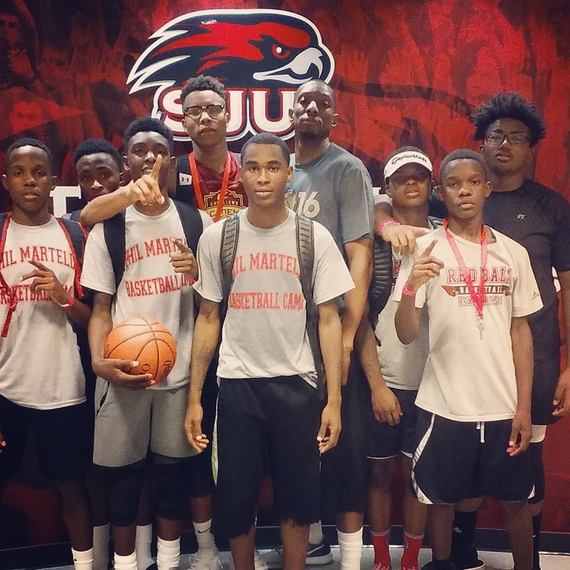 A member of the St. Joe's Hawks 1996-1997 Atlantic 10 Championship winning team, Rasul -- also known as "Cleve" and "Harold Rasul with the hoop and fa-oul" -- was a tenacious student-athlete.
In one of longtime St. Joe's Head Men's Basketball Coach Martelli's milestone victories, his 50th, Rasul made an unforgettable play on defense. Hiding in the St. Joe's band section, Rasul ran back onto the court, sneaking behind the unprepared St. Bonaventure player to get a steal that led to a momentum changing dunk.
"Never seen anything like it," remarked Martelli. "I'll always remember that play." Rasul's play gave a 43-42 lead to the Hawks, who never trailed for the remainder of the game.
Rasul only needed a chance to make a memorable impact.
A late bloomer in Blue Chip basketball terms, Rasul made up for a lack AAU circuit mileage with pure resolve and a belief in a higher power, which fueled his desire to achieve.
"I went to Taylor Academy in Cleveland Heights, a school classified as being one for students struggling academically," Rasul said wryly. In spite of taking the junior college path, attending Colby Community College in Kansas, Rasul sought a chance to play NCAA Division I and on college basketball's biggest stage.
"Just a chance," Rasul said reflecting on that period of time during his journey. "All I kept thinking was God willing, if I worked with what God has blessed me with, all I needed was a chance. Coach Phil saw something in me and recruited me for my last two years of eligibility."
In 1998, the Philadelphia Inquirer's Ray Parrillo penned a piece, "One Rare Bird Rasul Gives The Hawks A Breath Of Fresh Air." In it, Parrillo acknowledged Rasul's tattoo on the lower part of his right leg of a dog framed by the phrase "Just A Chance.''
A Jesuit Catholic university, St. Joe's allowed Rasul to grow personally in an environment that encourages openness, respect, and a concern for others. Reflected in the message of his tattoo and in the two decades since leaving Hawk Hill, Rasul has committed his life's work to the phrase that seemingly serves to encapsulate his personal and professional philosophy.
"I got a chance to build with so many good people while I was out here," said Rasul who earned an undergraduate degree in criminal justice from St. Joe's. "There were some real good people here at the school in addition to my coaches and teammates."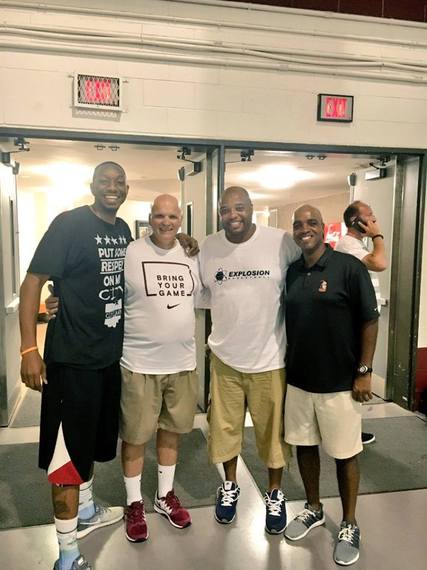 South Jersey native Brian Kennedy was one of the "good dudes" and classmates Rasul referred to. Currently Director of Marketing for the nonprofit, Promise to Pray, Kennedy and Rasul have been connected through their respective beliefs in a higher power.
"B. Kennedy and his mother, Dr. Lovie Lilly, tap into using prayer to provide spiritual support to kids and families. The work they do through their nonprofit exposes my kids to resources that help them to become spiritually and emotionally fit. We don't beat them in the head, but by exposing them to PTP they can decide if it's for them or not," Rasul said, while acknowledging the PTP bracelet he was wearing.
Due to Rasul and Kennedy's friendship, Promise to Pray has sponsored Rasul's Annual JAC F.I.B.A. Middle School All-Star Game. "We're going into our eighth year of the tournament in 2017. It's only going to get better with the support of B.K. and PTP."
In the past four years Rasul's faith has been tested more than even he could image, challenging him to keep praying. In 2014, his son was diagnosed with a serious medical issue that called for an abundance of prayer and medical attention. Having a daughter while being a student-athlete working to earn his degree, caring for his ailing son while coaching and working was yet another chance for Rasul to test his faith.
"My little man's resolve gives me strength every day. To see what he's gone through over the past couple of years only makes me want to go hard. We pray and give thanks to the most high for giving him a chance at life and giving me a chance to be his father," said Rasul.
Often with his son by his side at Shaw practices and training sessions, Rasul and his coaching staff work with students living on the straight line of poverty and urban blight. With close to 929 students in grades 9-12, Shaw is East Cleveland School District's only high school whose students state exit exams results are below the state's average in English and math.
Less than 10 miles from Case Western Reserve University John Carroll University, Cleveland State University and Cuyahoga Community College, 40 percent of East Cleveland's population lives in poverty. The streets are dotted with abandoned homes and unemployment remains in the double digits.
Home to Cleveland's first suburb and oil magnate John D. Rockefeller, East Cleveland and Shaw High School students are suffering from inadequate resources due to the insolvent status of the city.
"We're at the 50 yard line on the football field of East Cleveland poverty," said Shaw Assistant Coach, Bernard Delk.
Yet Rasul believes in the work he, Delk, and Assistant Coaches Reggie Harwell and Mark Faust are putting in. Rasul said of being in Philly, "we had the chance to come and compete so we made it happen."
Through such selfless acts and with a tireless work ethic to hone his coaching and recruiting skills, Rasul made the connection for Garfield Heights native, Carl "Tay" Jones, to attend St. Joe's. Now playing professionally in France, Jones finished his career as the third leading scorer in St. Joe's history with 1,845 points.
"Just A Chance is not only a motto or a philosophy to live by like Promise to Pray. We are a company that provides services in athletics, arts & entertainment and youth mentoring. My partner Keith Cochran has managed our screen printing business out here in the West Chester, Pennsylvania area. Keith also runs our JAC Alumni Basketball League. We're approaching the tipping point for doing great things on a mass participation level. We've been putting in the work at Shaw and with JAC, it's only a matter of time."
With the NBA's Cleveland Cavaliers championship win, the hosting of the Republican National Convention, and in light of the city being placed on a national stage resulting from the Tamir Rice situation, Rasul and his team are in a supreme position to be change makers.
"We've been doing this for years, using sport to change lives. With modest support from partners and individuals of means throughout East Cleveland, Cleveland and Ohio, we guarantee our work is worth the investment. We have a vision for helping our kids and giving them a chance to be successful, to be solid global citizens and contributors to society," said Rasul.
"We keep praying and staying faithful that we'll get that one chance to show what we can do. That's all we need. Just A Chance."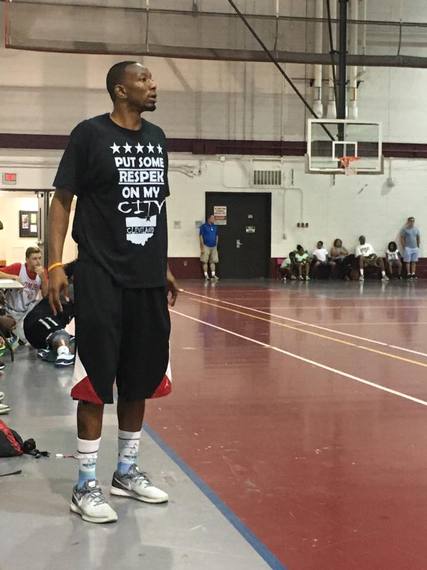 Photo 1 (L-R): Harold Rasul with St. Joe's Head Coach Phil Martelli; former St. Joe's standout, Bernard Blunt; and former St. Joe's Assistant, Monte Ross. Photo by JAC Move.
Photo 2: Coach Rasul with his Shaw High School Boy's Basketball team at his alma mater, St. Joseph's University. Photo by JAC Move.
Photo 3: Rasul observing his team's performance from the sideline during the 2016 Phil Martelli Overnight Team Basketball Camp. Photo by Louis Bolling.
Popular in the Community