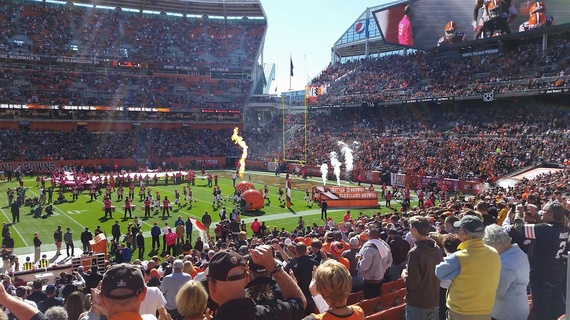 I grew up about 1,000 miles west of Cleveland, OH, but because of my brothers love of Icke Woods and the Cincinnati Bengals, I, ever the contrarian, became a fan of Cleveland's NFL team, the Browns.
A couple of weeks ago I got to go to Cleveland for the first time when they had an NFL team. I visited the Rock and Roll Hall of Fame with my high school debate team on our way to the National Debate Tournament in 1996, but no Browns were there then. I remember looking at the empty stadium and hating Art Modell. Hating, hating, hating.
Prior to my visit, I only had one other interaction with the city, which was while I was in Baghdad. I was on a team trying to figure out how to improve the safety and reliability of waste management in Western Baghdad. We somehow found out that Cuyahoga County, where Cleveland is, was roughly the same size in terms of geography and population of our area of operations. We called a phone number we found on the Cuyahoga County website and explained our situation. They thought it was a prank at first but when we proved who we were, the whole department was incredibly helpful.
My 30 hours in Cleveland was magical and while I'm not sure that's a word a lot of people use to describe Cleveland, it still seems apt a few weeks removed from my visit. My colleague, who is from Cleveland, and I went to meet up with another friend who knew a coach on the team and had heard some folks on the team might be interested in getting together with veterans outdoors -- a great excuse to get back to O-H-I-O!
Seriously, go to Cleveland. You couldn't spend a weekend better than to take the lovely drive, or better yet, a bike ride, along MLK Jr Boulevard past the various gardens highlighting the nationalities of the different immigrant communities that have moved into the city over the years. Go visit one of the most amazing art museums I've ever visited in the always free, lovingly curated Cleveland Art Museum. There is something for everyone. I've never met more knowledgeable, friendly security guards at an art museum. Even the lady who helped me in the cafeteria had recommendations for me.
Take a leisurely stroll through Little Italy and the surrounding streets down to the Winking Lizard to chat with locals. If you can, make sure to take a pilgrimage down to the Stadium along the shores of Lake Eerie and catch a game. Head downtown for plenty of good food and drink options. We chose the popular area around Great Lakes Brewing Company for our Saturday night.
Somewhat shockingly for any Browns fan, we even won the game. The Browns absolutely pasted the Pittsburgh Steelers (only to fall to the lowly Jacksonville Jaguars the following week) and the crowd was euphoric. It was an almost two hours after the final whistle blew that we finally left the stadium and parking lot around the game. No one was in any hurry to let go of such a good feeling and it took me a couple of weeks to finally come down. It was no powder float high like I often get while skiing, but it was close.
Now pack your bags and get to Cleveland!