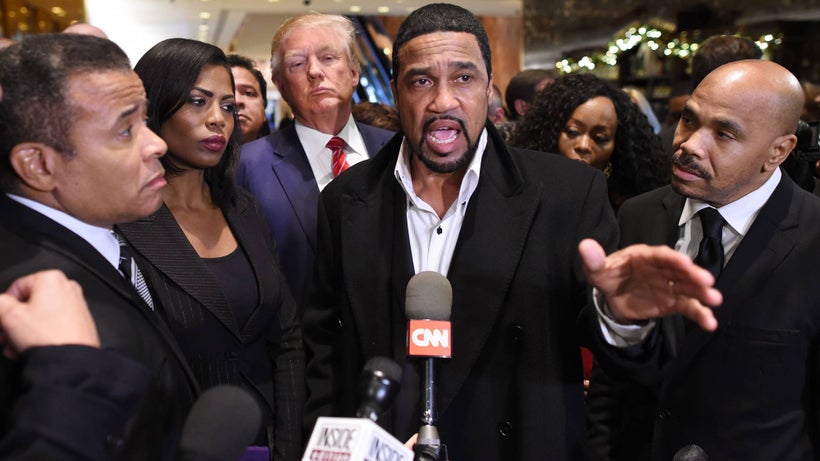 In Cleveland,Ohio- Pastor Darrell C. Scott has been a nationally known member of President Donald Trump's executive transition team. Scott is The co-founder of the New Spirit Revival Center in Cleveland Heights, Ohio. Scott along with Michael D. Cohen, Donald Trump's personal attorney and campaign spokes person-founded, The National Diversity Coalition for Trump.
For the record- Omarosa Manigault Newman, (pictured, above) in addition to Pastor Scott have been widely known as Trump "absolute," loyalist and day one-African American Members of the Trump Team.
Many now know or have heard about the current headlines-this past week when-Omarosa Manigault Newman, a senior staffer who recently departed (possibly terminated) the White House as the only African-American drawing a top salary, said Thursday the "lack of diversity" was a challenge she grappled with being the only African-American woman in the senior staff," Manigault Newman told ABC News' "Nightline."
Darrell Scott Twitter Statement:
This Past week on December 11, 2017 Pastor Scott made a rather conversational comment that "People want President Trump to do in 11 months what Ex_President Obama couldn't do in 8 years." For full disclosure- after I prompted Pastor Scott and expecting a more reasonable reaction to his earlier statement, Scott then went on to say:
Scott then went on to say" Replying to @greer_gregg "Some people read History, Some people write history, some people MAKE history." (see statement below)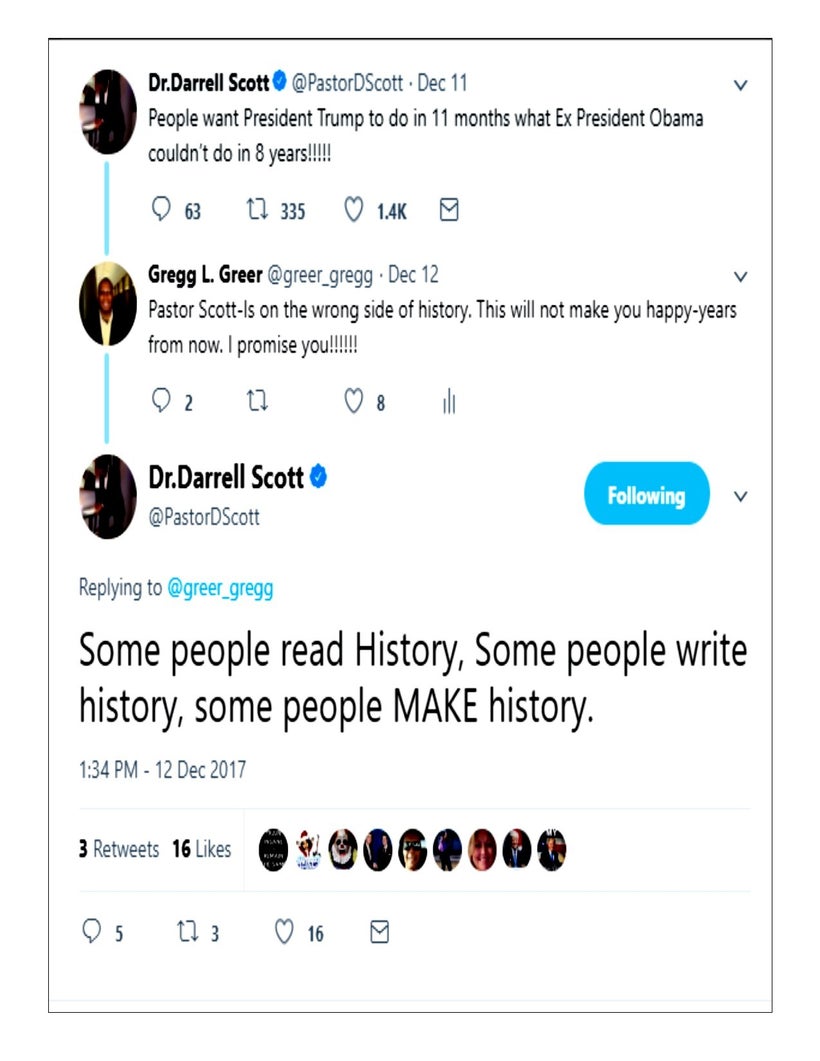 In July, 2016, on the third day of the Republican National Convention, Scott delivered the keynote speech in support of Donald Trump's nomination for the Republican Party, Scott stated in his speech that the "Democratic party has failed us.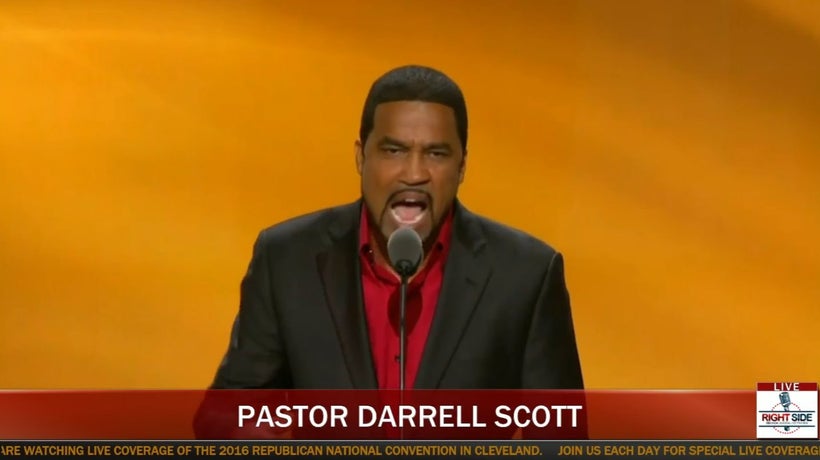 "Scott experienced another controversy, when on February 2, 2017, Scott said he had "misspoke" at the White House due to lack of sleep, when he stated Chicago gang leaders would "lower the body count" if new federal programs were provided. The program was inevitably cancelled when Scott clarified that he was speaking to one former gang member not current Chicago gang leaders.
Statically, Donald Trump's approval among blacks also fell over the past 10 months, to seven percent from 14 percent, while his standing among Hispanic voters is stagnant at 17 percent_largely an effect of the Roy Moore Election controversy. (glg)
Gregg L.Greer is a Journalist, Public Speaker, Social Activist and a prominent American Civil Rights Leader. Gregg Greer has written and lectured on Global Diversity, building social and civic responsibility, The Life of Dr. Martin Luther King Jr., civil rights, Aids (HIV) in Communities, American politics and civic engagement, leadership, social activism, redefining American Manhood, Youth in America and more. Greer is the Founder of Freedom First International an International Civil Rights Organization. For more information on Greer, please go to www.gregglgreer.com or email huffingtonpostgreer@gmail.com
REAL LIFE. REAL NEWS. REAL VOICES.
Help us tell more of the stories that matter from voices that too often remain unheard.
This post was published on the now-closed HuffPost Contributor platform. Contributors control their own work and posted freely to our site. If you need to flag this entry as abusive,
send us an email
.