WASHINGTON -- In recent years, Cleveland police officers have punched a 13-year-old boy who was in handcuffs for shoplifting and shot at an unarmed kidnapping victim who was wearing only his underwear, according to disturbing allegations released Thursday by the Justice Department. The agency's investigation found that officers in Cleveland routinely use unjustifiable force against not only criminals and suspects, but also innocent victims of crimes.
The so-called "pattern or practice" report from the Justice Department's Civil Rights Division was released Thursday afternoon as DOJ and the city announced plans to develop a court-enforceable agreement that would impose an independent monitor on the Cleveland Division of Police.
"Accountability and legitimacy are essential for communities to trust their police departments, and for there to be genuine collaboration between police and the citizens they serve," said Attorney General Eric Holder in a press conference on Thursday.
Holder announced the measure during his trip to Cleveland, where police officers fatally shot an unarmed black child last month. In Cleveland, Holder has attended a series of meetings about rebuilding community trust between law enforcement and the public, even as protests erupted nationwide over the non-indictment of police officers who killed Michael Brown in Ferguson, Missouri, and Eric Garner in New York City. Following his visit to Cleveland, Holder intends to visit Chicago and Philadelphia, as well as Memphis, Tennessee, and Oakland, California, for additional roundtable meetings.
In his remarks Thursday, Holder said that he and President Barack Obama believe there is more to be done on the issue of use of lethal force by police departments.
The Justice Department began investigating the use of force in Cleveland's police division in March 2013. A few months prior, Cleveland Mayor Frank Jackson had requested that the agency look into the issue. Jackson's request came after a high-profile police chase in November 2012 that resulted in Cleveland police dispatching at least 62 vehicles, firing 137 bullets and killing two unarmed black suspects, who each sustained more than 20 gunshot wounds.
There have been numerous other occasions when Cleveland police are alleged to have used excessive force. Most recently, on Nov. 22, a Cleveland police officer fatally shot 12-year-old Tamir Rice, who was playing with a toy gun in a park. Footage of the incident shows the officer firing his gun within two seconds of pulling up to the boy in his car. The Guardian reported on Thursday that Timothy Loehmann, the officer who shot Tamir, was judged unfit for police work in 2012 by his then-employer, the police department of Independence, Ohio. An Independence official described Loehmann's "dismal" handgun performance in an internal memo.
According to the DOJ report, Cleveland police officers "carelessly fire their weapons, placing themselves, subjects, and bystanders at unwarranted risk of serious injury or death." For example, the agency pointed to an incident in 2011 where officers "fired 24 rounds in a residential neighborhoods," with six rounds striking houses and 14 hitting parked cars. In another case, "an officer's decision to draw his gun while trying to apprehend an unarmed hit-and-run suspect resulted in him accidentally shooting the man in the neck."
The Justice Department also claimed to have identified "several cases" where "officers shot or shot at people who did not pose an immediate threat of death or serious bodily injury to officers or others." For example, in 2013, the report noted that police shot at a kidnapping victim after he fled from his assailants wearing only his boxers. The sergeant said he believed the victim had a weapon because he raised his hand.
In another case detailed by the Justice Department, a 300-pound officer punched a 13-year-old boy who was handcuffed inside a police car and kicking the door. The officer, whom the report describes as 8 inches taller than the boy, punched him "three to four times" until he was "'stunned/dazed' and had a bloody nose."
The agency noted that "supervisors' analyses of use of force incidents is superficial at best and, at its worst, appears to be designed to justify their subordinates' unreasonable use of force." For example, in the case of the teenage boy, the agency said the officer's supervisor "failed to even consider that the punches might have been retaliatory (perhaps because the officer was angry) and unnecessary to secure the boy."
The DOJ report stated that "each and every time we saw officers write that they had tased a handcuffed suspect, the use of force was approved up the chain of command." In one case, an officer wrote that he gave a man an electrical shock to prevent him from falling after he fled in handcuffs -- even though, as the report noted, "suspects normally fall after being tased." It went on to say that "justifying the use of a Taser to stop a [fleeing], handcuffed person from falling is simply not credible."
The report cited another case in which officers shocked a handcuffed suspect, prompting him to "fall face-first onto asphalt, shattering four front teeth and causing facial contusions."
A Cleveland police officer also administered an electric shock to a man who was deaf and suicidal, according to the DOJ report. The man had committed no crime and may not have understood instructions.
The report also said that the culture of the Cleveland police force promotes an "us-against-them" mentality. It cited the example of a sign in one district station that identifies the station as a "forward operating base" -- which DOJ noted is a military term for a small outpost in a war zone.
The report concluded that the police department's "method of policing contributes to the community's distrust of and lack of respect for officers."
The report also noted that while it did not make a finding regarding racial profiling, "many African-Americans reported that they believe [Cleveland police] officers are verbally and physically aggressive toward them because of their race."

Ironically, last week, a number of white and Hispanic officers who were disciplined for the Nov. 2012 shooting filed a lawsuit, alleging that they were punished especially harshly because the shooting victims were black and they, the officers, were not.
Read the full DOJ report here.
CORRECTION: This article has been edited to make clear that an incident cited by the report in which a handcuffed suspect broke four teeth after being shocked is not the same incident in which police used a Taser to shock a fleeing, handcuffed man.

Before You Go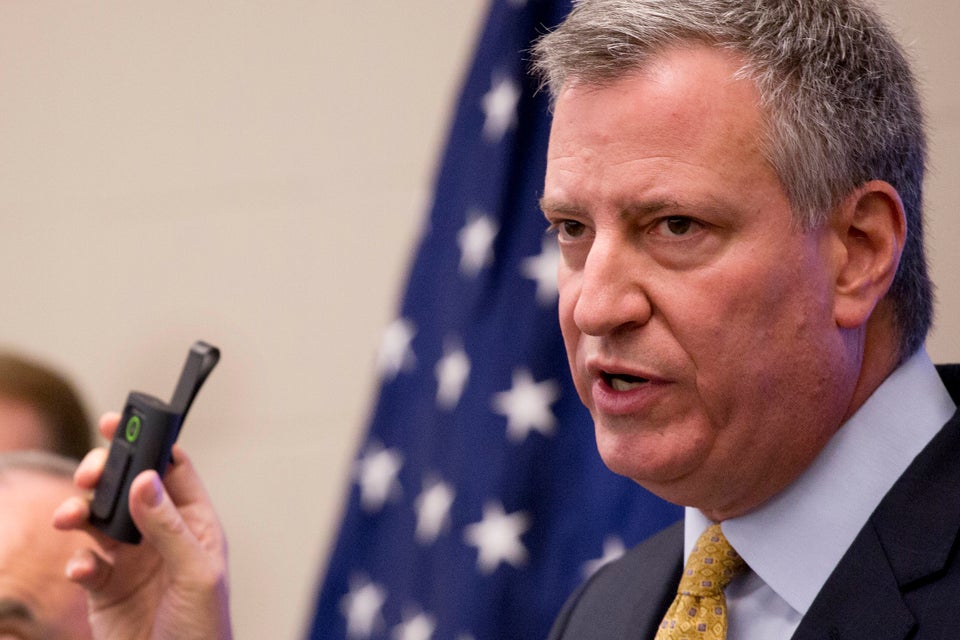 Politicians React To Eric Garner Grand Jury Decision
Popular in the Community