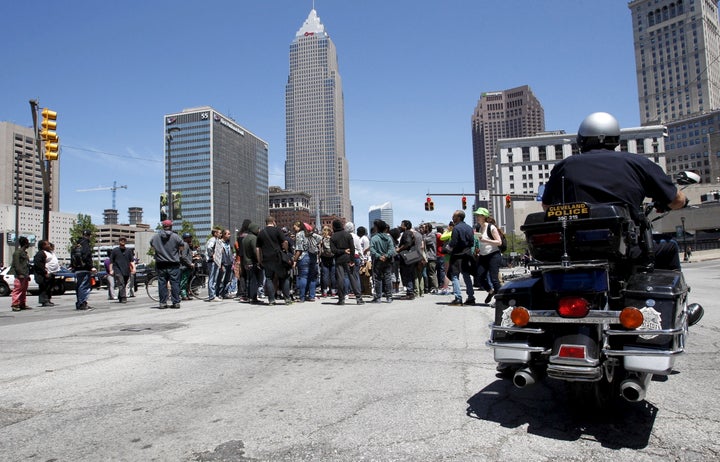 At the 2004 Republican National Convention in New York City, the NYPD arrested 1,800 protesters in mass arrests. Ten years later, the city of New York came to an agreement with two groups of the protesters, settling for a record total of $18 million.
The New York case was an extreme example of something that is unfortunately treated as inevitable: large events giving way to protests, mistreated protesters, and, ultimately, large lawsuits for civil rights violations.
The great thing about foreseeable risks? You can buy insurance for them.
The city of Cleveland, which will host the Republican National Convention this July, will spend $1.5 million on an insurance broker to find a policy which covers potential lawsuits related to police conduct for the event, according to Cleveland.com. The website is calling it "protest insurance" -- although more technically it's known as law enforcement professional liability insurance.
"There's such a huge range of things that can happen when you have that many people with so many different viewpoints together in a city," said Christine Link, the executive director of the Ohio ACLU. She noted Cleveland is expecting between 50,000 and 75,000 extra people in its downtown area during the upcoming convention.
This convention is no run-of-the-mill event, either. Currently, no GOP primary candidate has secured enough delegates to sail through the nomination process, and there is such resistance to Donald Trump's candidacy within the party that there's lots of talk about a potential contested convention. That means not only will there be the protesters you normally see at any political event, but there could be protesters from separate factions of the Republican Party itself.
The contested Democratic convention in 1968 led to rioting, and, in turn, police violence against both violent and peaceful protesters. Meanwhile, the city of Cleveland is no stranger to police misconduct lawsuits. Just this week it reached a $6 million lawsuit settlement with the family of Tamir Rice, who was shot by police while playing in a park with a toy gun in November 2014.
"The best thing a police department can do is train their people appropriately," said Link. But even the best training doesn't guarantee every officer will behave perfectly. For that risk, there is insurance.
"Nerves are on edge because of the possibility of a contested convention," Robert Hartwig, the president of the Insurance Information Institute, told The Huffington Post. "It could cause tempers to flare on the parts of various parties. Any good risk management program is now contemplating that possibility."
A spokesperson for the city of Cleveland emailed HuffPost a statement that said the city hired an insurance broker "to assist the City in identifying and procuring law enforcement professional liability and related insurance." The statement also said it will be paid for through a federal grant. According to Cleveland.com, the city will get a "$50 million federal security grant."
Aon, the specialized insurance company that is brokering insurance for the city of Cleveland, declined a request to comment for this article, noting that it does not comment on issues related to current clients.
This kind of insurance -- plus similar policies to protect the city against liability from terrorism and various other ways that people might get hurt -- is pretty standard when a city hosts a large event, according to Hartwig. "It's standard operation procedure for venues and organizers to develop a sophisticated risk management program," he said.
However, insuring against police misconduct does present a certain dilemma: It means the police go into the event protected against liability for their actions, a problem known as moral hazard. It means they might be less wary of the consequences of their actions than they would have been if they were on the hook financially.
"One of the problems that we encounter when we sue the police for violation of constitutional rights is that very often they are indemnified," said Arthur Eisenberg, the legal director at the New York Civil Liberties Union, who helped the 2004 RNC protesters reach the $18 million settlement with New York City. "Any damages that a court may order may well be paid by their employer or an insurance company."
On the other hand, we live with this kind of moral hazard every day. People don't necessarily set out to wreck their cars just because they have car insurance, or leave their apartments unlocked because they have renters' insurance. In fact, insurance can have the opposite effect: encouraging us to be careful so our premiums won't go up.
St. Paul, which hosted the 2008 Republican convention, took out a $1.1 million policy from AIG to cover law enforcement actions against protesters, according to the Minneapolis Star Tribune. So far, only $175,000 in settlements have been reported.
CORRECTION: A previous version of this post incorrectly said the city of Cleveland had purchased insurance for the convention. The city has an insurance broker, but has not yet purchased a policy.
Related
Popular in the Community