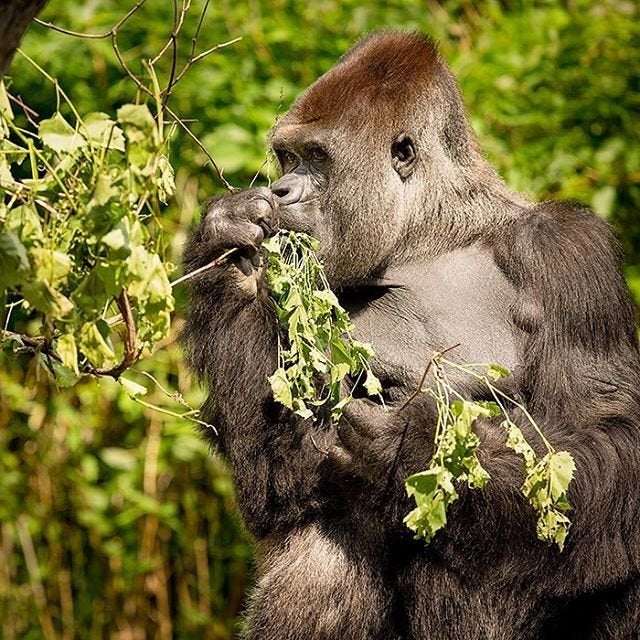 The Cleveland Zoo's 32-year-old western lowland gorilla Bebac has died of heart disease.
Both Bebac and Mokolo, the lone remaining gorilla at the zoo, were diagnosed in 2008 with heart conditions, a common problem for zoo gorillas. Their health improved after they were both given medication used to treat high blood pressure in humans, placed on high-fiber diets and made to forage for food scattered in their enclosure.
But Bebac, a favorite of zoo fans, began failing a month ago, and veterinarians were unable to save his life.
Veterinarians had said earlier that little information exists on the heart health of the great apes and possible treatments, and the zoo largely relied on human medical information, according to The Plain Dealer, a Cleveland newspaper.
"It's been hard on the staff," zoo director Chris Kuhar told The Associated Press. "It's like losing a family member."
Mokolo, 29, has also clearly been affected by the death, according to Kuhar.
"What we're seeing is Mokolo calling to figure out where Bebac went," Kuhar said. "We can tell he's agitated. I think there's an emotional response there."
The average life expectancy for zoo gorillas is 30 years, although Colo, a female gorilla at the Columbus Zoo and Aquarium, just turned 60. She's the oldest living gorilla in America.
The Cleveland Zoo has taken a leadership role in the future health of western lowland gorillas, and has helped organize efforts with other zoos to build a database of medical information about the animals.
But it hasn't been the best time for gorillas in America, especially in Ohio. Harambe, a 17-year-old western lowland gorilla, was shot dead at the Cincinnati Zoo last May when a young boy fell into his enclosure.
Popular in the Community