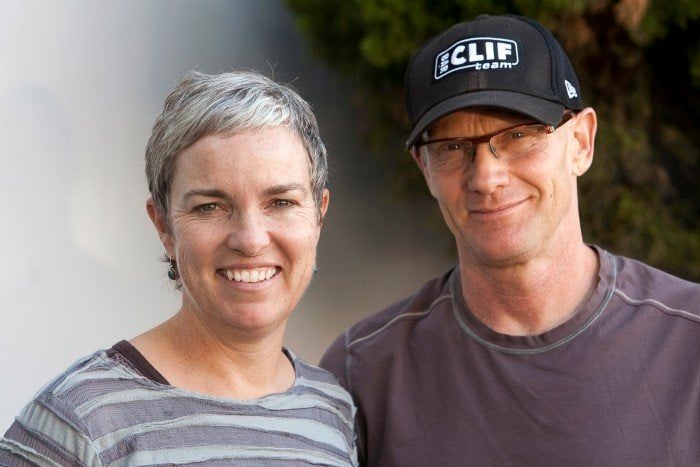 While the entrepreneurial bug infected Gary Erickson early on in his life, it was a 175-mile bike ride that inspired him to invent the product that would not only transform his company, but his life as well. Helped by his wife and co-CEO Kit Crawford, who was Erickson's first sales manager, Clif Bar & Company has since blossomed into a household name with $235 million in revenue and more than a dozen different products, including the Clif Mojo and Luna bars; a winery; a line of women's active wear, and the non-profit Clif Bar Family Foundation.
Erickson: Growing up, there were so many times I wanted to start my own business. When I worked at a ski shop or a restaurant, I knew I would own my own business someday. It wasn't about not liking working for people. I just wanted to figure it out and do it my own way.
One day back in 1986, when I was working full time for a bike accessory company, I was sitting at my mom's kitchen table as she was baking one of her favorite calzones. I had an "aha moment" and decided I could take that to market. After several months working on recipes, I did just that -- selling a dozen here and a dozen there to Bay Area grocery stores and coffee shops.
I opened up a small bakery, Kali's Sweets & Savories, which I named after my grandmother. I finally had my first business. Kit was my first salesperson and she would take her daughter on her hip and sell the calzones, which we called Yohas. She landed like 20 accounts right off the bat, which really helped the business get started.
Five years later, I had the epiphany that changed everything. At the time, my friend Jay Thomas asked me to take a 175-mile bike ride with him. After eating five PowerBars and a box of donuts, I decided I could make something better. That eventually led to the creation of the first Clif Bar, which I named after my dad, Clifford Erickson.
I didn't start Clif Bar to make money or to fill holes in my life. I did it because I wanted to make a better energy bar for my friends and myself. But the growth of the product was astonishing. At the time, annual sales in the bakery, after six years of hard work, were about $280,000 -- which wasn't always enough, as I had to plow money from my other job into the business from time to time. Imagine my surprise, then, when sales of the Clif Bar topped $700,000 in its very first year.
We hit upon a perfect storm of sorts where, while we had strong sales in bike shops, the healthy and natural foods movement was emerging and was seeing incredible growth. We quickly landed some big accounts, which helped the business tip into what it has become today. I do ask myself the question "What If?" quite a bit. What if I didn't have the experience in running my own business, or what if there were more than just one energy bar on the market at the time? It's funny how everything came together at the right moment.
Crawford: We have also always done a good job at giving people variety in our products. We personally love to play in the kitchen to come up with new flavors. Our source of innovation is our customer's pain, meaning we're always trying to find ways to combine what we're good at with what our customers want. For example, we have a new product, Luna Protein, that people are just going crazy over.
Erickson: We continue to do new things, like starting the Clif Family Winery & Farm in 2004. But we're not doing it as a hobby -- we want to make it a thriving business. People ask us, "Why would an energy bar come out with a wine?" We want people to know that Clif Bar loves all of life and not just energy bars, and good wine goes with good food. It's a celebratory thing.
Crawford: As co-CEOS, we are two people who are naturally interested in and good at different things. That's been really helpful working together. We see things in different ways and have a lot of respect for what each other brings to the table.
Erickson: It's been easier for us to run the business together than it was to raise three kids.
The original version of this article appeared on AOL Small Business on 6/14/10.
REAL LIFE. REAL NEWS. REAL VOICES.
Help us tell more of the stories that matter from voices that too often remain unheard.