With election day bearing down on voters, another CEO is trying to influence how employees vote -- and indirectly hint that they may lose their jobs if Barack Obama is re-elected.
"Saddle Creek has a clear position on very important issues that have a profound effect on our company and the future opportunities for all who work at Saddle Creek," Cliff Otto, president of Lakeland, Fla.-based Saddle Creek Corporation, recently wrote in an email to his employees, obtained by MSNBC's "Up w/ Chris Hayes."
Though Otto wrote that the warehousing, transportation, packaging and fulfillment solutions company does "not support candidates based on their political affiliation," he explained he feels "it would be wrong for us not to share with you the company's position on just a few of the critical issues and, at the same time, how each of the two candidates compare to our position."
An email attachment shows that Romney's positions on energy and taxes clearly line up with those of Saddle Creek.
Otto, who did not respond immediately to requests for comment from The Huffington Post, did reply to "Up w/ Chris Hayes" that "Saddle Creek's communication was respectfully directed to its employees for whom it has the greatest appreciation. It was provided in the spirit of ensuring that they are fully informed on this subject. We feel the document speaks for itself and we have no further comments."
Here's a clip from the document. See the full image on MSNBC: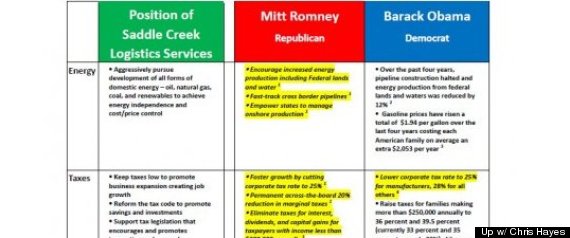 Similar emails, letters and even election booklets from CEOs to employees have emerged, particularly after Romney himself encouraged such communication in a June conference call with the National Federation of Independent Business. "I hope you make it very clear to your employees what you believe is in the best interest of your enterprise and therefore their job and their future in the upcoming elections," Romney said. "And whether you agree with me or you agree with President Obama, or whatever your political view, I hope, I hope you pass those along to your employees ... Nothing illegal about you talking to your employees about what you believe is best for the business, because I think that will figure into their election decision."
Other CEOs taking that lead include David Siegel, the founder and CEO of timeshare company Westgate resorts, who sent an email to his employees stating, "If any new taxes are levied on me, or my company, as our current President plans, I will have no choice but to reduce the size of this company."
Richard Lacks, CEO of Michigan-based Lacks Enterprises, a car-part manufacturer, wrote a letter warning that if employees did not vote for Romney, an Obama reelection could result in higher taxes, lower pay and skyrocketing health care costs. "It is important that in November you vote to improve your standard of living and that will be through smaller government and less government," Lacks wrote.
Steve Wynn, owner of Wynn Resorts, the third-largest casino operator in the U.S., went a step further than email, mailing a 67-page booklet to its 12,000 employees in Nevada, leaving some employees feeling pressured. Wynn told The Huffington Post, "It would be a complete disaster if Obama wins, which is why I'm urging my employees to vote for Romney."
(Hat tip: MSNBC)
ALSO ON HUFFPOST:
PHOTO GALLERY
CEOs Who Urged Employees To Vote Romney
Calling all HuffPost superfans!
Sign up for membership to become a founding member and help shape HuffPost's next chapter
BEFORE YOU GO