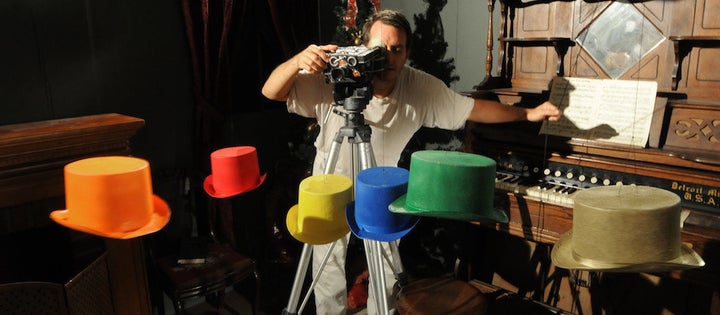 One of the most imaginative minds in Miami is artist Clifton Childree, an Alabama native now living in Little Haiti. He can the take the most gut-wrenching aspects of Miami living and twist them into a white cube show commissioned by a gallery in Vienna, Austria.
He just wrapped "Fuck that Chicken from Popeye's," in which he presented video collages, found objects, and Viennese picture postcard motifs in contrast with American popular iconography.
As he told Dirty Pink 305, it was inspired by the Popeye's right off I-95 at 7th Avenue. "When you go in there and order chicken, you order through a bullet-proof glass window and you pay and they give you your chicken like you're in a bank, like your in prison and you're getting food, and that is so fucked up."
Childree is most known for bringing a sculptural element to experimental films, which he produces, helms, and stars in himself.
In his amazing "Orchestrated Gestures" at Dorsch Gallery last year, Childree used broken down china cabinets and other found antiques to house tiny silent movie theaters that were visual odes to the lives, madness, and dreams of dead composers.
His first feature-length film, "The Flew," which was distributed with a vomit bag, was rated one of the top 50 midnight movies of the past decade by Cahiers du Cinéma. It also won Best Feature at the Downstream Film Fest in Atlanta and garnered Childree the South Florida Cultural Consortium Fellowship (see a clip in the slideshow below).
Last month, in "The Circus as a Parallel Universe," his video work screened alongside work by Charlie Chaplin, Cindy Sherman, and Matthew Barney at the Museum of Art in Vienna.
Who are you:
I was born in LA (Lower Alabama) under the sign 'Red Light District' during low tide in the gene pool. You may have seen me playing the washtub bass with Boise Bob and His Backyard Band. I married a dancing monkey, adopted two filthy street dogs and a mean old black cat. If you stand close enough to me, you can hear the ocean.
What's your first Miami memory?
Going to the Orange Bowl in '82 with my dad. We paid for a parking spot on a family's front lawn. I stepped out of the car and entered a completely different world.
Current neighborhood:
Little Haiti, some people call it the Design District.
Current gig:
Soft shell crab gig. You tap them with this gig only to see if they are soft before you scoop them with a net.
Favorite 'Only in Miami' moment?
The nasty street cat that entered the NADA art fair and walked around spraying the artwork. A small group of people were trying to scare him away but he paid no attention to them. He just casually walked around spraying this and that.
What's your idea of a perfect day in Miami?
Early morning garage sale followed by a walk through the neighborhood with my dogs. Then off to Stone Age Antiques for some intellectual beer and popsicles. As the afternoon thunderstorm comes in, we head home to watch some scary movies. We cook up some seafood gumbo for dinner, take a drive through the hood for some bulk trash, then play a late night show at Churchill's.
Where do you take visiting out-of-towners?
Stone Age Antiques to see the pirates, Alabama Jacks for the crocodiles.
Local oasis to escape the 305 grind?
The Pelican in Key Largo. Not really local but still 305.
How would you describe your work to the un-initiated?
Decomposed film print of a Buster Keaton chase in a haunted house dark ride with no ending.
Last big project you did:
Installation at the Museum of Art in Vienna for a group show titled "The Circus as a Parallel Universe".
Upcoming projects you're working on:
Solo show at Hallwalls in Buffalo titled "Niaga-Rag-Follies". It will be a wax museum similar to an old one at Niagara Falls but focuses on the history of QRS piano rolls.
What draws you to silent film and vaudeville?
My family were big fans of old horror films and slapstick. My grandma pushed me in that direction as she was a child dancer in vaudeville.
Would you ever wear a monocle?
Already have.
Favorite possession:
Linda Blair in 'The Exorcist.'
Which is more magical, Monkey Jungle or Coral Castle?
What could be more magical than a monkey throwing poop at some old lady's beehive?
Why do you hate Miami?
I wish Miami was more bike friendly and had better public transportation. There is a lack of will from the politicians to make big changes.
Why do you love Miami?
I love Miami for how fucking insane everything is from politics to the Haitian man driving the opposite way on I-95.
What are three local meals you can't live without?
Swamp Cabbage, Possum, and Arroz Con Pollo.
In a word or two or three, Miami is...
…the foreskin of America.
Click below for images of Childree and his work:

PHOTO GALLERY
Clifton Childree
REAL LIFE. REAL NEWS. REAL VOICES.
Help us tell more of the stories that matter from voices that too often remain unheard.